On March 20, 2011, IRWIN Tools hosted the Ultimate Tradesman Challenge (UTC) finals in Bristol, Tennessee. The competition began a year ago with over 16,000 tradesmen from across the entire world competing to see who could Grip It, Rip It, and Drive It faster than anyone else. The field was narrowed to six finalist representing North America, the United Kingdom, Denmark, Australia, Brazil, and Poland, but the day belonged to England's Daniel Shepherd, completing the final round in a blazing 25.07 seconds. Shepherd claims the title of the World's Ultimate Tradesman, and a cash prize of $10,000.
The Ultimate Tradesman Challenge
IRWIN hosted 250 UTC events in 2010 all over the world with over 16,000 tradesmen participating. The challenge consisted of performing a series of tasks to fit a 2″ x 4″ into a specialized channel in a race against the clock. Contestants would remove two pipe fittings with a pair of GrooveLock pliers, mark three specific lines, and use a QUICK-GRIP to clamp the 2″ x 4″ into place. Next, contestants cut the board to size with an IRWIN Universal Handsaw and drill two holes with Speedbor drillbit. If all cuts and holes were made accurately, the board would fit into the channel, stopping the clock. Check out this video for a better explanation:
This may sound easy but I can testify that it's unbelievable how fast these guys move! Yours truly completed the challenge in a sluggish 55 seconds which means Dan Shepherd could have done the whole thing twice before I finished.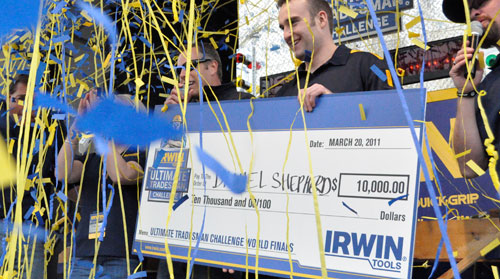 Elevate the Tradesman
IRWIN designed this challenge to give respect to professional tradesmen around the world. "IRWIN's Ultimate Tradesman Challenge was designed to recognize skilled tradesmen from around the world," said Curt Rahilly, vice president of marketing for IRWIN Tools. "We've been impressed by the skill and passion tradesmen bring to this competition."
Irwin continues to recognize hardworking tradesmen with their Thank a Tradesman 2011 campaign. It's easy to sign up and all you have to do is tell them about the tradesman you would like to thank. The top prize packages include a VIP race weekend trip to Bristol, Tennessee with the chance to win $1,000,000! Other winners will receiver a pair of tickets to the Bristol race, an assortment of Irwin tools and hotel accommodations. Pretty sweet huh?!

The Tools
Irwin setup a handful of demonstrations, and I was able to try out some tools first-hand. There are a lot of worthwhile offerings but here's what caught my attention. Look for reviews coming down the line.
Universal Handsaw
A handsaw doesn't typically elicit much excitement, but I was truly impressed. Irwin states this saw is up to 3x faster and, after making a half-dozen cuts, I believe it. The real benefit is the unique design that allows you to put so much more power behind each stroke. Todd has a great Universal Handsaw Review over at ToolBoxBuzz if you want more details.
GrooveLock Pliers
I own and use Channellock pliers all the time, but the GrooveLock pliers are strong competition. Irwin got a couple things right with these pliers and the biggest benefit is how much easier it is to adjust the jaw size.
Marathon with WeldTec circ saw blade
Irwin ran a quick demonstration, pitting the Marathon WeldTec against a Freud saw blade. They ran each saw down the length of a board with nails every 5 inches or so to see which blade held up and the Marathon blade performed far better. Irwin states this is because the blade teeth are welded for improved durability.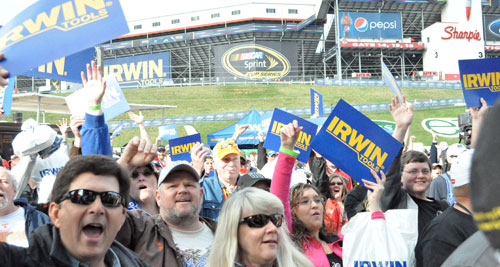 About IRWIN
Irwin was founded in 1828 in the United Kingdom and grew to have a global footprint with 52% of their 2010 sales take place in the United States. In 2002, Rubbermaid purchased the company and worked to consolidate several brands under the Irwin name including VISE-GRIP® pliers, MARATHON® saw blades, SPEEDBOR® drill bits, STRAIT-LINE® marking tools, and HANSON® taps and dies. Irwin Tools manufactures and distributes a broad line of hand tools and accessories focusing on drilling, cutting, layout and hand-tools.