Steve Spangler Science provided some materials for the party at my request. As always, opinions are 100% mine!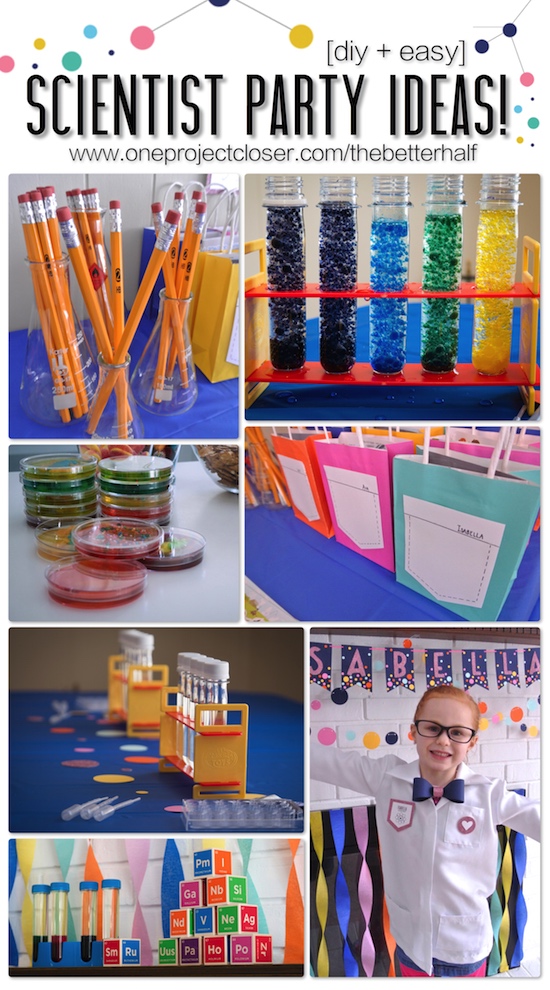 I was beyond excited (and surprised) when this year, Isabella asked for a Science Party, rather than the typical Princess party. After all, she does want to be a scientist when she grows up. Of course I said yes and went crazy in the planning. It all looks very involved but really, it was an easy party and definitely less expensive than hosting outside of the home.
And before I get started on telling you about all our mad scientist party ideas, a BIG thank you to my dad, Chris Paulis Photography for saving the day and taking AMAZING pix so I could play Professor to our little scientists. Side note, every party should have a professional photographer – the pictures were way better than I could have taken and I actually got to be a part of the party. Also, thank you to Dad, Mom, and my friend Becky for playing lab assistants – it was so fun and smooth because of you!
Steve Spangler Science Kits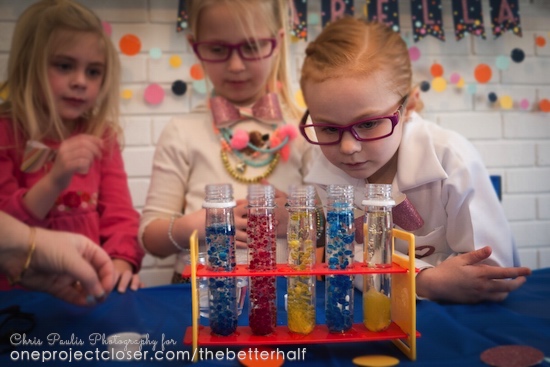 Obviously, you can't have a Scientist Party without experiments, right? At first, I thought about putting together my own experiments and supplies, but it quickly adds up. Then I came across Steve Spangler Science and realized they were the perfect solution. I reached out and they were kind enough to send us a few of their Spangler Science Club Kits – and wow, it was so much science, we didn't even have time for it all.
Side note: Its pretty inexpensive to join their monthly club and get science experiments delivered to your door every month. It also makes for a great gift. Check it out!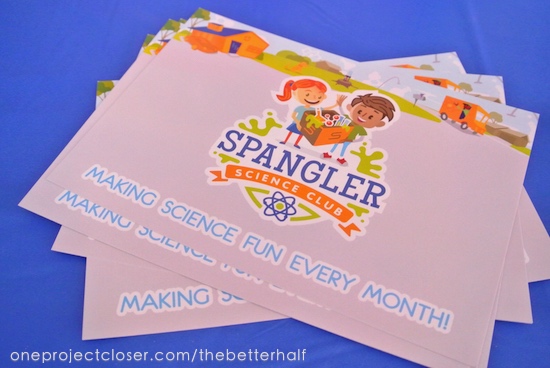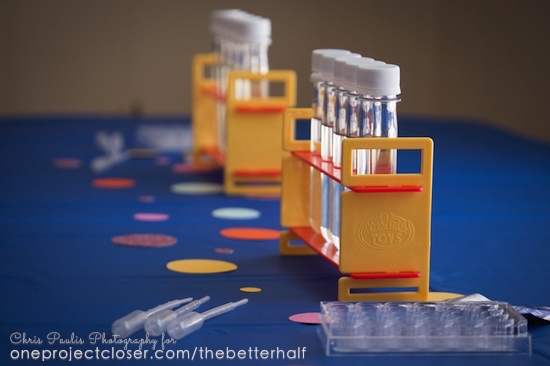 The favorite of both the kids and the adults was the bubbling blob experiment! The kids loved creating their own colors and then watching the bubbling reaction happen. I was a little worried that the kits would be too advanced for our group of 6 year old girls, but they were all easily adapted for any age. I simplified the questions but otherwise, the kids were able to do the experiments on their own with very little help (but still lots of supervision).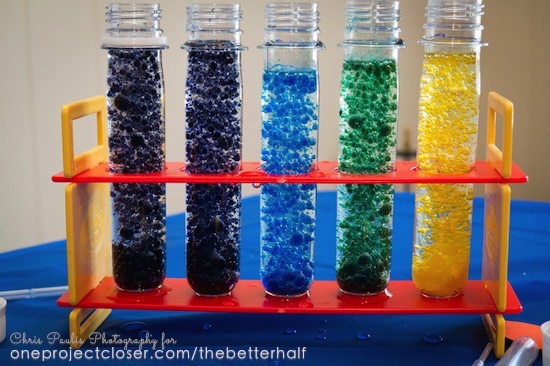 Build Your Own Molecule
I hadn't originally planned for this, but about a week before the party, my friend Vanessa at Tried and True shared her son's Imagicademy Math Party where they built candy structures. What a great idea and they look like molecules. So after consulting my brother-in-law and sister-in-law (both crazy crazy smart real life scientists), we came up with 3 simple molecules for the kids to build using marshmallows and gum drops.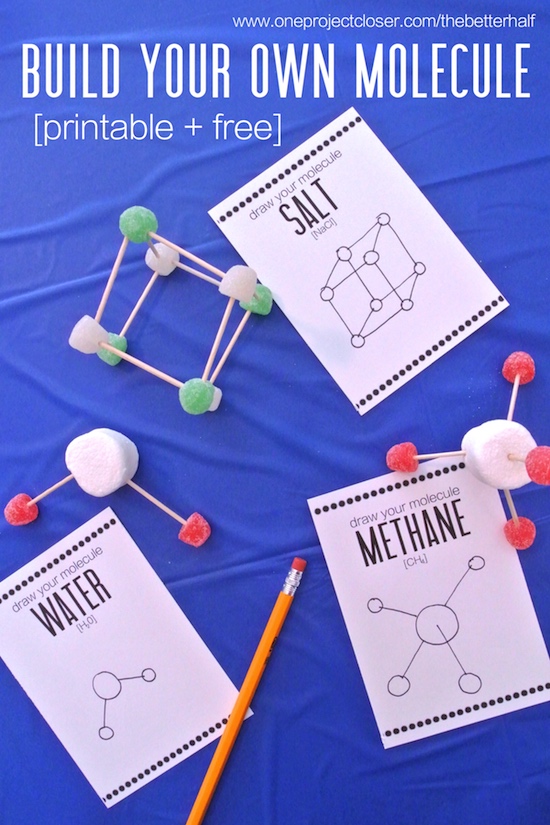 After building the molecule with candy, our scientists were asked to draw a picture of the molecule.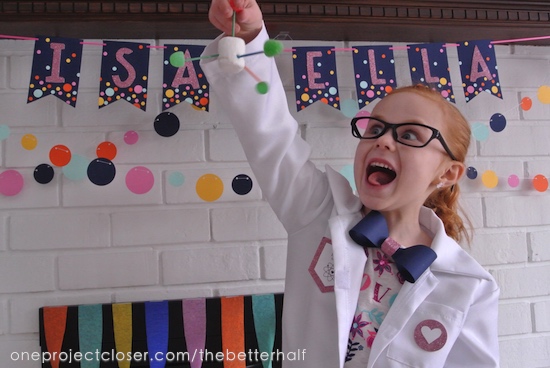 States of Water Game (similar to Freeze Dance)
After the scientists built their water molecule, we went in the living room to get some wiggles out. This game was the idea of my sister in law, Natalie, and it was a HUGE hit!
The super basic science as explained by this non-science girl….
States of Water:
Liquid – warmth allows hydrogen to move around the oxygen – KIDS WALK
Solid/Ice – cold stops the movement of the hydrogen around the oxygen, creating water to freeze as ice – KIDS FREEZE
Gas/Steam – heats speeds up the hydrogen and they break apart from the molecule creating steam – KIDS GO CRAZY
I explained the basic science to the kids and then called the stated of water to the kids and they changed the way they moved around the room. It was super fun and I was surprised just how quick they caught on!
Petri Jello
Izzie agreed this year to have petri dish jello and lots of candy for her celebration, rather than cupcakes. Yes there was a lot of sugar, but most of it was part of the science! 🙂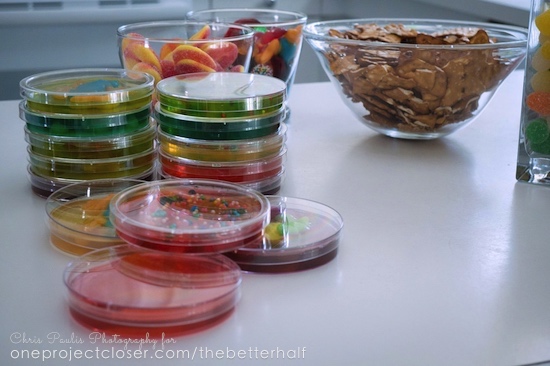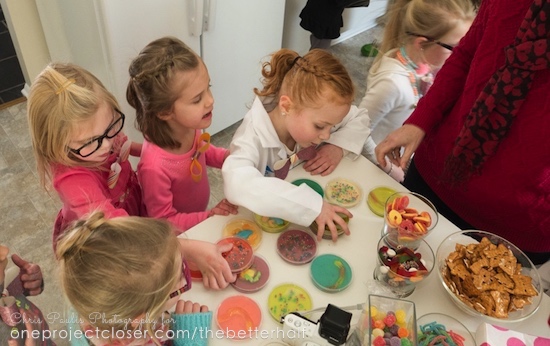 Scientist Accessories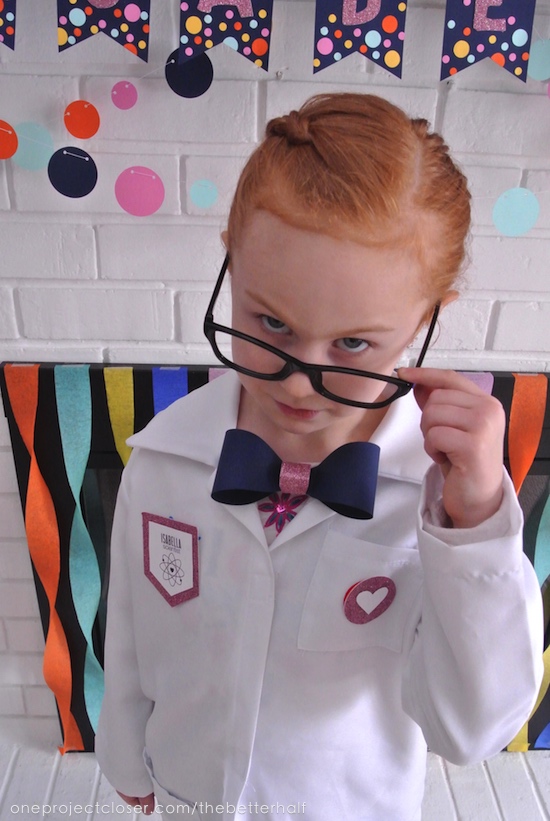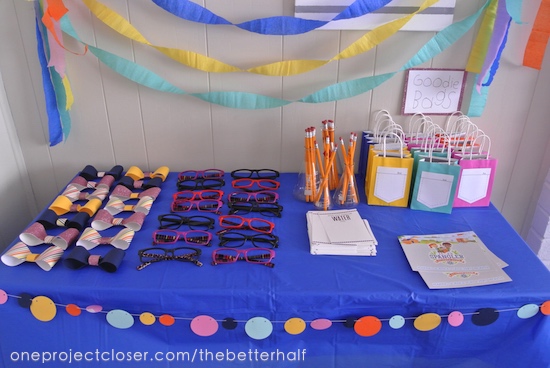 This is probably a product of their mother, but both my girls believe all parties should involve costumes. So of course, Isabella wanted to be dressed like a scientist. So I made paper bow ties using my Silhouette for all the girls and bought reading glasses from the Dollar Store and popped the lenses out. If you don't have a Silhouette, my friend, Gwen at The Bold Abode has a great bow printable version that you can cut out! I also turned Izzie's play doctor coat into a lab coat.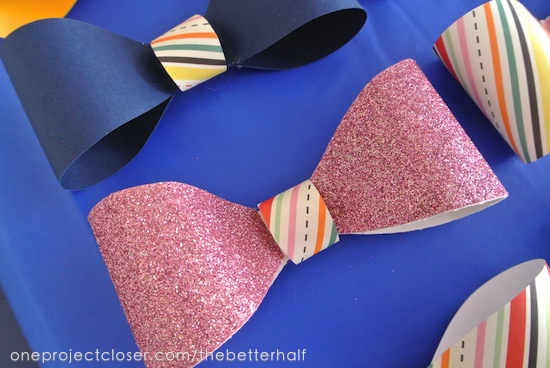 The Science Party Decorations!
It's always my favorite part – the decorations! I loved the bold colors with a touch of feminine, which I think sums up the idea of a girl scientist party, right? After putting streamers on every possible surface, I made a banner and dot bunting using my Silhouette. The best part – it all cost under $10!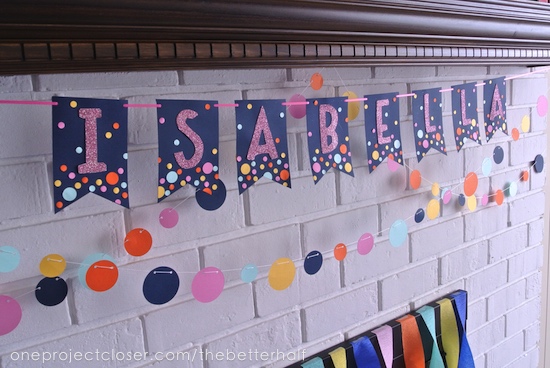 Oh, and I decorated my chalkboard to reflect and Dad was kind enough to snap a pic! 🙂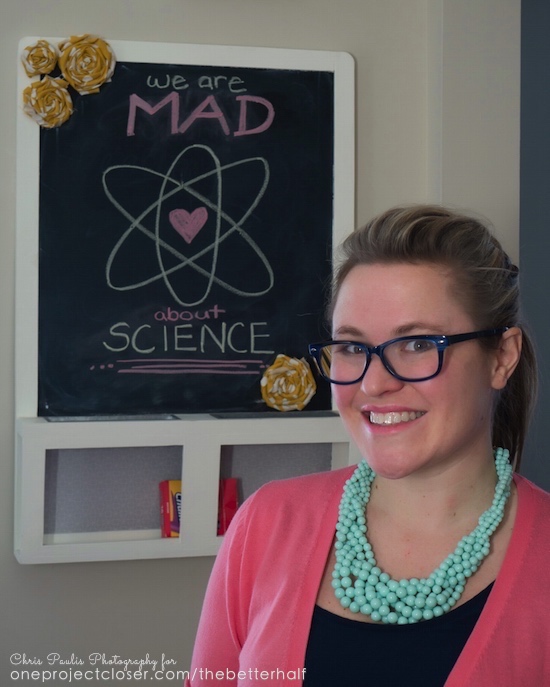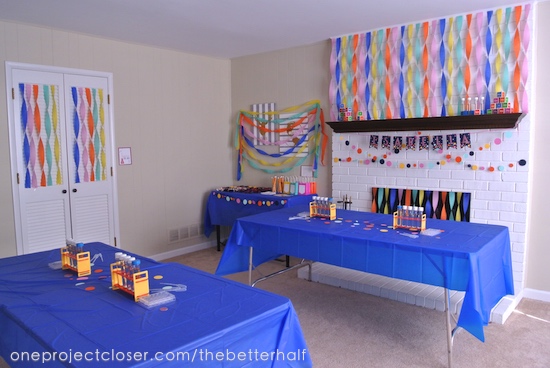 My Mad Scientist
Finally, Happy Happy Birthday to the girl who forever changed my life for the better and made me fall in love with being a mom. I love you, Isabella!!!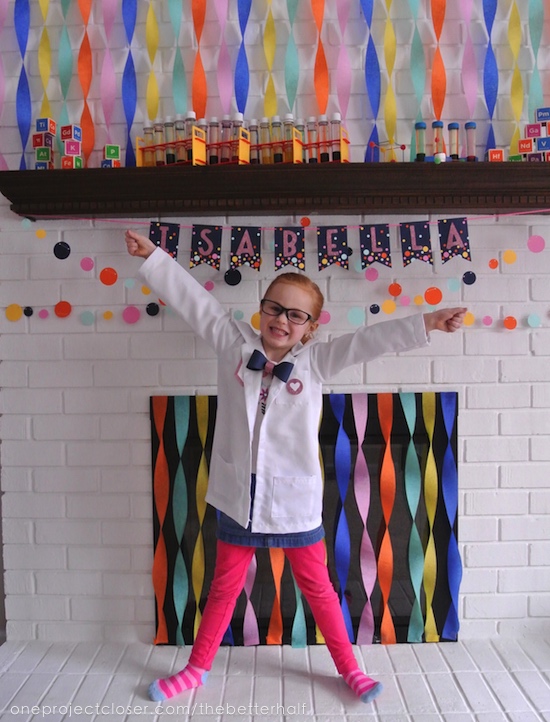 What do you think? What are your mad scientist party ideas for next time?
As always, thanks for reading!