Kenmore just recently released a new line of Elite appliances including the new 1394, stainless dishwasher with 360° PowerWash technology. This dishwasher is elegant, efficient and packed with all the features you'd expect from an industry leader. Read on for the full review and feature guide.
What Is 360° PowerWash?
360° PowerWash is an innovated approach that "blasts dishes from all angles".
Kenmore Elite Dishwasher Review
The highs: Ultra-quiet; excellent washing; energy-efficient; stainless-steel; adjustable rack; cycle-status display.
The lows: Very sensitive control buttons.
The verdict: This is an amazing dishwasher; highly recommend it!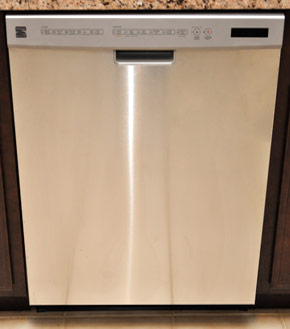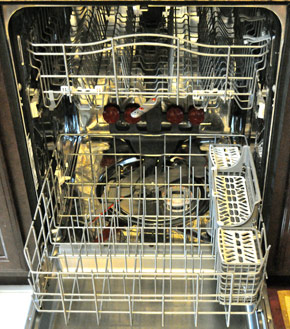 Installation
Installing this dishwasher took about 2 hours, including a quick trip to Big Orange. Kenmore made it very easy to install and included easy-to-understand instructions. Click here for the full post about how to install this dishwasher.
Features & Performance
Jocie and I have been using for about a month and here's what we think so far:
Energy Efficiency
This dishwasher is ENERGY STAR compliant, utilizing the Ultra Wash® HE system to save water and energy. But lets put some meaningful numbers behind that:
Estimated yearly operating cost (electric / gas water heater): $31 / $23
Estimated yearly electric used: 290 kWh
You can also select a 4 hour delayed start. This is an important feature because it makes it so easy to run the dishwasher during off-peak energy hours.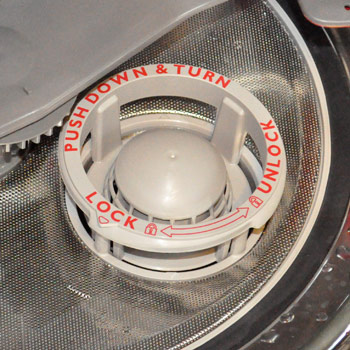 Washing
We've been really impressed with how well this dishwasher cleans. It gets all the dishes spotless- even flatware with peanut butter! It could be the optical soil sensor or maybe it's the TurboZone rotating spray jets that remove stuck on foods. In addition to the normal cycle, there are also several targeted cycles to choose from.
Eco wash – This cycle increases water and energy savings by extending the cycle time.
Pots & Pans – Great for casseroles and baked on grime.
Smart Wash – This cycle is setup to optimize cleaning while conserving water and energy by sensing the load size and soil amount.
Quick Wash – Runs a 1 hour cycle at the cost of some additional water and energy.

Controls and Status Display
The controls are found on the front side of the dishwasher. They enable you to select from the different cycles and options like heated dry or sanitizing rinse. They are simple to use and will even persist if you open the door to add one more dish. We really like the status display that indicates what cycle and remaining time. I mentioned that the controls are sensitive because you can inadvertently press a button just by leaning against the dishwasher. We quickly adopted the habit of locking the controls- a good idea for anyone with small children (who like to press on buttons).

Ultra Quiet
At 49 dba it is very easy to forget that this dishwasher is even on. Our old dishwasher was so loud you couldn't even hold a conversation so it's really refreshing to eliminate another noisy appliance.
Loading
A huge benefit of this dishwasher is the capacity. We can fit so much more in every load! There's a couple features that make it easy to load this dishwasher even with large pots and pans. The upper rack is height adjustable so you can fit very tall items. Several rows of tines can be moved to accommodate large glasses or big pans. The flatware slots help make sure all the utensils are separated and each piece of the basket can be removed.

Specifications
Rack Material: Nylon
Tub Material: Stainless Steel
Automatic Temperature Control: Yes
Filter Cleaning: Manual-clean filter
Built-in Design: Yes
Control Type: Electronic
General Warranty: 1 year limited
Heated Dry: Yes
No Heat Air Dry: Yes
Control Lockout: Yes
Cycle Status Lights: Yes
Quiet Package: 49 dba
Detergent Dispenser: Yes, dual cup
Rinse Aid Dispenser: Yes
Start Button Memory: Yes
Height: 33-3/4 in.
Width: 24 in.
Price & Where to Buy
If you're looking for a quality appliance that will last a lifetime, this is an excellent choice. All Kenmore appliances are available at Sears or on Sears.com. This dishwasher is priced at $999.59. Here's the link (but check our Sears coupons page first!):
What do you think? What's your experience with the new Kenmore Elite line?