We love dramatic under cabinet lighting. It's one of those great additions to a modern kitchen that adds both function and style to the design. Not only does it provide good work lighting for everyday tasks, it also show off the beauty of other kitchen features, like intricate tile back splashes or a stunning set of custom ceramic canisters.
Three weeks ago we gave you a preview of Kichler's new Design Pro under cabinet lighting. As we were planning the details of our kitchen remodel, Kichler reached out to us and asked if we'd like to try the product in our kitchen and provide a review. We jumped at the opportunity, because Kichler's product boasts everything we wanted in under cabinet lights: easy installation, low energy use, bright light, and low maintenance. It also has a few extra perks we weren't counting on, like integrated dimmer switches.
We installed the Design Pro LED lights in just three hours one evening last week (a detailed how to on that topic to follow). While the countertop isn't installed yet, the lighting is already a dramatic improvement to the space, and we're already sure we'll be happy with the final results.
Rather than wait another six weeks for the completely finished kitchen, I wanted to share our initial review with you now. You're going to have to use a little imagination to see this kitchen with beautiful DuPont Zodiaq countertops and an elegant tiled back splash. Even without these elements present, you can see that the Kichler lights will provide great illumination.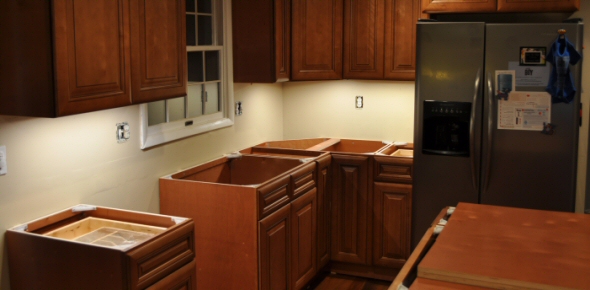 Kichler Design Pro LED Under Cabinet Lighting Review
The Highs: Warm, white light with excellent coverage; low energy use; 40,000 hour LED bulbs (that may never need to be replaced under normal use); thin, easily-concealed design; simple installation; dimmable to three levels via included dimmers; very solid feel.
The Lows: Premium price.
The Verdict: A beautiful, high quality addition to any modern kitchen design.
Detailed Features & Performance
The Design Pro LED cabinet lighting solution is made up of four simple components:
the LED lighting fixtures in 6″, 12″ and 18″ lengths (6″ model shown below).
interconnect wires that run between individual lights and from the lights to the transformer (various lengths).
low voltage transformer.
dimmer switches.
For an overview of each component, you can see our Kichler Design Pro preview from a few weeks ago.
Installation Review: Installation was straightforward, but may require an electrician in some areas. Power runs from a 110V circuit to the low voltage transformer (which is sized to accommodate the number of fixtures you need – our installation required a 100W transformer). From the transformer, a low voltage wire runs to the first light fixture in the series, and then from that fixture to each subsequent fixture in series (you notch out the underside of the cabinets for the wires).
The interconnect wires are sized at a few different lengths to accommodate shorter or longer runs between cabinets. Installation will be a snap for any electrician, and this system is definitely easy enough for DIY installation with a small amount of electrical know-how.
Transformer Location: We installed the transformer on the wall in a closet in the basement. If you prefer, the transformer can be installed under the cabinet, but it is a bit large (approx. 12 in. x 6 in. x 3 in.), so an out-of-the-way installation is preferred. Lead wires up to 25′ in length are available, so transformer placement is reasonably flexible.
Concealing the Lights: The light fixtures themselves and all wires, switches, and connectors have a 3/8″ depth, which makes them easy to conceal under cabinets (which normally have 3/4″ – 1″ of space available). This offers a better choice than almost all fluorescent fixtures available on the market, which require significantly more depth.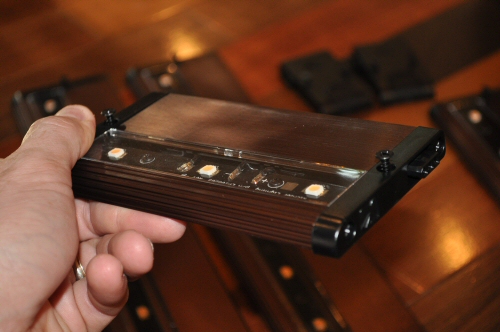 Switching and Dimmers: You have two options for switching the cabinet lights. A standard switch can be installed ahead of the transformer on the 110V power supply, or you can rely on a special Kichler-designed 4-position dimmer switch (shown below) installed in-line with the lighting. You can also use both if you prefer, and the lights will remember the dim setting even if the power on the A/C line is cycled. You cannot install a dimmer on the A/C side as this is not compatible with the transformer and LED lights.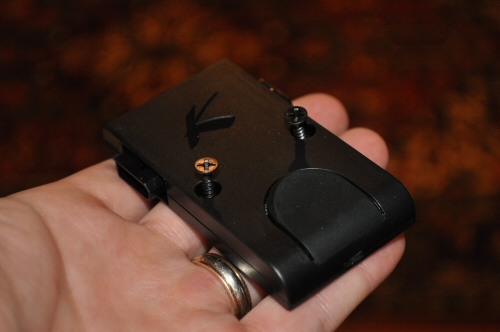 Light level and color: Perhaps the most impressive feature of the Design Pro LED is the quality of the light after installation. We were concerned when Kichler first approached us that perhaps an LED-based solution wouldn't be bright enough.
It turns out we were worried for nothing. The LED lights provide the perfect amount of light for preparing foods and other activities, and if you want a more romantic or subdued alternative for the evening, the dimmer provides two lower light levels that are perfect for that.
Overall Impressions
We are impressed with Kichler's Design Pro Product and would recommend it to anyone looking for a premium cabinet lighting solution in their own kitchen.
Price and Where to Buy
Prices depend on the specific components you purchase, but a typical medium-sized kitchen would likely run between $600-$1200. Kichler provides a retailer search function on their web site to find a local lighting company that carries Kichler products.