Its been awhile since I did any work on my kitchen redesign…I've been distracted by fall decorations, link parties, and yard sale-ing.
Well, I did paint some owls last week that I thought I was going to put over the kitchen sink. They are super cute but don't look so great on the chevrons,  and they are too small for the space.
After I put aside the owls, I was at a loss for what to put over the sink. I had looked for about a month for a large plate or several small plates but couldn't find any I liked or were the right colors. I also looked for other random decor to put over the sink, but just couldn't find anything I really loved.
Then, last week, Ethan had a VERY LARGE tile saw delivered to the house…on a pallet! Finally, my very own pallet! On a side note, if anyone knows how to get free pallets, I would some insider information!
Now that I had a pallet to work with, I decided to make some pallet art!
Ethan cut five 13″ pieces of pallet. Yes, I could have done it myself, but I wasn't feeling great and Ethan looks so good using power tools…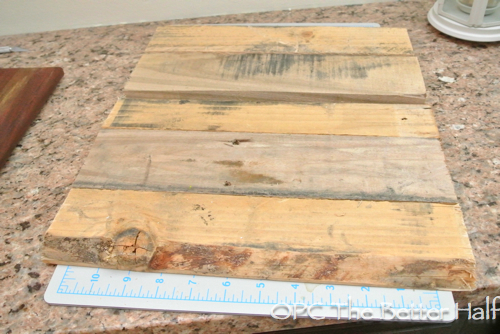 Then grabbed a random strip of plywood out of our scrap pile and some wood glue.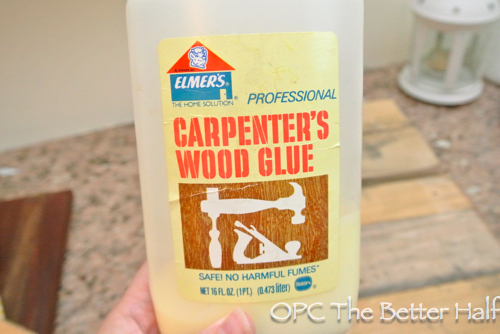 I glued the crap out of the ply wood and placed the pallet wood on top. It would have been more ideal to use two strips of plywood on the back but one worked okay. The wood glue required some patience on my part (more so than hot glue) but I think it will fold better over time.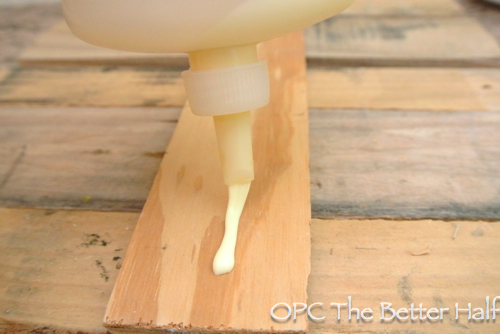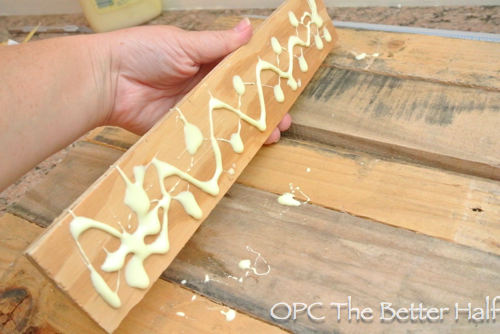 Once the glue was dry, I painted it with the cream color I used in the kitchen. I used a dry brush and applied really thin, streaky (that's a word, right?) layers. I wanted the paint to look imperfect and uneven since pallet signs are more rustic and imperfect in nature.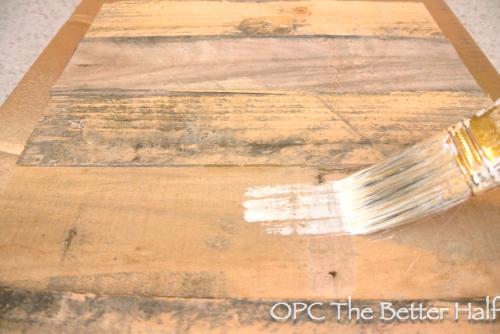 While the paint was drying, I looked around on Pinterest for some cute sayings that might go well in my kitchen. In the running was:
I really liked the first one best, but Ethan voted for the third. Ethan doesn't usually have much of an opinion about decor so when he does, I try to respect it. Plus, its pretty cute.
Then I decided to try another idea I've seen about a million times on Pinterest…print out your words and then trace them using a ballpoint pen. The pen will leave a light indentation on the wood to be used as a guide when you paint. As all the pins say, the easy way to get perfect letters.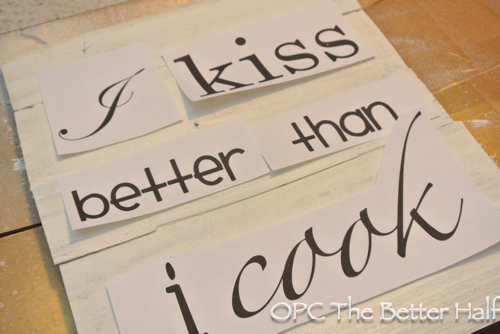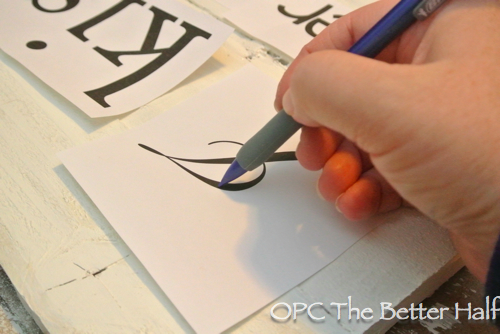 Well, that was a Pinterest FAIL! No mater how hard I pushed, there was enough of an indent to use as a guide and I had a hard time tracing perfectly anyway since the rough word kept changing the direction of my pen lines.
So, I ended up free-handing it. Argh, for being slow but oh well.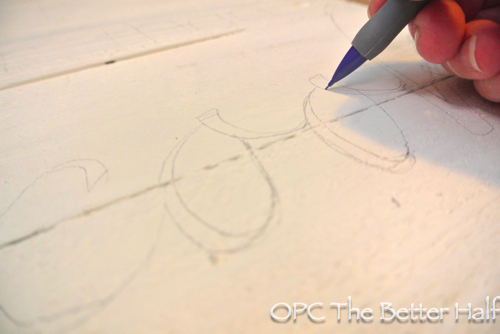 Surprisingly, it actually turned out pretty great. At first I painted the words too thin, so once the first coat was dry, I repainted using a thicker brush. I probably could have gone a little thicker still but wasn't sure I could without the letters running together.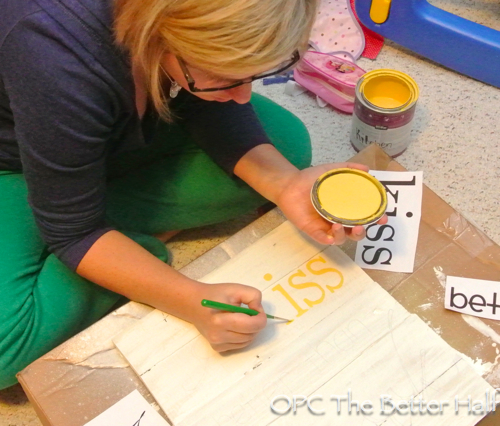 After the paint on the words were dry, I lightly sanded the whole thing with coarse sandpaper until some of the pallet showed through in a few spots and the words looks slightly worn.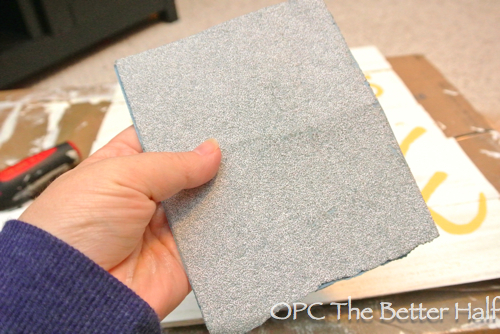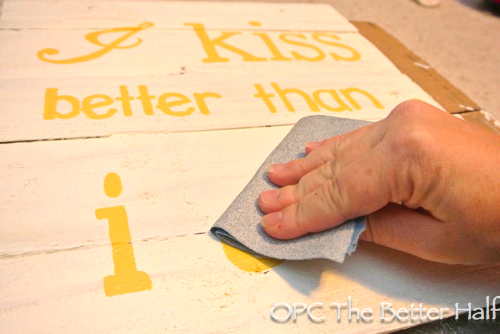 Then I hung it over my sink using a few command strips (I know, I use them for everything).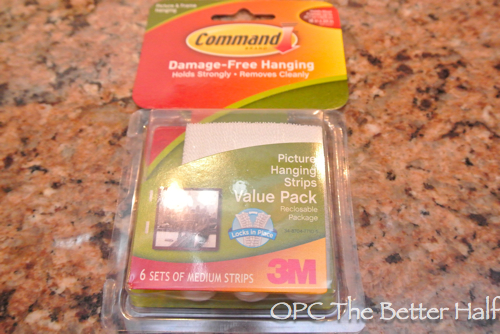 I was a little worried it was too casual for the space, what with the dark cabinets and fancy chevrons…but after a quick texting consult with my super fab friend, Ruth, I like the sign all the more.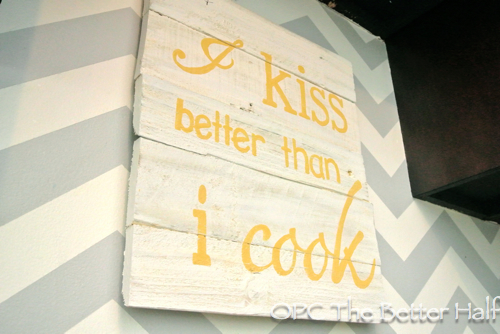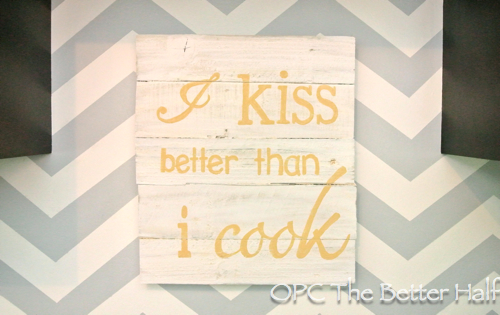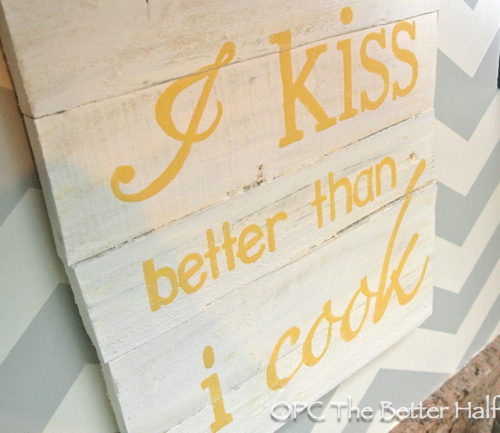 What do you think? Is super awesome or epic fail?
As Always, thanks for reading!

Don't forget to check us out on Facebook and Pinterest!
We linked up at: Not Just a Housewife, The DIY Dreamer, Cherished Bliss, We are THAT Family, Savvy Southern Style, House of Hepworths, BearRabbitBear, The Dedicated House, House on the Way