Howdy Friends! It's been a while since we've gotten a review out, but we're back today! Two weeks ago Lowe's shipped us their new KOBALT 80v Max, 21″ Brushless Lithium Ion Push Mower for test and review. This is our first time using one of these latest generation, high voltage, extended-life mowers that have become very popular over the last two years. While Lowe's provided this tool for free, they are not compensating us for this review and these thoughts are entirely my own.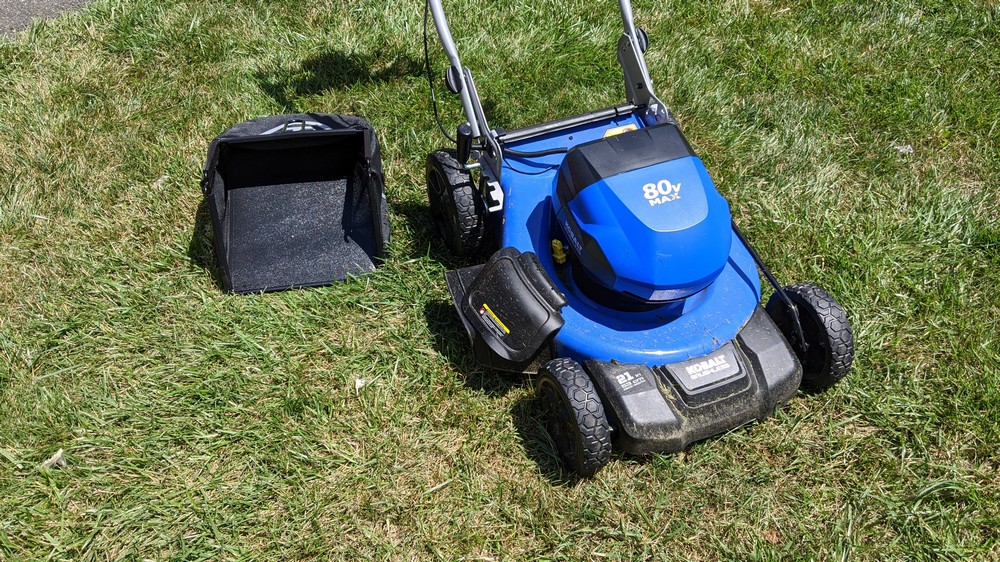 Key Features of the KOBALT 80v Max Push Mower
Let's get started with the key features of this mower:
21″ cutting deck – comparable to most small gas mowers on the market
Three modes for handling clippings (bag, mulch, or throw)
7-level adjustable deck height w/ easy adjust lever
80v Max Battery w/ up to 80 minutes runtime and smart battery management
Comes in standard push design as well as a self-propelled version (for an additional $100).
Eliminates the need for gas and oil as well as oil changes.
Here's my impressions of the mower, starting with right out of the box!
It's Easy To Setup!
One thing we loved above the mower right from the start is the super-easy setup. Basically take it out of the box, straighten up the handle, charge the battery, configure it for either bagging, mulching, or throwing, and you're ready to go. As you are probably aware, bagging grass isn't great from an environmental perspective nor for lawn health. (We follow the old adage, "cut it high and let it lie". This, along with other lawn care steps, provides optimal lawn health). My sons rotate through our lawn duty and were super excited to try this mower.
Battery Life is Good Enough for Our 1/4 Acre of Lawn
The single most important question we ask when we're considering a battery-powered lawnmower is, How long will the battery last? Lowe's says you get up to 80 minutes of runtime with this lawnmower. We've used the mower twice now to cut our lawn (each time removing approximately 3″-5″ of grass height), and it has been able to complete our quarter-acre yard without stopping in about an hour, leaving just 1 bar (out of 4) on the battery remaining. Given that we were down to 1 bar after a 1/4 acre, we suspect you'd need two batteries for anything larger than about one-third of an acre.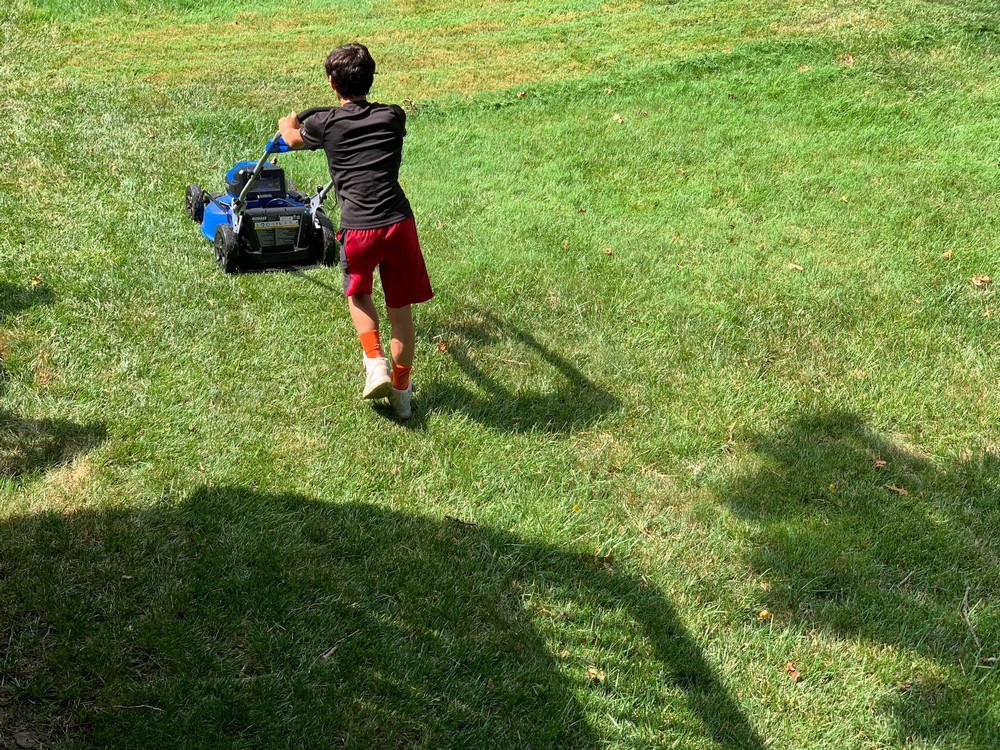 Battery Charge Time Is Just Over an Hour
A full charge requires an hour and fifteen minutes, but you can get over half charged in about 30 minutes. Still, this is probably a little too long for most people if you're trying to use the same battery twice for one job. If you spring for the second battery (a fairly pricey option — see the price section below), you'll get virtually uninterrupted mowing since the charge time is about the same as the run time.
Here's a picture of the battery on the included charger.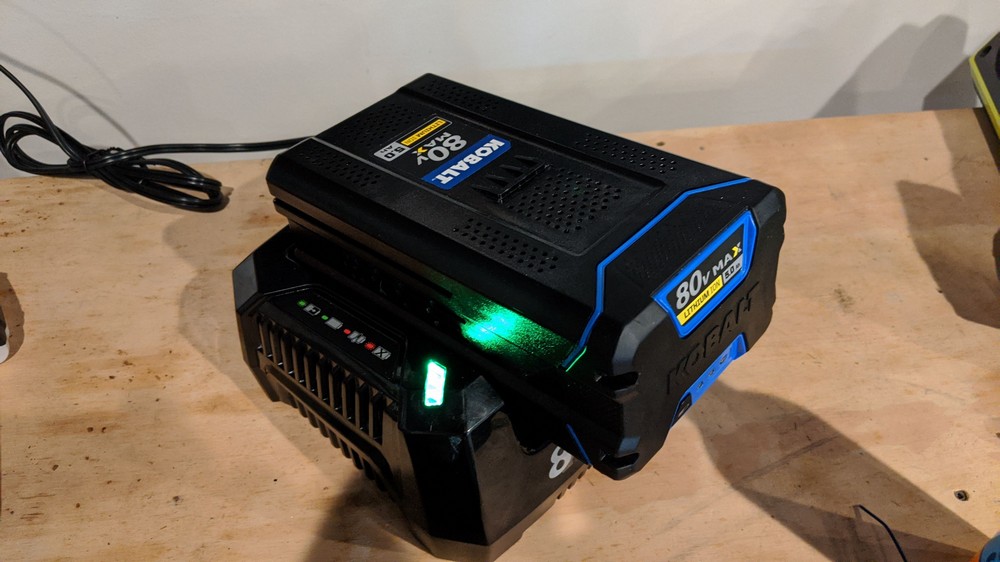 7-Level Adjustable Deck Height
One really nice feature about the KOBALT is the ease of deck height adjustment. The mower has 7 settings (ranging from 1-3/8″ to 3-3/4″). Instead of needing to adjust height on each of the 4 wheels, you pull one lever (and it's easy to move) and the entire mower adjusts. You can see the lever over the rear right wheel here.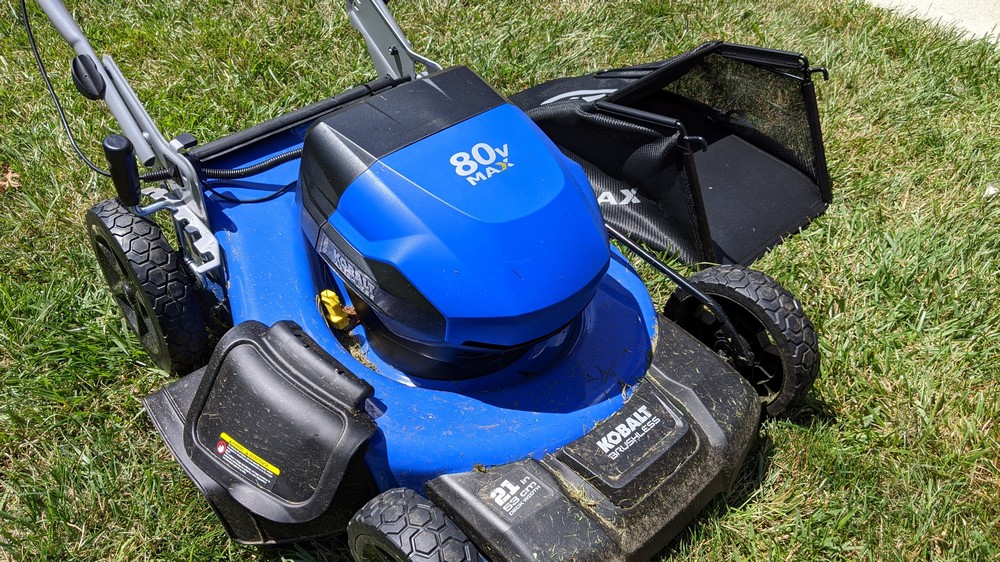 Solid Mowing Performance
So far, the mower has performed great for us! We're super pleased to finally be off of gasoline and the associated hassles of engine maintenance, oil, and regularly hauling gas cans to/from the gas station. We usually cut our grass when it's 3-5″ higher than we like it – so the KOBALT is removing a fair amount of grass height for us.
Very Low Maintenance
It probably goes without saying, but the best part of owning a battery-powered mower is the elimination of gas and oil from the setup. No more trips to the gas station with gas cans is a really nice thing. The only regular maintenance this mower requires is blade sharpening, which you should be doing on your gas mowers anyway, but which is more important on this mower since dull blades can negatively affect battery life. If you've never sharpened a mower blade, it's simple and you can follow that link for tips.
Price & Recommendation
The KOBALT 80v Max Mower comes in two varieties, the standard push mower (shown in this article) which retails for $499, and a self-propelled version of $599. Here's the links for both.
You can also purchase the mower without a battery or charger (currently $329 for this option which makes sense if you have other KOBALT tools already)
Perhaps the biggest drawback of all these large battery tools is the price of extra batteries. A second 6.0Ah 80v Max battery runs a whopping $229. We know there's a lot of technology that goes into these batteries and we are hopeful that prices will come down on them. That said, this battery replaces hundreds of gallons of gas you'd otherwise have to buy, so in that sense the pricing isn't insane.
After just two rounds of mowing with the KOBALT we can definitely say it's a huge improvement over our gas mower. The major pluses are elimination of the need to keep gas on hand and the instant-on nature of the mower (no gas means no choke/start-up activities). We recommend this mower to anyone looking to cut out the gasoline.