I'm baaaaaack! It's Keri from Shaken Together! I sure hope you don't mind me crashing at Jocie's place once a month. At least I bring dessert, right?!
When I was brain storming for this month's contributor post, I did a little research. I mean it is March after all. 'Tis the month for soda bread and mutton, corned beef and cabbage, a pint of Guinness and a tea cake. I contemplated a recipe using gorgeous sharp Irish cheddar cheese and debated about making colcannon, a hearty potato and kale dish. But, since I don't have a drop of Irish blood, I figured it was probably best to leave that traditional fare to the Irish.
Now, don't you worry, I do have a super-easy, festive recipe that is perfect for St. Patrick's Day! This no-bake sweet is sure to lure all your wee little ones … Lucky Charms Leprechaun Bark! Its the perfect St Patrick's Day dessert!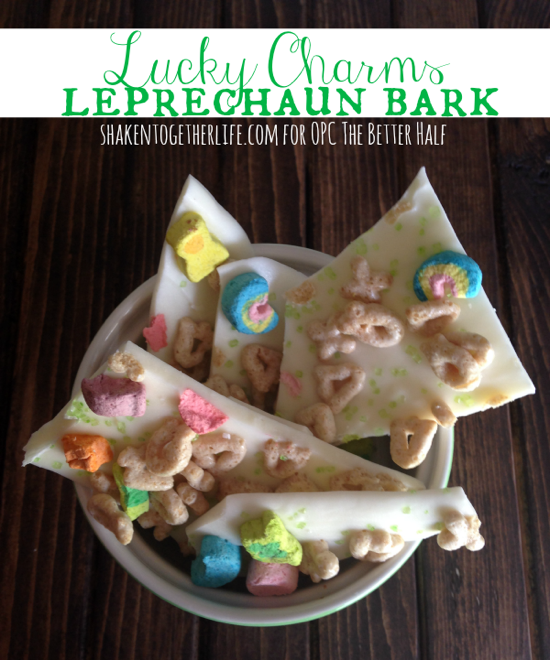 Honesty, this recipe only has two ingredients! Well, three if sprinkles count. But when one of those ingredients is Lucky Charms, you know you have a winner! It is just about the perfect balance of lightly sweetened cereal and crazy good marshmallows. And the festive shamrocks, clover hats and rainbows could not s
So, let's talk bark. It is basically a melted chocolate-type base with all sorts of yummy goodness sprinkled on top: nuts, chips, candy, crushed cookies, sprinkles. Once the bark is set, you can cut or break it apart into smaller pieces. Because the "recipe" is so flexible, it is the perfect treat to make for holidays!
And speaking of holidays, St. Patrick's Day is right around the bend, so let's get to it. Here is what you'll need for our Lucky Charms Leprechaun Bark:
1 lb. Vanilla Candiquik (I am partial to Candiquik for the base because it melts beautifully in the microwave in about a minute. You can also use white chocolate chips or candy melts.)
Lucky Charms cereal – about 1 to 1 1/2 cups depending on the size of your pan/bark
Green sprinkles
Prepare a sheet pan by placing a sheet of parchment paper on it. This makes it really easy for the bark to release from the pan. Melt the Candiquik according to the directions on the package. Once it is melted, use a spatula to spread the melted Candiquik over the parchment paper. I try to spread it a rectangular shape, but you can go free-form, too. Sprinkle the top of the melted Candiquik with Lucky Charms. I might have gone back to pick out a few extra marshmallows. Maybe. Finally, add a shower of green sprinkles and pop your pan in the fridge to set up.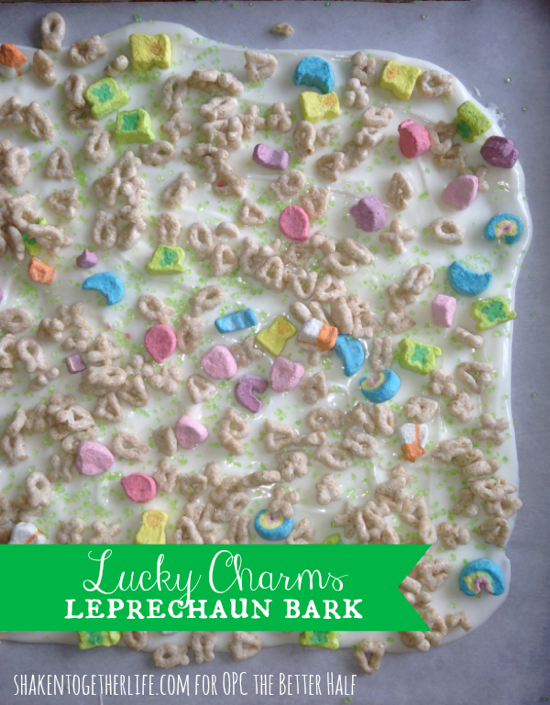 Once the bark is set, cut or break it in small pieces. I used a sharp serrated knife and once you begin to put pressure on the edge of the bark, it naturally fractures and breaks apart. And if there are loose marshmallows, no one will have to know!
Package your Lucky Charms Leprechaun bark in treat bags for your lads and lasses! Or make it one afternoon with the kiddos. I have the inside scoop that they won't mind "helping" with the marshmallows 😉
And since I feel so blessed to spend a little time with Jocie and all of you each month, I thought it was only fitting that I end with an Irish blessing:
May your joys be as deep as the ocean,
Your troubles as light as its foam.
And may you find sweet peace of mind,
Wherever you may roam.

-An Irish Blessing
See you all again next month!!