I remember painting oven baked clay ornments when I was little, and my parents were very sweet to put them on the tree, but boy were they ugly! But the concept is wonderful, so I thought I would do a grown up version. I'm excited to give these this Christmas as ornaments and gift tags!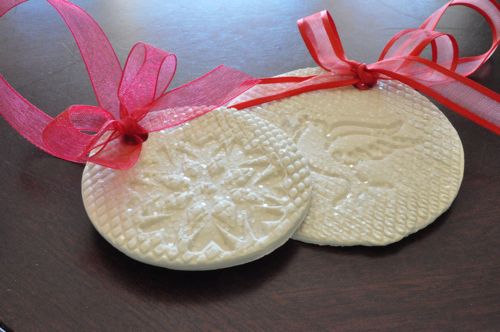 I originally thought about making salt dough but found that it takes 4 – 6 hours to cook and they don't make as polished of a product. So, I bought White oven-bake clay at Walmart for about $6 for a good sized amount. A big advantage to oven bake clay is that you can take your time without the clay drying out – great for kids!
Making Clay Ornaments and Custom Gift Tags
Here's how we made our ornaments and gift tags. Check out my super cute, little helper – my older daughter, Izzie! Lucy, our younger, wanted to help but crawled around our feet and squeeled her encouragement.
Step 1 – Cut off piece and kneed in your hands until soft.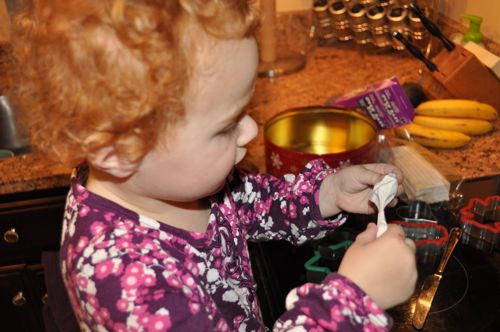 Step 2 – Then roll out to 1/4″ thickness.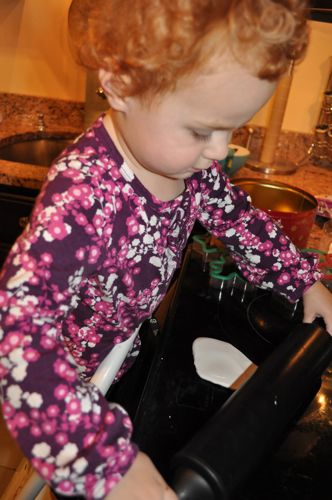 Step 3 – Then use cookie cuters, cups, or whatever to cut out the clay to your desired shape. Izzie used her Care Bear cup to make a circle.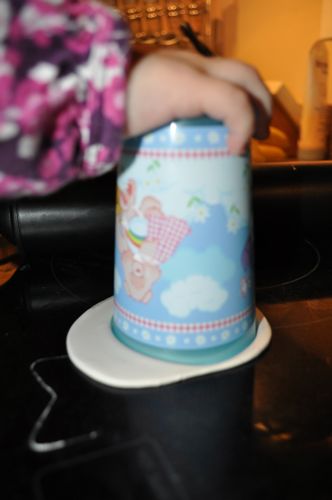 Step 4 – I then used a straw to cut out a hole for the ornament string, but a small coffee stirrer would have been perfect.
Step 5 – You can stop here or add extra ornamentation. I used an old wire pencil organizer to create the indented grid you see on the ornaments, but burlap, other printed fabric, or stamps would also work well. On one ornament Izzie made, she used her finger tips to create texture and it looked really cute. You can also use stamp ink to add color before baking. Get creative!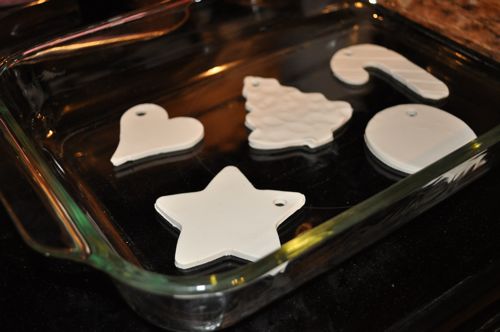 Step 6 – Once done, place in a glass or metal tray or dish and bake at 275° for 15 minutes per 1/4″ of clay. After completely cool, you can sand or paint the clay.
Finally, add a ribbon and you're done.
Have you ever made oven-baked clay ornaments or gift tags? Any pointers?