Our oldest daughter, Izzie is almost three and I wanted to make Christmas more than just one day for her. I am hoping to teach her the story of Jesus' birth and have fun in the process. So I decided to make an advent calendar. As I was looking around on the internet and Pinterest, I saw lots of really cute ones made of all different types of material – wood, fabric, match boxes, paper, and much more. I decided to make one of paper because it was handy and cheap. Maybe as my sewing skills progress, I may re-do my advent calendar. Here are the directions of how I made the calendar so that you can follow along and maybe make one of your own. In the comments, please add your own ideas of materials, types of calendars, and activities that you have done so that I can take them into account next time around!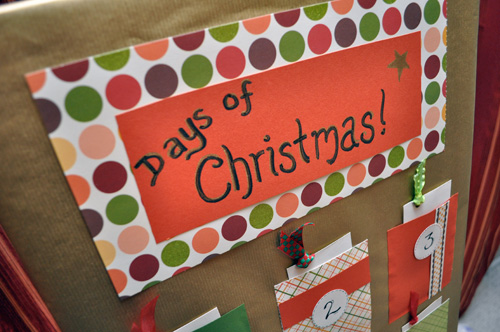 Find a backdrop. I originally was going to have Ethan cut a piece of plywood and them paint it, but he was busy and I was eager to get started. Instead, since it was recycling night, under the cloak of night, I dug through a neighbors recycling (on the curb) and found a very large piece of cardboard. Cut it to your desired size. I wanted a tall, thin calendar that I could lean against the wall. I then covered it with gold wrapping paper.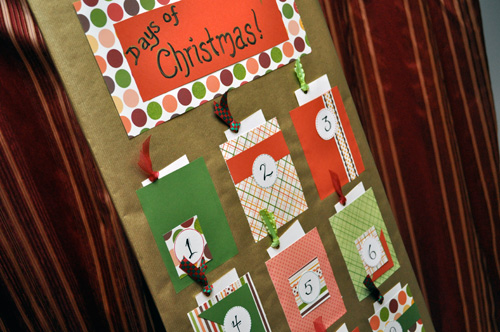 Then cut out 24 paper pockets using colorful scrapbook card stock. Add your own style but using different colors, patterns, and paper sheen.
Using a ruler or yard stick, determine the layout of your pockets. I recommend starting from the bottom and working your way up. Use pencil so that you can go back an erase any markings.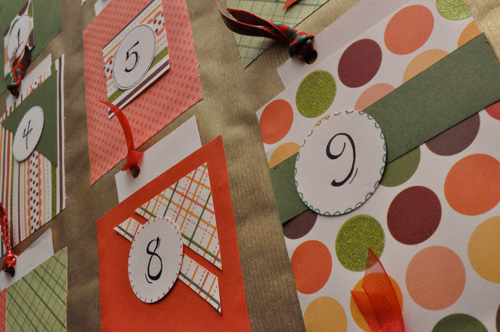 Affix pockets using a very fine line of glue or glue dots on the two vertical edges and the bottom edge. Do this for all 24 pockets.
Add adornments. You can go to Michaels or your local craft store and buy paper dye-cuts and decorative stickers, or you can cut out your own designs using the scraps of the paper used for the pockets. I chose the latter because it was cheaper and I was eager to complete the project without going to the store.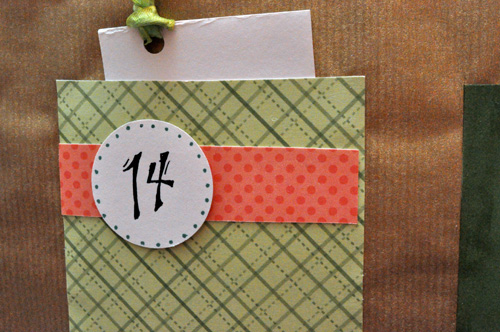 Number the pockets.
Cut 24 inserts for the pockets, punching a hole in the top corner and attaching a ribbon. The ribbon is important so that the insert does not fall into the pocket.
Write an activity on each insert and your calendar is complete.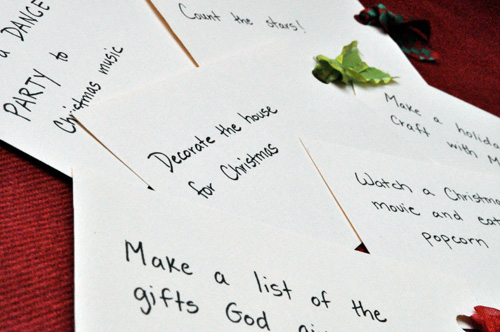 Here are some ideas that you can include on your advent calendar:
Decorate the Christmas tree
Go to a Christmas party
Make Christmas cookies
Make and deliver Christmas cards
Go caroling (around your neighborhood or local senior center)
Make a gingerbread house
Travel to "Bethlehem" (walk around the block)
Drive and see Christmas lights
Learn and sing a Christmas song
Make an ornament
Collect cans for the homeless
Watch a Christmas movie with popcorn
Deliver gifts
Drink hot chocolate and stir with candy canes
Dress up and put on a Christmas play
Have a picnic in front of the Christmas tree
Read the Christmas story every day
Wrap gifts
Make a treat and take it to a friend
Call grandparents and sing a Christmas song
Count the stars
Make a holiday craft with Mom
Go sledding with Dad
Make characters from the Christmas story with play dough
Make a list of the gifts God gives us
Wear a fancy dress to dinner
Have a dance party to Christmas music
Camp out around the Christmas tree
Decorate the house
Blind fold kids and have them guess the holiday scents (cinnamon, pine, gingerbread, etc.)
Donate toys to Goodwill
Cut out paper snowflakes
String Christmas lights in the kid's rooms
Collect pines cones and dip in paint for decorations
Make a Christmas tree out of paint and hand prints
Make cold weather packs for the homeless (water, granola bars, McDonald's gift cards, Hot Hands, etc. to give to homeless instead of money)