Today we're featuring a guest post from Joe, a regular reader and commenter. If you've got your own project or story to share, check out our ProjectPub page or shoot us an email. We'd love to send you a reward!
If you are able to plan ahead for your Christmas gifts you could think about making Rumtopf to give away. Rumtopf is a German dessert which is traditionally eaten around Christmas. Rumtopf literally means rum pot, and that's basically what it is, Rum, fruit, and sugar in a big earthenware pot. In the days before refrigeration fresh fruit could only be enjoyed while it was in season. By soaking it in sugar and rum, the fruit could be preserved until the next year. The traditional way to make Rumtopf is to start when the first fruits comes into season in the spring/early summer, but with the wonders of the modern supermarket you can get everything to make the Rumtopf in one trip. I still recommend doing it throughout the year because fruit is almost always better when it is in season, and it's usually cheaper too.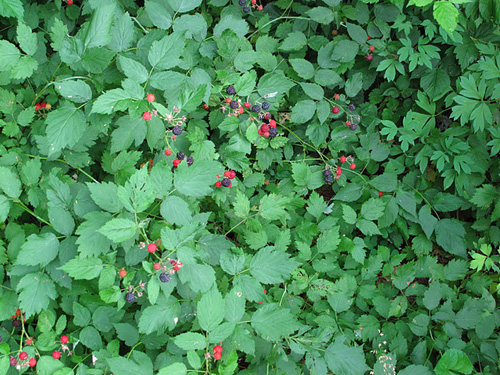 Ingredients
With all of this background, lets start with the ingredient list.
Dark (not spiced) Rum, 108 proof recommended
Fruit
Sugar
You will also need a large pot to make it in, small jars for gifts, and a kitchen scale for measuring out the sugar.
Step 1: Find the Right Jar
The Pot/Jar you use to make the Rumtopf can either be pottery or glass. The traditional German Rumtopf is a tall straight sided pottery jar. I used a glass jar because I didn't have a traditional pot when I started my batch. I hear Pickle jars work very well because they have weights that can be used to hold the fruit under the rum, and the lid sits in a deep groove that can be filled with water to ensure an airtight seal.
Step 2: Mix The Rum
Germans make Rumtopf with 108 proof rum, but your average rum will be 80 proof. I've heard rumors that higher proof rum preserves the fruit better with the higher alcohol content so I figured I would try that. After a bit of searching for 108 proof rum in the US, I realized it's really hard to find. I guess it's common in Germany though. Even so, it's really easy to get very close to 108 proof with a little mixing. Add 2 parts 80 proof to 1 part 151 proof to make 103.6 proof. Good enough!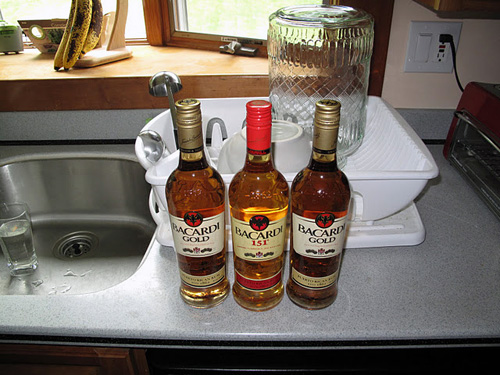 I just poured all of the rum into a big pitcher to mix it up, then poured it back into the bottles. If you use Bacardi 151 for this, it comes with a flame arrester on the cap, I ripped it off (you can see it on the counter) because it took FOREVER to pour, and I needed to pour the rum back into the bottle.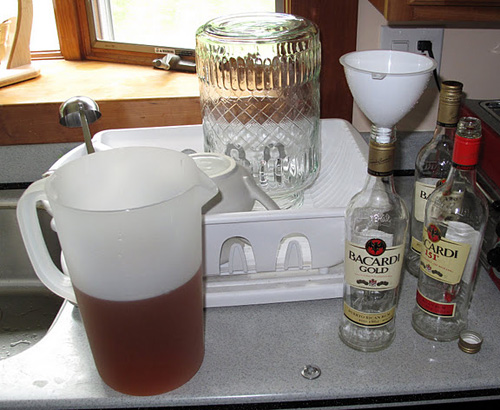 Step 3: Add Fruit and Sugar
For the fruit, I used strawberries, cherries, raspberries, peaches, pears, and pineapple. You can add other fruit like nectarines, apricots, plums, grapes, gooseberries, and red currants. Try to stay away from melons, apples, rhubarb, bananas, or anything that could discolor the mix too much (like blueberries). You really should have the cherries and strawberries in there because they give it the wonderful red color.
The process is the same for each of the fruits. Clean the fruit, and cut it down to bite sized pieces. Weigh the fruit and add half as much sugar. Let this mixture sit for a couple of hours to give the sugar time to pull the juices out of the fruit.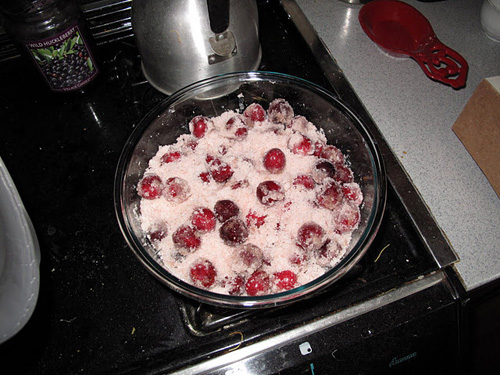 Here you can see the cherries and sugar. I pitted the cherries using chopsticks, and it was actually a lot of fun. You can also see in the picture that I added a bit too much sugar. Some of the recipes I read said equal parts by weight, but I found that to be too much sugar.
Step 4: Combine in the Rum Pot
Once the fruit has set in the sugar for long enough, it gets added to the rum pot and covered with about an inch of rum.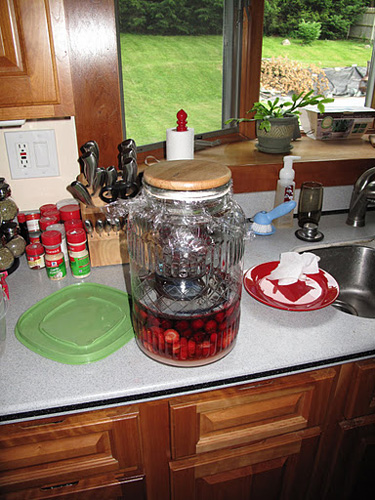 Here are the strawberries and cherries in the pot. They went in together, and took almost a whole bottle of rum. That's fine as it wont take too much more rum when the rest of the fruit gets added. You can also see a bunch of sugar on the bottom of the pot. If this happens, try to stir it in gently. You might have to let it sit for a while (a few days) and try stirring it in again. You should really try to keep the fruit completely submerged in the rum. You can use a plate to do this. Just make sure that the jar is completely sealed. I covered the lid with plastic wrap and put a rubber band around the neck of the jar. Then the jar should be stored in a cool dark place. A basement is great for this, but a fridge will do.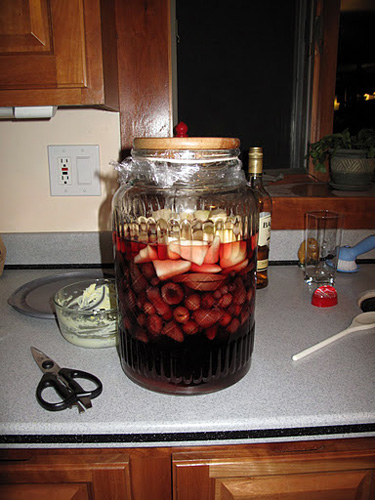 Step 5: Add More Fruit
Later in the season I had added raspberries, peaches (pitted, skins on) and pears (peeled and cored).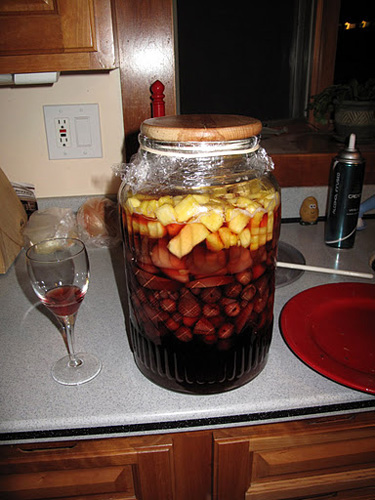 Pineapple was the last thing I added to my batch (so I sampled a little bit). I did this in October and left it to sit until I was ready to package it up for gifting. Traditionally you would start sampling the Rumtopf at the start of Advent and it would be served for the first time on Christmas.
If you decide to make the whole batch at once, I suggest you start in October. It really needs to sit for a couple of months for all of the flavors to come together. Instead of making one big jar and splitting it up, you could also start with a bunch of individual jars.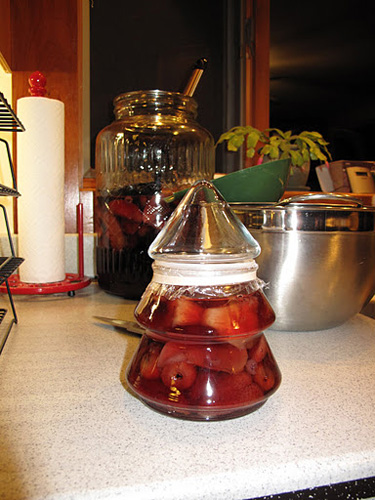 Step 6: Make Gifts
Here you can see the little Christmas tree jars that we gave as gifts. A canning funnel is a key piece of equipment for this operation. I took all of the fruit out of the big jar and tried to layer them in the little ones to make sure everyone got a bit of each of the fruits. Next, I topped each jar off with the liquid, and made sure they were sealed properly.
Enjoy the Extra
If you are not giving this away (or have extra… which you will), you can put the fruit on cake or ice cream, or use it to spike punches. I have plans to make a cheesecake and use it for the topping. I haven't done it yet because I can't bring myself to eat half a cheesecake by myself. The fruit stores well in the freezer, and the liquid can be strained and put into a decanter. Then you can drink it like a cordial.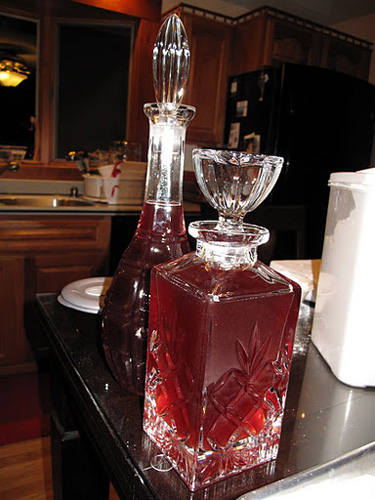 The batch I made had a lot of the liquid left over, and I think it was because of how I packed the jars to give them away. It took a lot of fruit and not much liquid. This was how much liquid I had leftover, and thankfully I had the decanters to store it in.
I hope everyone has enjoyed this how-to, maybe some of you will get adventurous and try making some for next Christmas.