I saw these beautiful wooden owls on Etsy and loved them, but they were so expensive – $80! So when one of my best friends was having her baby shower, I decided I would try to make them myself (with Ethan's help). This ended up being a MUCH simpler project than I expected and it turned out to be one of my favorites too. One thing I loved about this project was that I used supplies I already had on hand – even the wood was a scrap from an earlier project.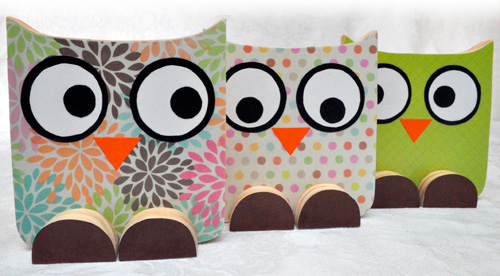 The owls were a big hit at the shower and my friend, Colleen loved them. Here's a step-by-step guide so you can make your own at home.
Materials and Tools Needed:
Solid wood (we used Birch)
Scrapbook paper or cardstock
Mod Podge or Elmer's Glue
Jigsaw
Sandpaper
Pen blade or VERY sharp knife
Sponge brush
Clear lacquer
Step 1: Print and cut out Stencils
We made stencils for the owls, feet, eyes and beak, so all you need to do is print them out and cut them! I had a really hard time making my owl eyes perfect, so if you have Creative Memories circle cuts or punches, this would have been a great time to use them!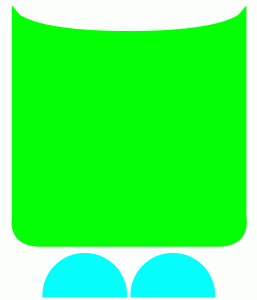 Click for full size image
Step 2: Trace the Owl and Feet
Trace the owl and its feet onto wood. We used solid 3/4″ Birch, but you can choose thinner or thicker wood depending on the look you want. The wood we used worked really well to create a heavier owl that sits well on shelves. However, a thinner owl would go great above a door frame. Whatever wood you choose, make sure it is decent quality and can be sanded to look pretty (don't go for the cheapo plywood).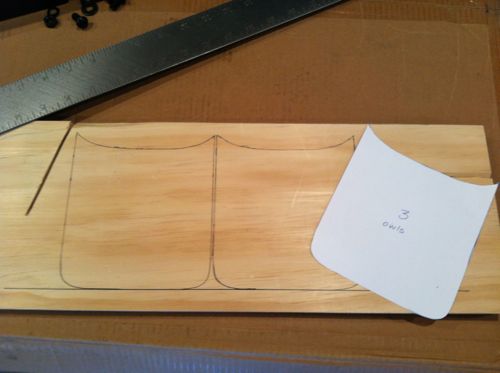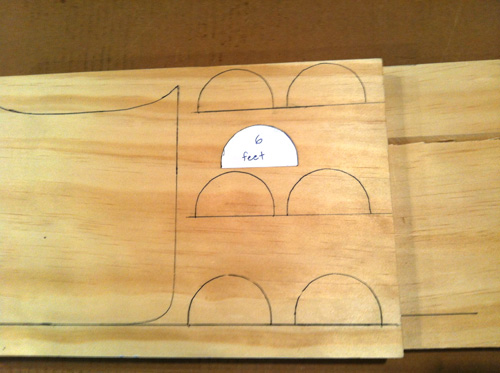 Step 3: Cut and Sand!
Cut out the shapes using a jigsaw. Use a fresh blade and go slow, cutting away tiny pieces to make it easier. Be sure and wear gloves and eye wear for protection!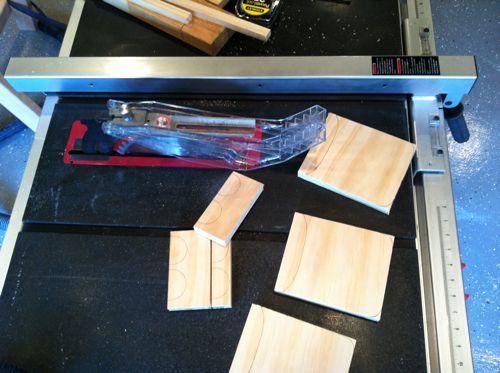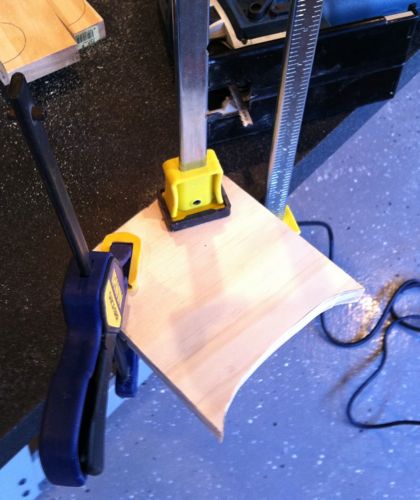 This was the most time-consuming step for me because I hand-sanded the owls and feet, first starting with a coarse sandpaper then using a fine paper to create more polish. You can also use an electric sander, but be careful and wear gloves so you don't sand off you hands (ahem, Ethan). After sanding, wipe the wood down with a damp cloth to remove any sawdust.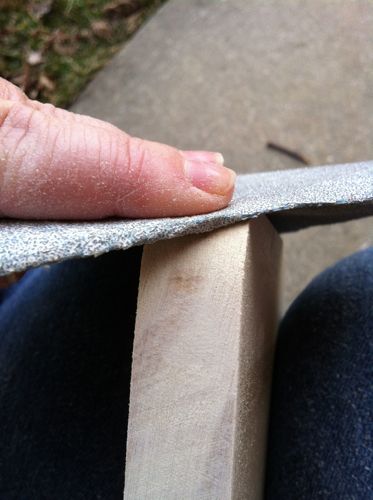 Step 4: Cut the Paper
Choosing your paper is really what makes these owls unique! Patterns and shapes create a lot of interest but be careful not to use too large or busy of a print or it will detract from the owl. Using pastels will create more of a child-like feel, but darker colors and metallics will make them more appropriate for adult decor. Also, scrapbook paper comes in lots of cool patterns, but cardstock is easier to apply to the wood without air bubbles forming. It's really your call, but something to take into consideration.
On a cutting board (or an old magazine if you don't have anything else), place the owl face down on your scrapbook paper or cardstock and trace the outside edge of the owl with the Pen blade or knife. Apply a good amount of pressure as you go, otherwise you may need to re-trace the owl. Ideally, you will completely cut the paper to the exact size of the owl. It is important to do this with each individual owl and foot because even though you used a stencil, each piece will be slightly different, and you want your paper to be the exact size of the owl. I originally tried tracing on the paper with a pen and then cutting it out, but it was not precise enough.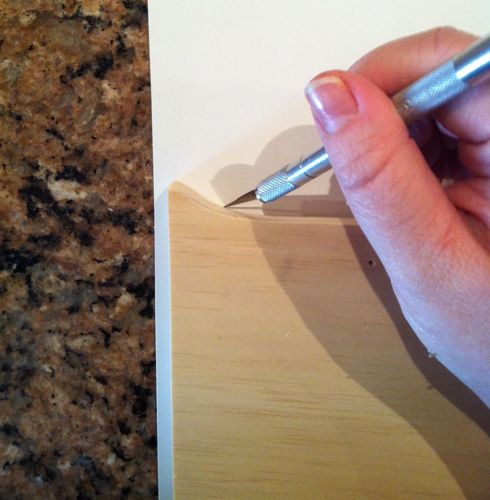 Step 5: Mod Podge the Paper to the Owl and Feet
This was the fun and quick part for me. Using Mod Podge (post to follow on how to make your own for CHEAP) and a sponge brush, apply a decent coat to the front of the wooden owl. Then, place the scrapbook paper on the owl starting on a corner and slowly pressing down while working your way across the owl. Press down the paper, even moving it around a bit to make sure the entire surface between the wood and paper is coated in Mod Podge and to ensure there are no air bubbles. Apply another coat of Mod Podge on top of the paper. Again, check for air bubbles. You may need to use a hard, flat surface (Pampered Chef scrapers are great for this) to run along the owl to push out any bubbles. Apply two coats of Mod Podge in total, allowing it to dry in between coats.
Use this same process for the owl feet.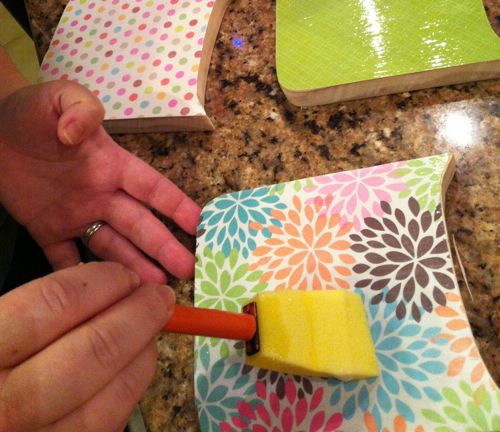 Step 6: Glue the feet
Since these are really just decorative pieces, I used Elmer's Glue to affix the feet to the owl.  Once in place but still wet, stand the owl up to make sure she stands straight.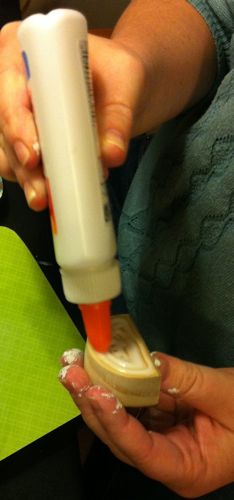 Step 7: Mod Podge the Eyes and Beak
I purposefully glued the feet first so that you can space the eyes and beak correctly in relation to the feet. Once the feet are dry, place the eyes and beak on the owl and figure out the spacing before you glue. Then, starting with the largest black circles, Mod Podge them to the owl using two thin coats and dabbing the brush rather than wiping. This is important because the black ink from the paper can run onto the owl, so be careful and make sure and let your Mod Podge completely dry in between coats.
Repeat this process with the medium white circles, small black circles, and beak, in that order.  The small black circles can be placed off-center (left, right, up, down, diagonal) within the whites of the eyes to give the illusion of the owl looking in a specific direction.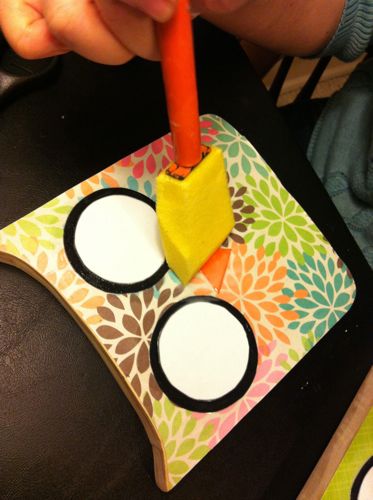 Step 8: Spray a Finishing Lacquer
Mod Podge leaves a matte finish on the owls, so I used a crafting Finishing Lacquer to seal the owl and create a slight sheen and a much more polished look. Remember to sign the back of your owl or write a personalized message on the back before spraying the lacquer. As with most spray paint and lacquers, it is best to apply 2 -3 thin coats in a well-ventilated area.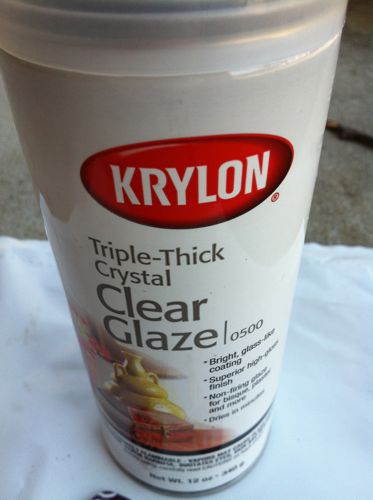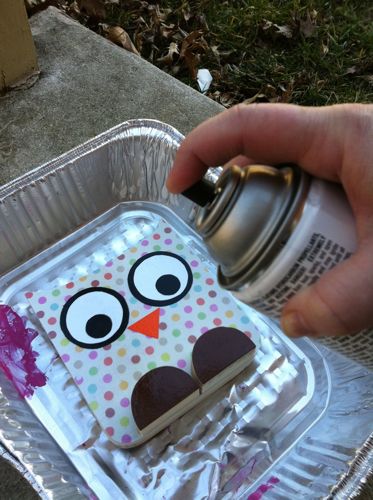 Finished!