Today we're taking a look at Makita's fantastic new 18v Li-Ion Cordless Pin Nailer. If you're a carpenter who installs a lot of flooring trim, builds furniture, or otherwise finds himself dragging a compressor and hoses around for small trim jobs, this cordless pin nailer (along with the comparable cordless finish nailer) will change your workday for the better.
Stuff Lawyers Made Us Say: We're partnering with The Home Depot to provide candid reviews of tools from a wide variety of manufacturers. The Home Depot is both providing the tools for free and compensating us; however, the opinions we express here are our own. Remember, we'll always be up-front with you when we're receiving a free product, compensation, or both. And of course we always strive for objectivity in our reviews.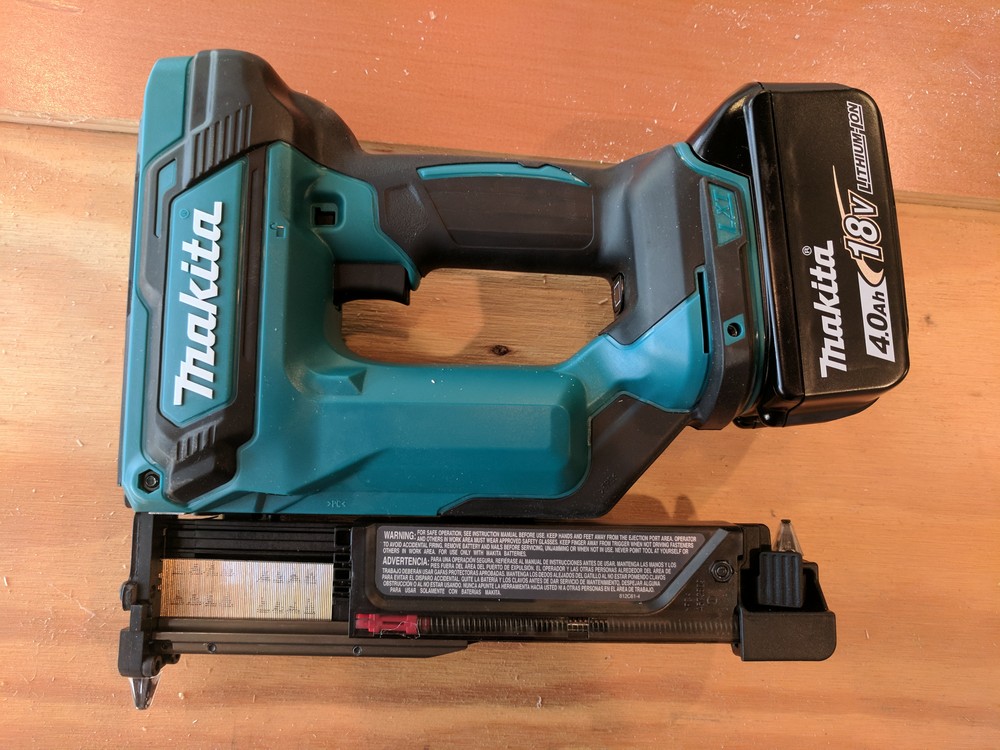 Opening the Box – First Impressions
Immediately upon opening the box, you could feel the high quality fit and finish we've come to expect from Makita. This tool feels very solid, if not a bit heavy (w/ battery it comes in just under 5 lbs.). This tool is sold as a bare tool (no bag, no battery, and no charger). We like tools sold this way as there's no need to own 10 chargers and batteries. In fact, for most folks one charger and 2-3 batteries is more than sufficient.

We grabbed one of our charged 18v Makita batteries and attached it to the tool just to get a feel for the weight of it. The Makita is somewhat heavy at 4.9 lbs, especially compared with a comparable pneumatic gun, but the portability and convenience of being cordless is completely worth the extra weight. (Note: We're using a 4Ah battery. With the smaller 2Ah battery pack the tool can weigh as little as 4.2 lbs).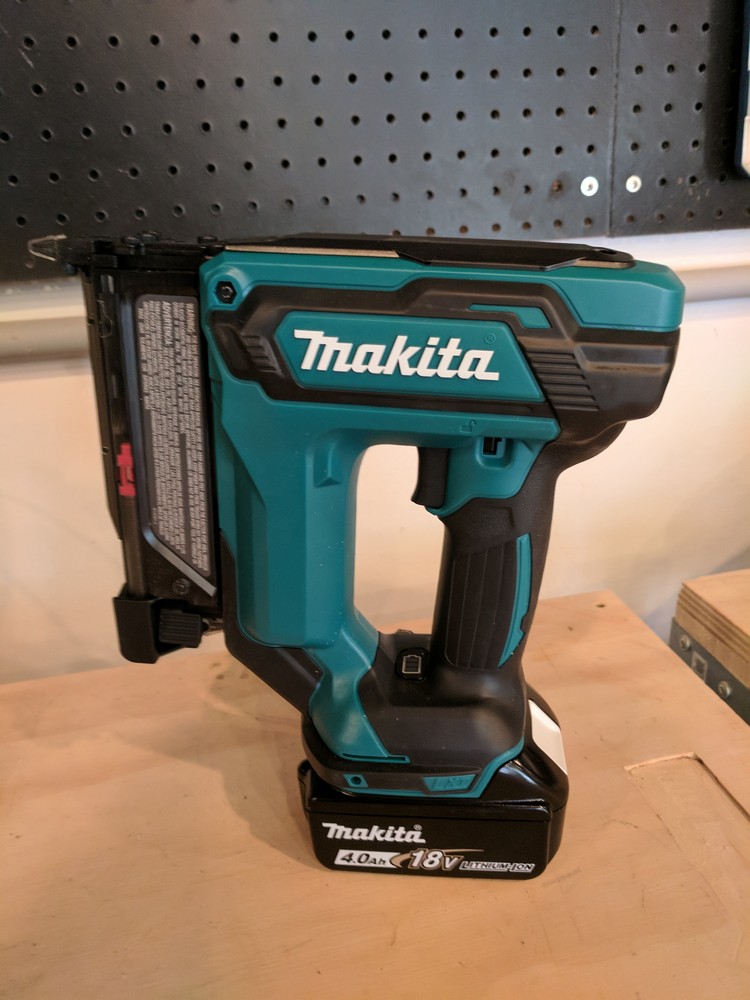 Loading Pins – It's Quick and Easy
We quickly perused the instructions to confirm there wasn't anything unusual we needed to know before using the tool. There wasn't, so we removed the battery and popped open the fastener sleeve to insert a few 23 gauge, 1″ pins. The tool will receive pins from 5/8″ to 1-3/8″ long, comparable to most pneumatic units. With the pins firmly inserted, we closed the sleeve and were up and running immediately.

Running a Few Tests
With pins installed, we decided to start testing on a range of materials. The pin nailer has a simple depth adjustment located just above the sleeve that allows for drive-power adjustment. Set in the middle, the Makita seemed to perfectly drive pins into our test materials.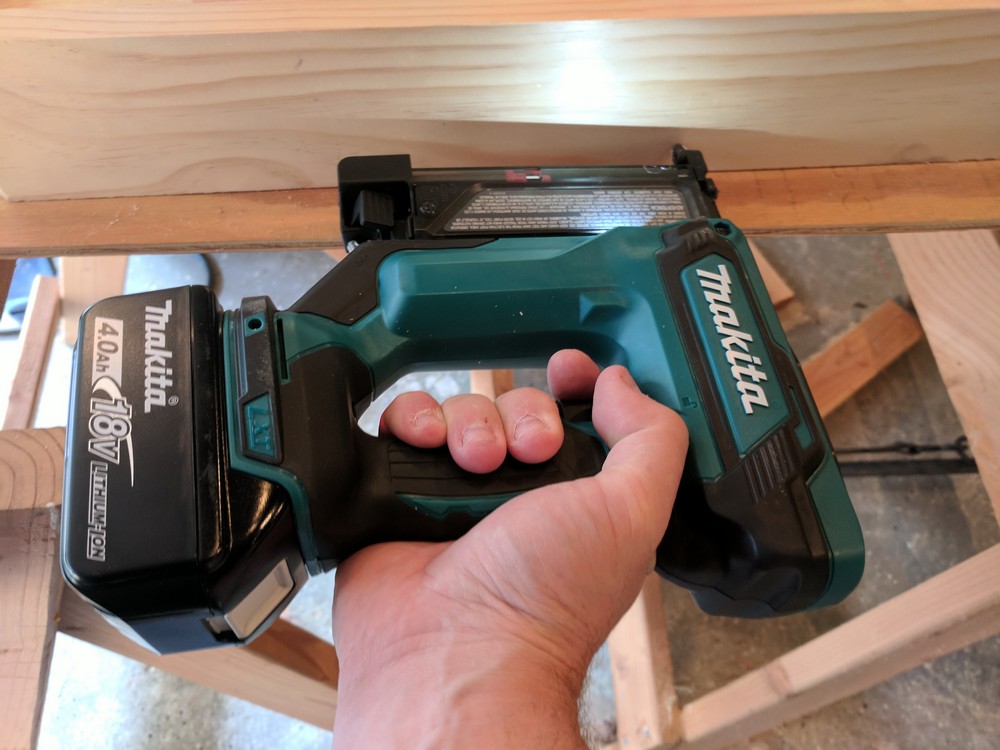 One of our favorite things about pin nailers is their ability to drive fasteners through the thinnest pieces of wood without splitting them and while producing very little surface marking. The below picture shows a small 1/4″ piece of scrap square dowel that we fastened into a spare piece of wood. Normally this type of fastener would be coupled with glue and used to hold the dowel in place while the wood dried. The Makita 18v Cordless Pin Nailer worked perfectly for this type of woodworking application.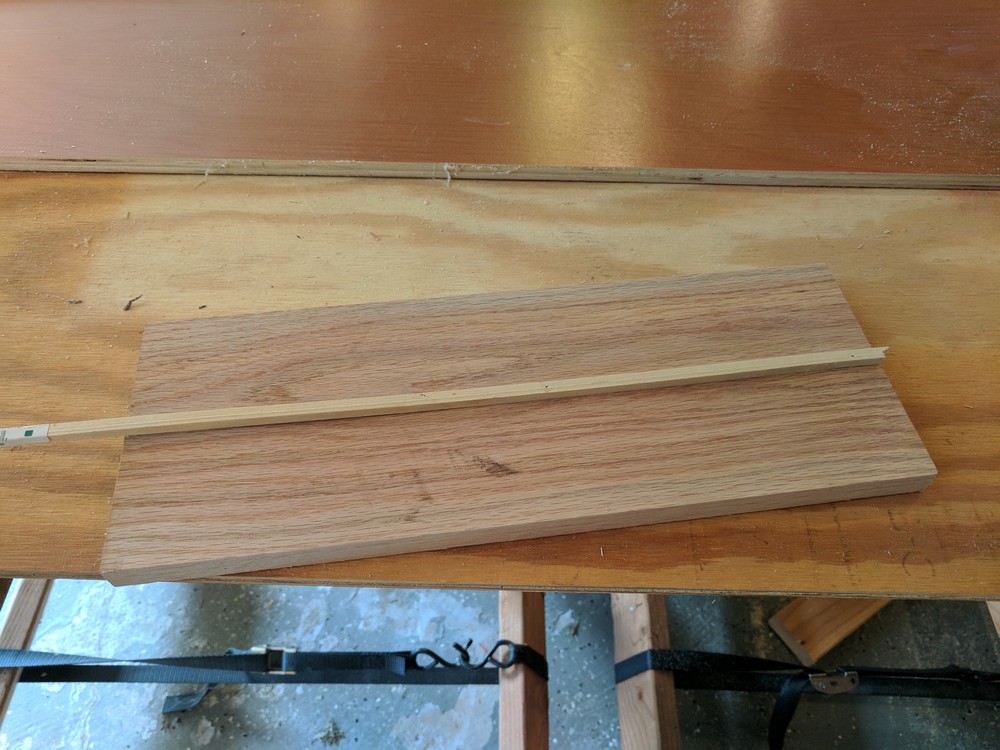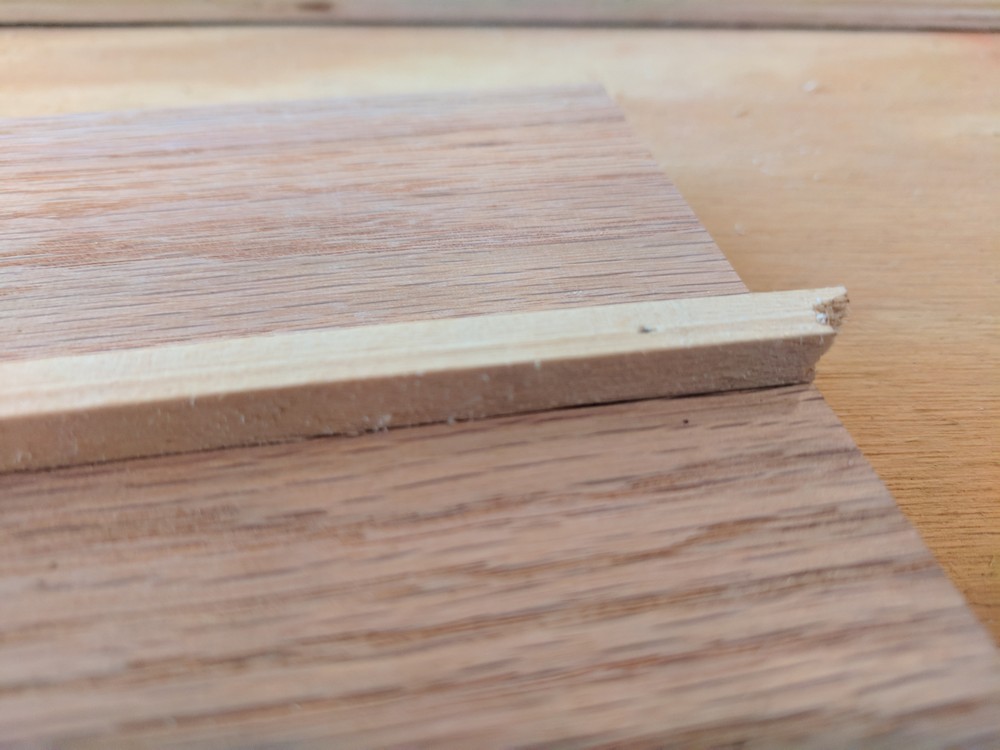 We also like to use pin nailers for fastening 1/4″ round trim and shoe molding to baseboard. (We typically use a finish nailer for the baseboard-to-wall fastening.) Pin nails are small enough that paint will cover the nail holes without the need for wood putty and filling like finish nails, speeding the job significantly.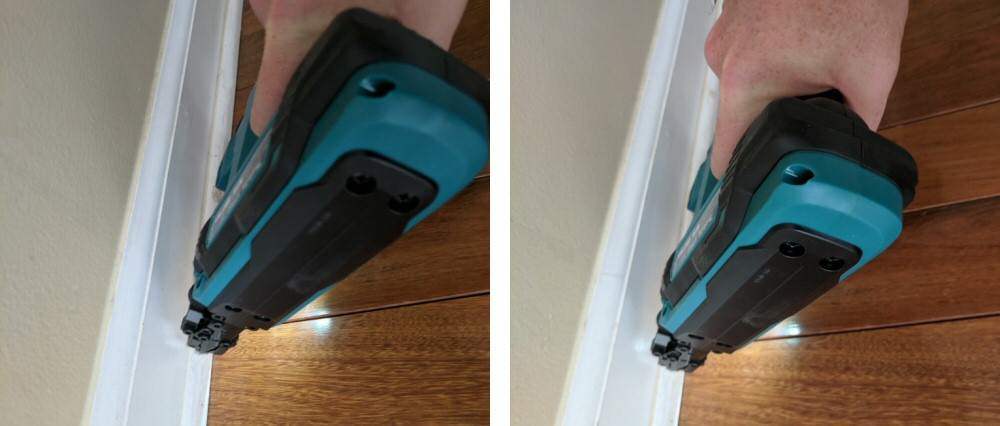 Key Specs on the Makita XTP02
Pin Nail Size: 23 Gauge (0.6mm); lengths from 5/8″ to 1-3/8″ (15-35mm)
Magazine Capacity: 100 pins.
Dimensions: 10-1/8″ x 3-1/8″ x 8-7/8″
Rated Voltage: 18v
Net Weight: 4.4 lbs (with smaller battery pack); 4.9 lbs (with larger battery pack).
Observed Firing Speed: About 1 / second.
Overall Thoughts and Where to Buy
We really like Makita's latest upgrade to their cordless pin nailer and think this is a tool that every carpenter and DIY enthusiast ought to consider for their furniture and trim projects. This is one of those tools where once you use it, you'll really like it and not know how you got along without it!
Price: $179.00
Available at The Home Depot: Makita XPT02Z Pin Nailer (Bare Tool)