Today we're taking a look at Makita's New 18V X2 LXT Lithium-Ion (36v) Brushless 7″ Paddle Switch Cut-Off / Angle Grinder Kit, With Electric Brake.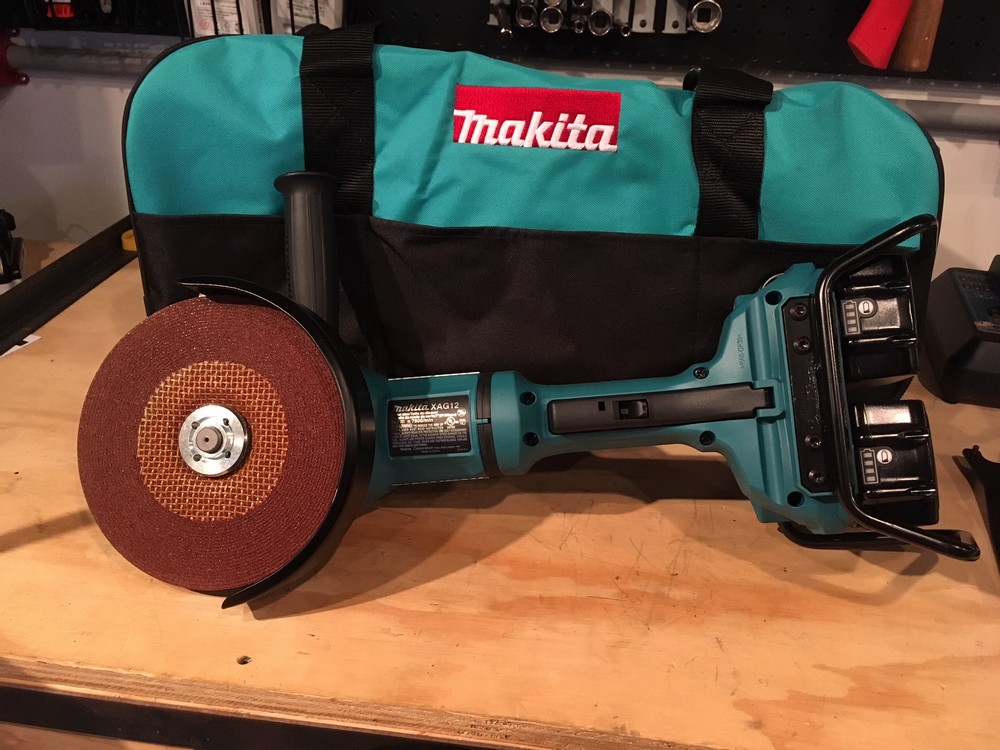 Stuff Lawyers Made Us Say: We're partnering with The Home Depot to provide candid reviews of tools from a wide variety of manufacturers. The Home Depot is both providing the tools for free and compensating us; however, the opinions we express here are our own. Remember, we'll always be up-front with you when we're receiving a free product, compensation, or both. And of course we always strive for objectivity in our reviews.
Opening the Box & First Impressions
First impression: This thing feels incredibly beastly. Weighing in at over 12-1/2 pounds with batteries installed, the Makita seems itching to cut an entire car in half, length-wise. And with dual 5.0Ah batteries and 36 volts driving Makita's latest efficient brushless motor, it just might be able to. (We didn't test that though — we like our cars.)
Here's everything that comes in the box:
Tool, Dual 5.0Ah 18v Batteries
Dual-slot Battery Charger
Cutting Blade
Grinding Wheel
Mounting Hardware
Two Blade Covers (Quarter closed and half closed)
Blade Change Wrench
Instructions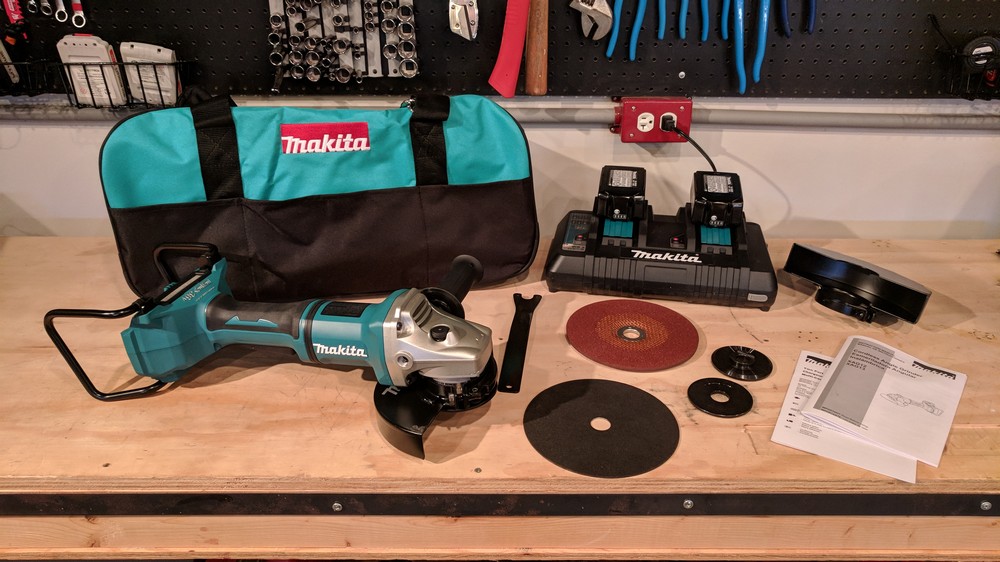 Testing Out the Makita Cut Off / Angle Grinder
The two blades that come with the Makita are designed for cutting and grinding metal, respectively. Since we have no projects with metal cutting or grinding lined up, we decided to grab a quick piece of angle iron, fasten it to our workbench with clamps, and see how the Makita would handle one of the more common, and relatively tough, uses for this tool: cutting straight through the angle iron and smoothing out the cut edge.
Note: Whenever you cut or grind metal, you should do so in a safe area with no flammable materials around. If working outside, make sure the area is clear of dry leaves. You will get showers of sparks from this tool.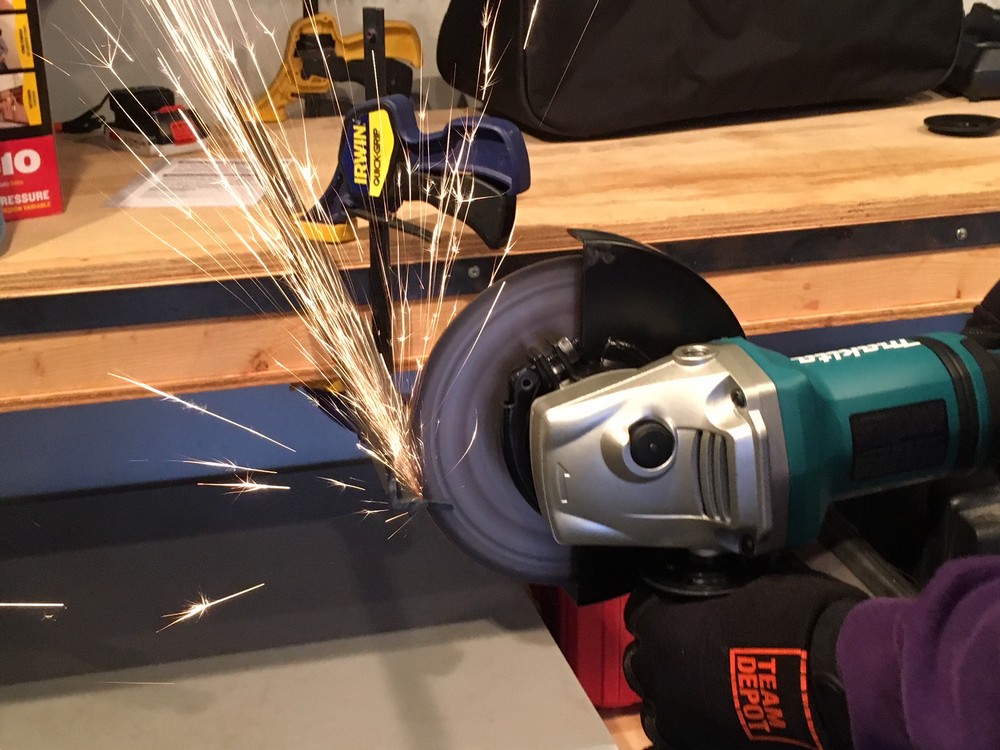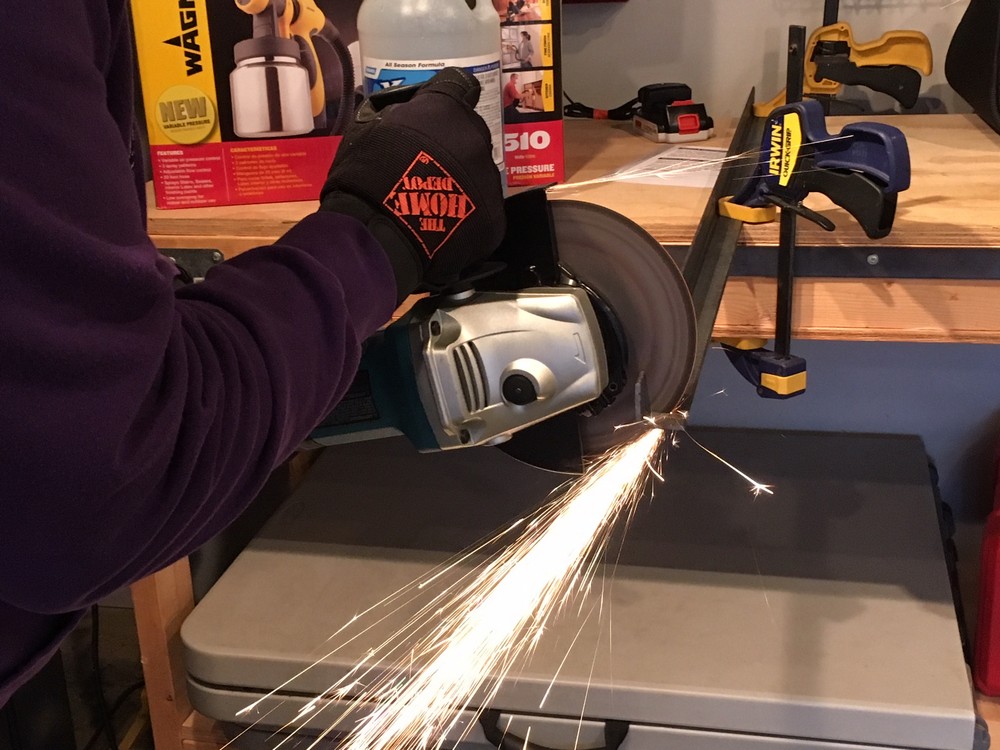 Cutting Performance Review
The Makita went through our 2″ x 2″ .125-thickness angle iron in about 20 seconds. What's more – I bore down on this cut hard to see if the blade would lock up and shut down the tool as is typical for lower-powered grinders and was unable to get the tool to shut-off. It just kept powering through the cut and showering more sparks onto the floor of the workshop.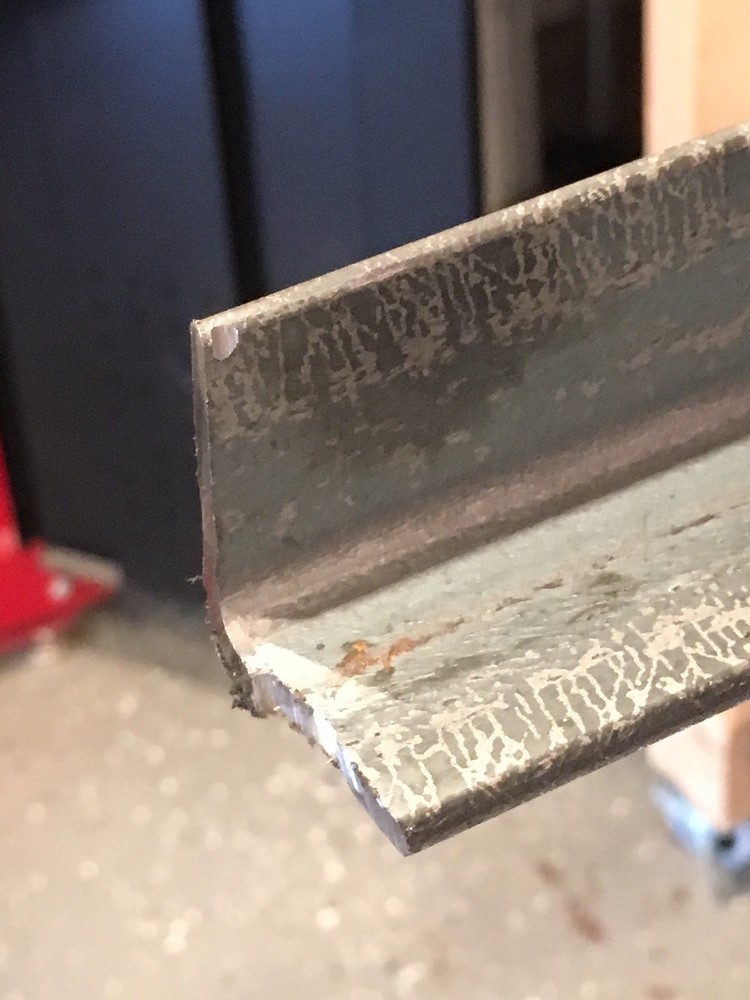 Because I cut the iron from two different angles (and because I lack cutting skills, apparently) I ended up with a rough edge on the piece, perfect for testing the grinding capabilities of the tool, so I switched out the blade and put on the grinding disc.
Blade Switch-Out
Switching out discs on the Makita is fairly straightforward. There's a rotation lock on the top of the tool, and Makita includes a hefty disc-change tool that works really well at loosening the set nut for the disc. As a result blade changes take less than a minute.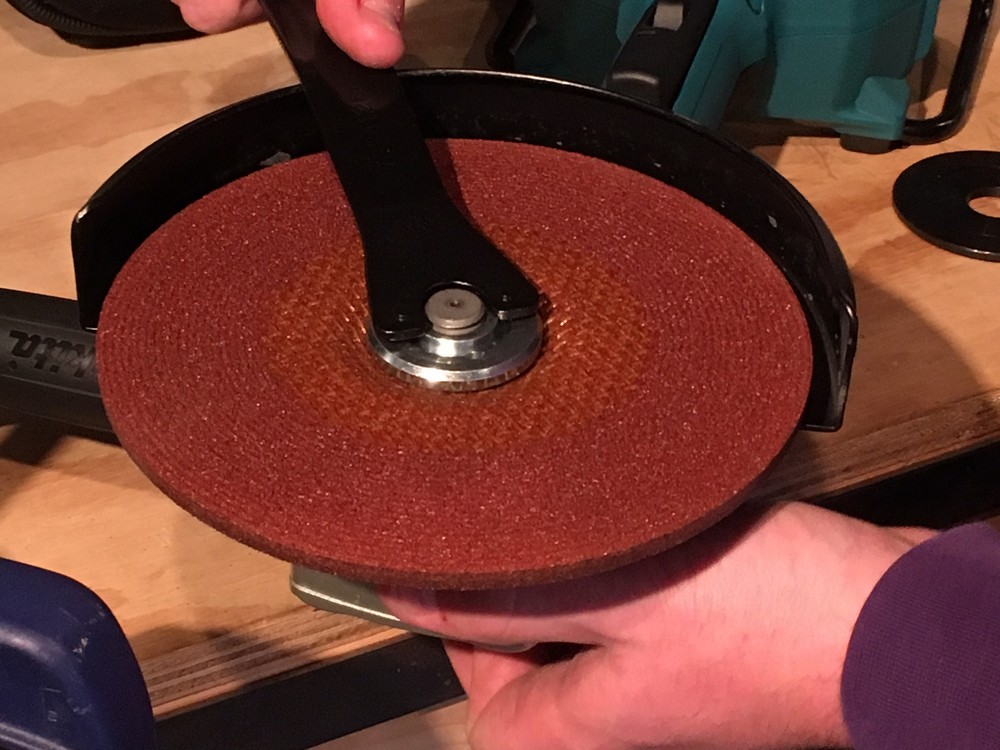 Grinding Performance Review
With the grinding disc attached, I was able to quickly grind down the angle iron into a smooth and (almost) even surface. Unfortunately my cut was not as precise as it should have been so I ended up with a receding line at the top of the angle iron.
Here's a picture with cutting and grinding complete: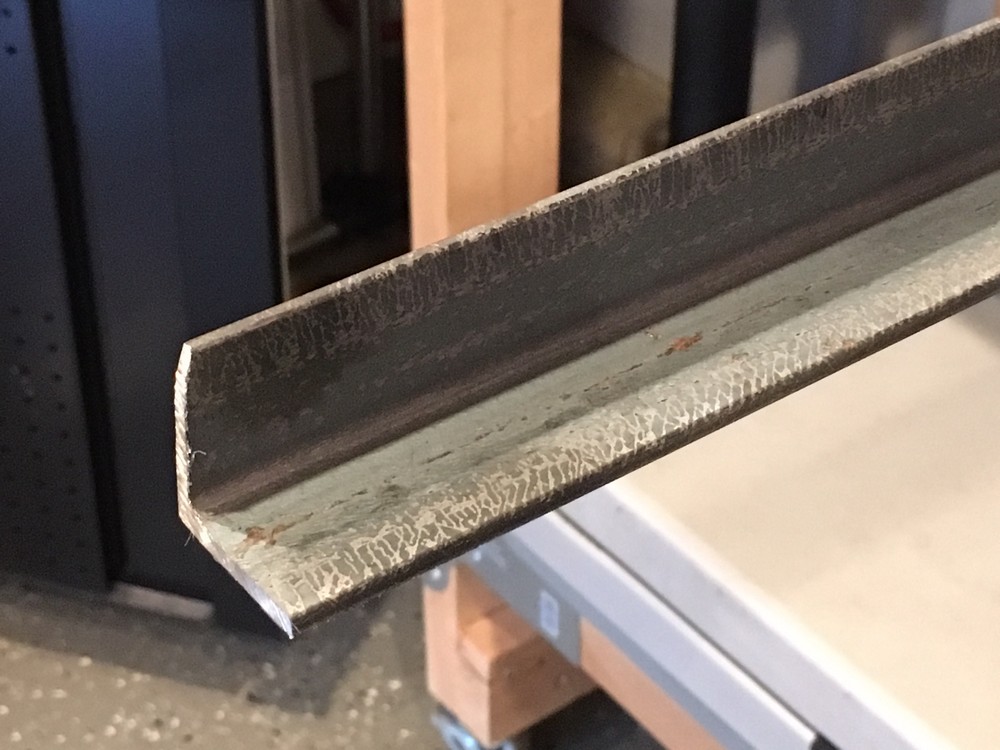 Specifications & Overall Impressions
The Makita's Brushless Cut-Off / Angle Grinder posts some impressive stats:
Automatic Speed / Torque Change Technology automatically adjusts speed and torque during operation for optimal performance.
Brushless Motor that runs cooler and more efficiently for longer life.
7,800 Maximum RPM
Soft-start suppresses start-up reaction and creates a "smooth start" for the tool.
Electric brake stops the tool in 4.5 seconds or less.
Electronic torque control immediately stops the tool on blade lock-up or a significant decrease in speed.
Low-vibration handle
Trigger lock to prevent accidental starts.
Overall: Makita's Brushless 36 volt Cut-Off / Angle Grinder is primarily aimed at professional contractors who will be regularly cutting and grinding throughout their workday. The primary advantage of this tool is the performance of a corded angle grinder without the need to drag a cord around with you. It truly does feel as powerful as any corded grinder we've used.
Additional Uses for The Makita Cut-Off / Grinder
The Makita comes out of the box with discs for cutting and grinding metal, but this tool is far more versatile than just those two uses. With the right discs, the Makita can:
Cut tile, stucco, and pavers
Rout out mortar
Sand wood
Sharpen blades
Remove paint
Remove rust
Price & Where to Buy
The Makita Cut-Off / Angle Grinder is Available from The Home Depot at this link.
This tool is a professional tool and it is priced accordingly, at $399. While a bit pricey, it does come with two 5.0 Ah batteries, the dual charger, and two blades.
Warranty: The tool has a 3 year warranty covering the full tool as well as the batteries.