As some of you may know, I am a margarita girl. Its my go-to drink, and I usually determine my favorite restaurant based on the quality of their margaritas. Over the years, I have gone through several favorite margarita recipes. My first love was a full flavored lime recipe kept in the freezer after making and served directly out of the freezer. Then, I discovered a blended lime recipe that was sweeter and less intense on the lime flavor, definitely loved by some of my less lime-crazy friends. Recently, I was playing around on Pinterest and saw a recipe for a Pomegranate Margarita and my adaptation has become a game changer!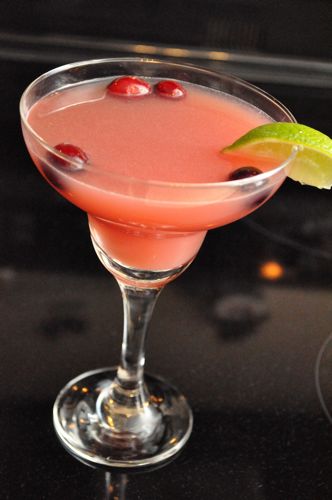 The Challenge
I will share my recipe with you below, but here is the challenge: I am looking for the BEST margarita recipe out there! Leave a comment at the end of the post so we OPC folk can try your recipe, along with our readers at home, and we will decide who has the best. There aren't many rules except that the majority of your recipe needs to be home-mixed, meaning not store bought mixes (although it can be one element). Feel free to be creative with flavors and fruits, it doesn't just have to be lime. The winner will receive a gold star, a shout-out when we update this post, and a $50 gift card to Amazon.com.
UPDATE:  Erin won our margarita challenge with a yummy Mike's Hard lemonade Margarita, but the beer-rita was also yummy, although had more of a beer finish than I typically enjoy.
Jocie's Pomegranate Margarita
This is a wonderful recipe that is relatively low in sugar compared to most margaritas and is all natural! It isn't the cheapest drink to make but it is amazing.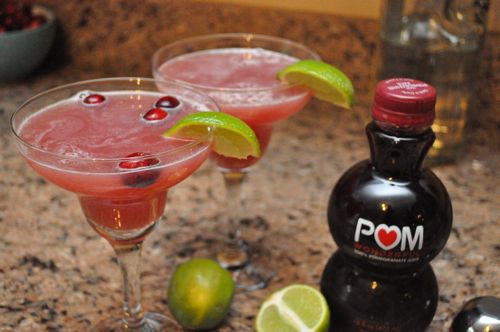 Ingredients:
2 oz. Tequila
2 oz. water
2 oz. POM juice
1 oz. Simply Orange brand Orange Juice
1 oz. Lime juice
1 oz. Blue Agave natural sweetener
Directions:
Gather the ingredients.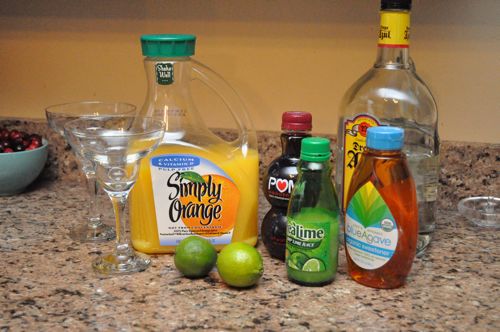 Start with a good tequila. I recently found Drego Azul, a Mexican Tequila that is 3/4 Agave (Jose Cuervo is only 1/2, Patron is 100%). The greatest part is that it tastes better AND is significantly cheaper than Jose and Suaza. I like to keep my tequila in the freezer so that it doesn't warm-up my drink.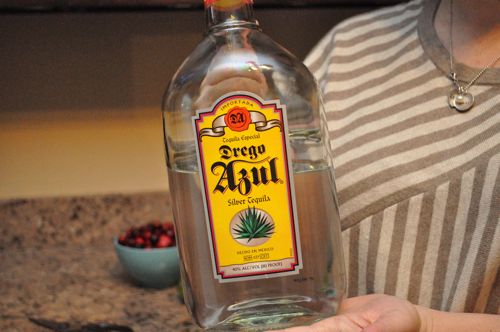 I used 1 ounce of water in this recipe because I like a "lighter" drink, but if you want more of a punch, substitute tequila for the water.
Use POM and Simply Orange juices for this margarita, and while kind of pricey, they really make a big difference. I tried off-brand, cheaper juices and it dramatically effected the quality of the drink (but I am a margarita snob).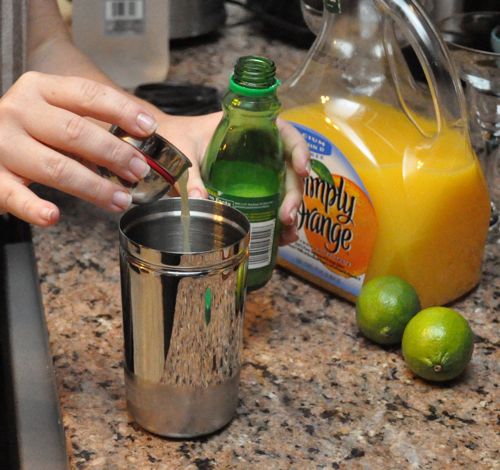 When looking for the blue agave sweetener, you may have difficulty finding it in your regular grocery store. I found mine (Izzy's Organic Blue Agave) at our local Asian market, but have also seen it at Trader Joe's. For a less "natural" margarita, you can also use simple sugar – 2 cups of water boiled with 2 cups of sugar, then cooled.
Then mix it all together in a shaker with a little ice. I used ounces as the given measurement in the recipe, but really it can be anything (1 ounce = 1 shot= 1 cup), as long as the proportions are the same.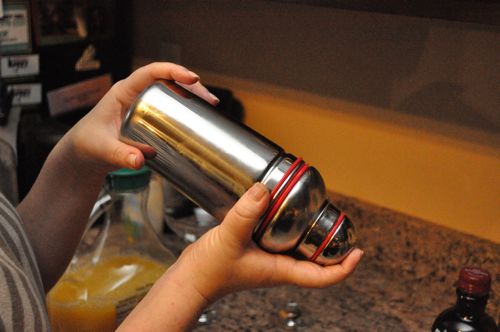 Top with a slice of lime. I also added a few cranberries because they were lying around and are pretty!  🙂