Today we have a guest article by Zeb Griffin from Bennett Air-Conditioning LLC. Zeb has over 20 years experience in the HVAC industry.
WOW! Milwaukee has done it again; designing and building this new M12 Rivet Tool demonstrates they are thinking about the working man and their needs on the job and out in the field. The new M12 Rivet Tool is well thought out, balanced, easy to handle, durable, and has the battery power to last all day.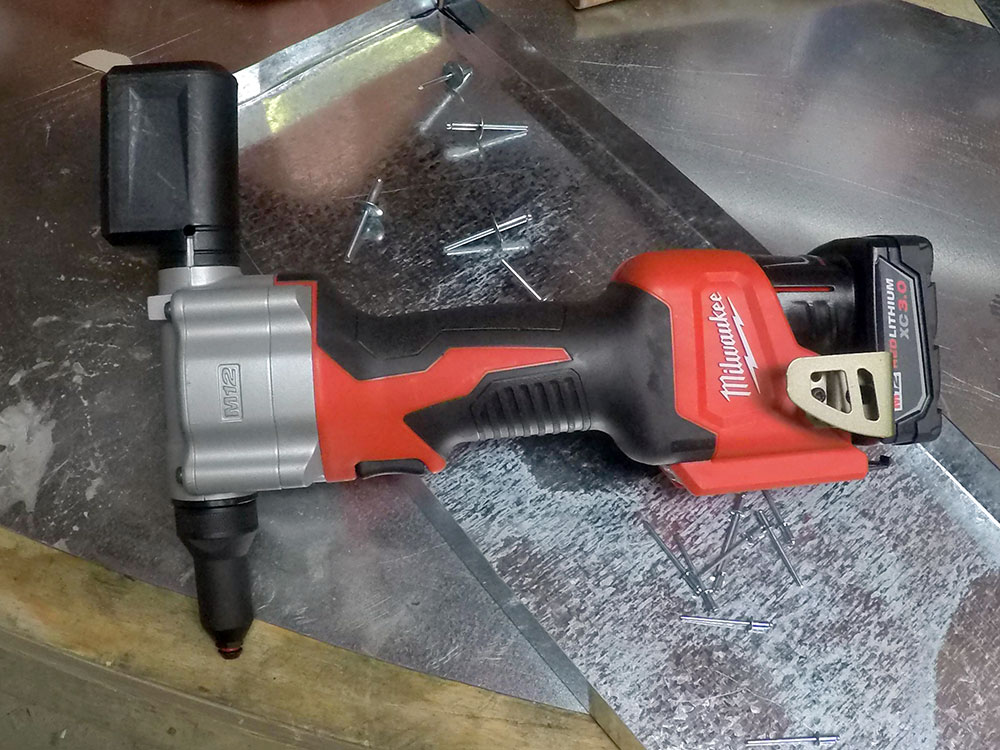 Stuff Lawyers Made Us Say: We're are continuing our partnership with The Home Depot to provide candid reviews of tools from a wide variety of manufacturers. The Home Depot is both providing the tools for free and compensating us; however, the opinions we express here are our own. Remember, we'll always be up-front with you when we're receiving a free product, compensation, or both. And of course, we always strive for objectivity in our reviews.
I used the M12 Rivet Tool in the field and on job sites. I also started using it in the shop instead of my pneumatic rivet gun. The M12 Rivet Tool is well thought-out and designed with many features to make every job go easier and faster.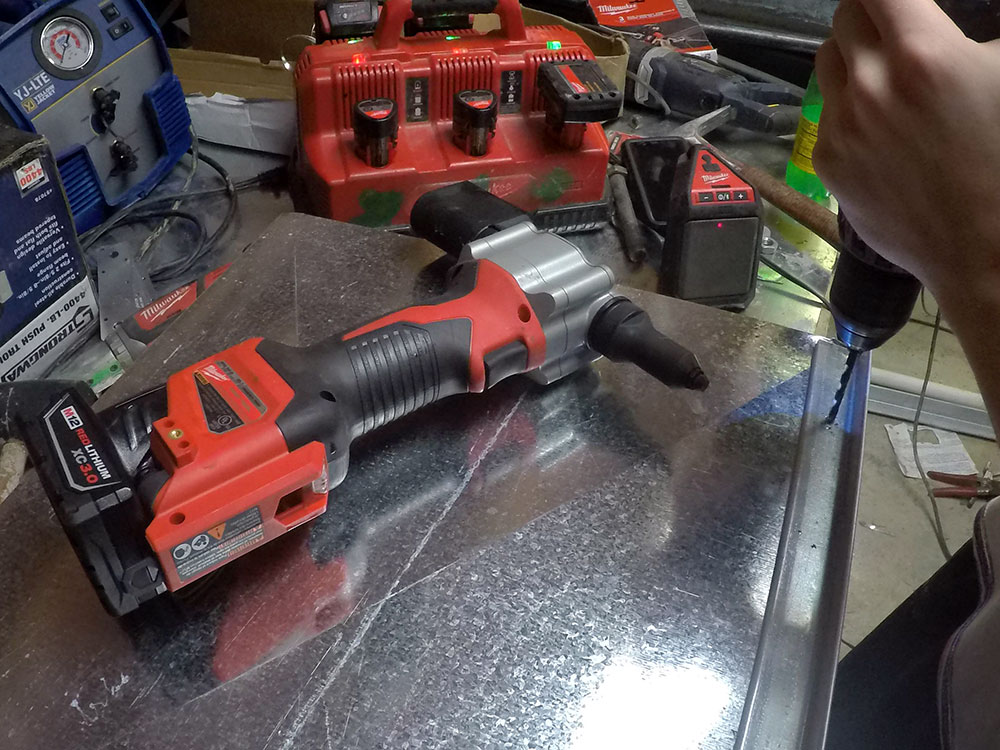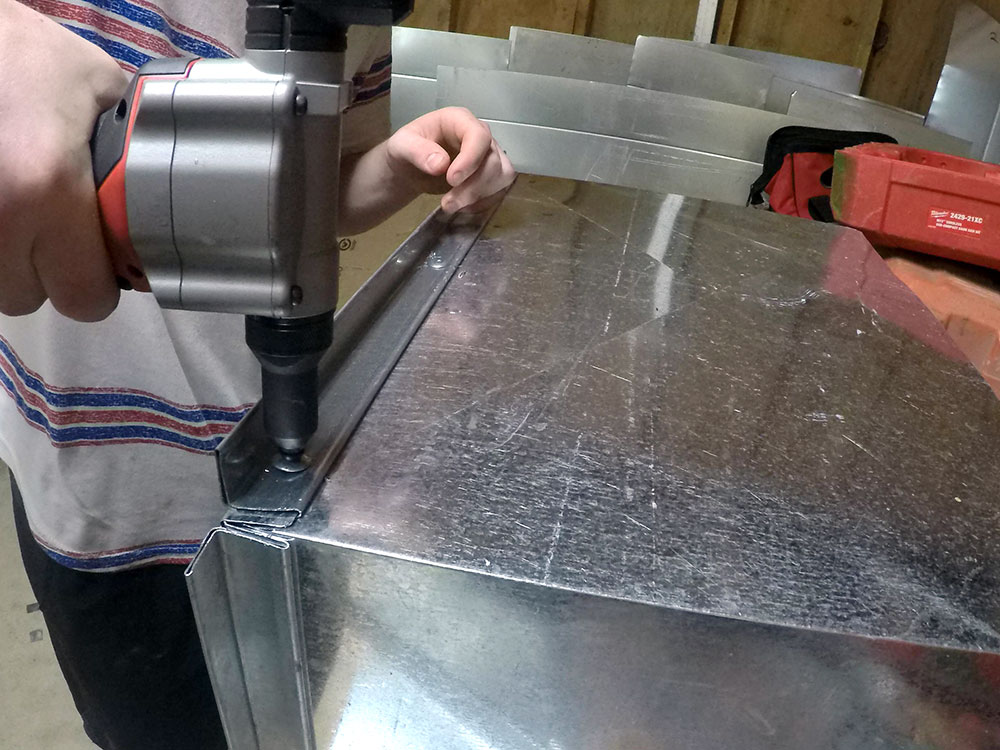 Must-Have Features
There is onboard tool storage on the M12 Rivet Tool, as well as a removable bin to catch the rivet stems as they fall out the back.
There are four, interchangeable mandrels marked in standard and metric with storage on the backside of the tool. The rubber storage traps them in place, preventing them from getting knocked out. The mandrels are threaded into the head of the gun as usual for any rivet tool.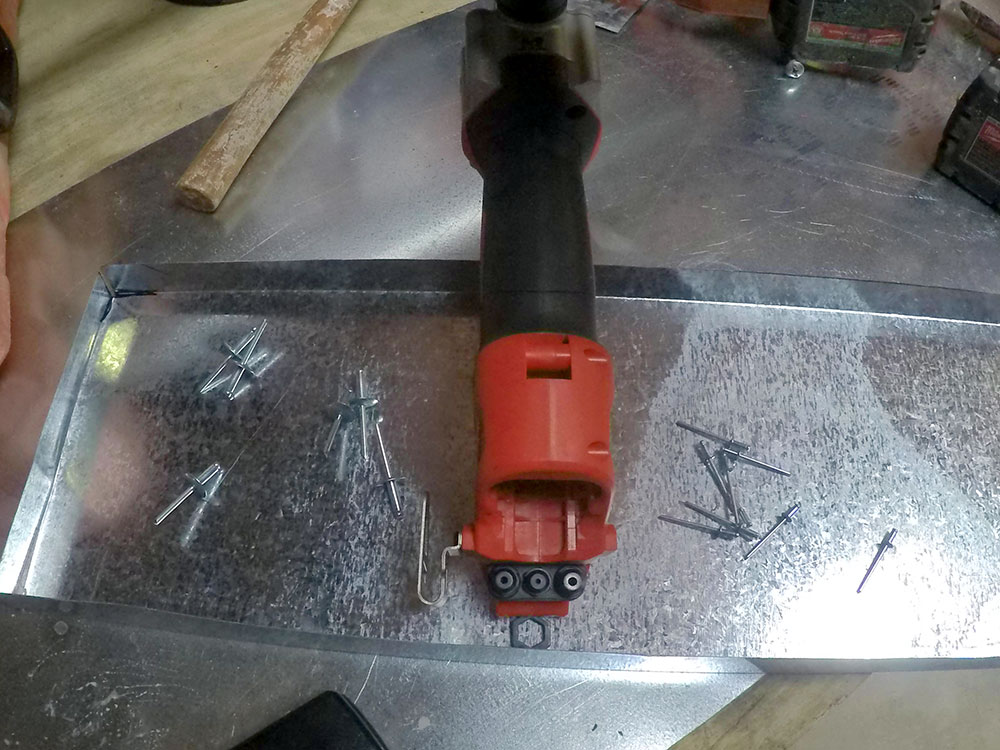 There is also a wrench included with its own spot that snaps in place for that warm fuzzy feeling that lets you know that it is not going anywhere and is held in place. I know almost every rivet gun I buy, I must tie the wrench to it or will come up missing in no time. It seems Milwaukee has thought of this also to make sure you have the mandrel wrench when you need it every time.
There's More
Other features that you have come to expect from Milwaukee are also included with the M12 Rivet Tool:
Onboard battery indicator for checking the M12 battery level
Handy belt clip that can be swapped to one side of the tool or the other
Lanyard tie-in for above ground work and safety
Trigger-activated light that illuminates your work to help find the target in a dark environment
The hand grip area is also well covered with a rubber overmold for gripping, and if you are working with sheet metal as well as sweating over everything in your work area in the heat, it is a must have and makes the tool very easy to hold and control while concentrating on the work at hand.
On the Jobsite
I used the M12 Rivet Tool on the most common materials and material thicknesses for my job in the HVAC trade. Applications include stainless steel, steel, and aluminum ranging from 26 gauges to ¼ inch in thickness and the M12 Rivet Tool tackled each job with ease. I was surprised that I did not experience the dreaded stick that usually occurs when the stem gets stuck in the head with aluminum rivets and some rivet guns. The one trigger pull on each rivet made it easier to get a tight looking job and allowed one hand to be free to help control the work as opposed to using a two-handed rivet tool.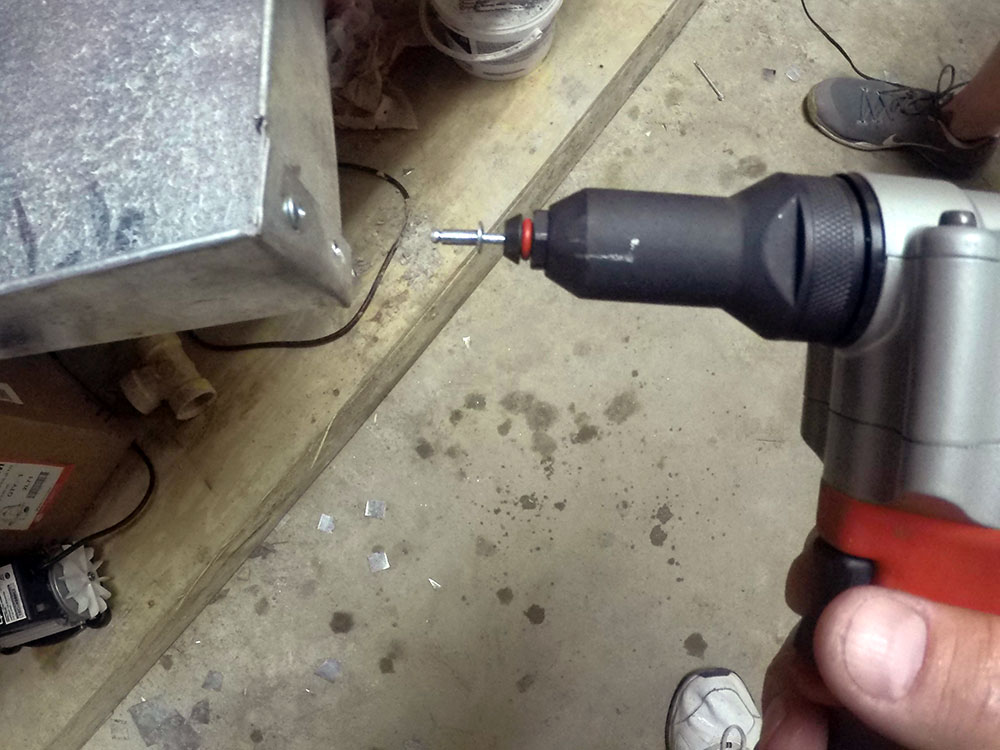 The M12 Rivet Tool with all its features and ease of use was such a pleasure to use, and I can say this due to the fact that it pulled the rivet on one pull of the trigger every time. Even the cleanup was easier and quicker because of the catch bin on the back to snag those little pesky pieces of metal. I charge my batteries every night and never found myself without a charged battery even on long days.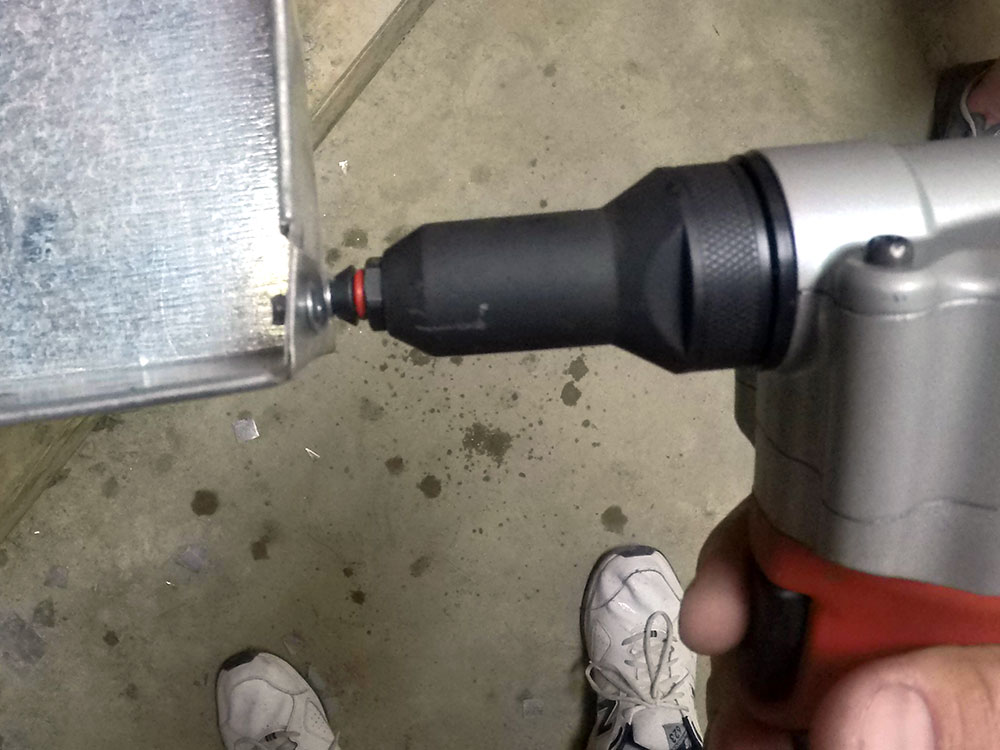 I am getting to the point where my hands and joints start to ache after a good day at work from using a standard rivet gun. I can tell you after using the Milwaukee M12 Rivet Tool, I didn't have the usual pain in my right hand and fingers. I will probably never use a manual rivet tool ever again; in fact, due to the ease of use of the M12 Rivet Tool I may never use a pneumatic rivet tool again either.
Specifications
M12 Rivet Tool (2550-22)
Pull Force: 2,000 lbs
Stroke Length: 0.8"
Rivet Sizes: 3/32" – 3/16"
Rivet Material: Aluminum, Steel & Stainless Steel
Nose Pieces: 3/32", 1/8", 5/32" & 3/16"
Height/Width: 10.75" / 2.63"
Length without mandrel collector: 6.5"
Weight (w/ battery): 4.54 lbs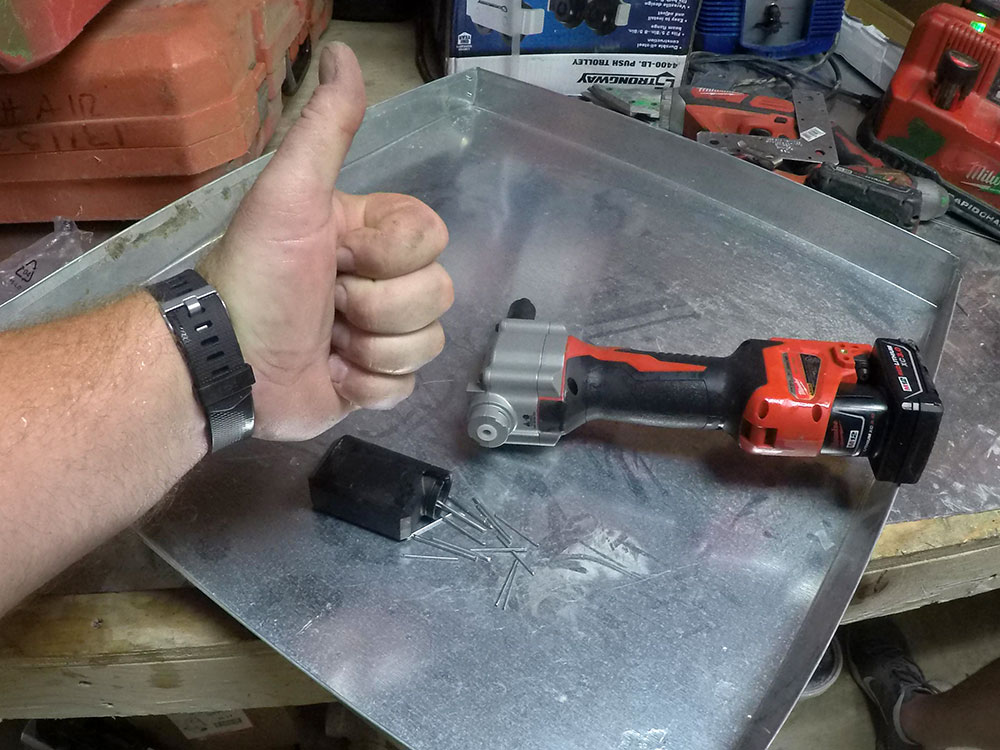 Where to Buy
If you need a rivet gun I highly recommend the Milwaukee M12 Rivet Tool for any job big or small. Your job will be much quicker, easier and look better/tighter, and I may say much more enjoyable if you have issues with hand and figure joint pain.
You can find the Milwaukee M12 Rivet Tool at Home Depot for $169. Here's the link: Milwaukee M12 Rivet Tool.