Today we're taking a look at the Milwaukee M18 FUEL 16″ Chainsaw powered by Milwaukee's new high capacity 9.0Ah or 12.0Ah batteries.

Stuff Lawyers Made Us Say: We're are continuing our partnership with The Home Depot to provide candid reviews of tools from a wide variety of manufacturers. The Home Depot is both providing the tools for free and compensating us; however, the opinions we express here are our own. Remember, we'll always be up-front with you when we're receiving a free product, compensation, or both. And of course, we always strive for objectivity in our reviews.
Is a Battery-Powered Chainsaw a Tool, or just a Toy?
It wasn't long ago when a battery-powered chainsaw seemed like a non-starter. There was simply no way to obtain enough power or run time from a reasonably sized battery to make a battery powered unit a serious option for anything other than incidental use. In the last 5 years, though, battery technology has experienced many incremental improvements. Milwaukee's new high output 12.0Ah RED LITHIUM batteries make this chainsaw not only a real tool, but a contender for folks who use a chainsaw on a daily basis.
What Comes in the Box?
Milwaukee sells the M18 FUEL 16″ Chainsaw as both a kit and a bare tool. The kit comes with the chainsaw, high output 12.0Ah battery, and charger for $449. The bare tool comes only with the chainsaw for $299. The only thing neither comes with that you'll need to use the chainsaw is bar and chain oil, which is a few bucks at your local Home Depot.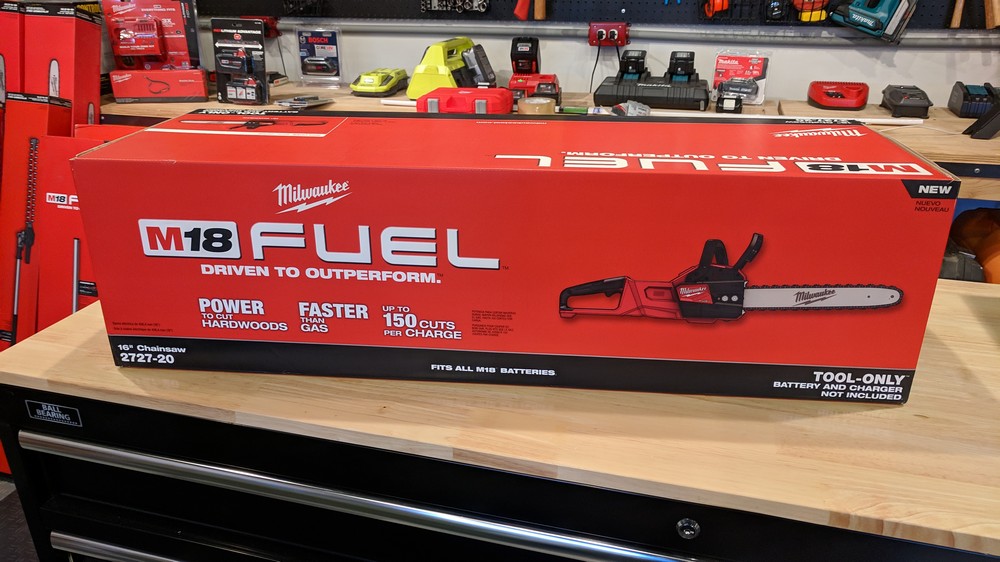 Performance Review – We Try Out the Milwaukee M18 FUEL Chainsaw
Test #1: We first tested the Milwaukee Chainsaw equipped with 12.0Ah battery by cutting discs off a 6″ diameter log in our shop. The chainsaw went through a whopping 83 discs before we ran out of log to cut! The 12.0Ah battery was still reporting 2 bars (out of 4) remaining when we finished. Milwaukee says the M18 chainsaw can provide "up to 150 cuts per charge" on the 12.0Ah battery. Given our experience on a 6″ diameter log, we think their claim is reasonable.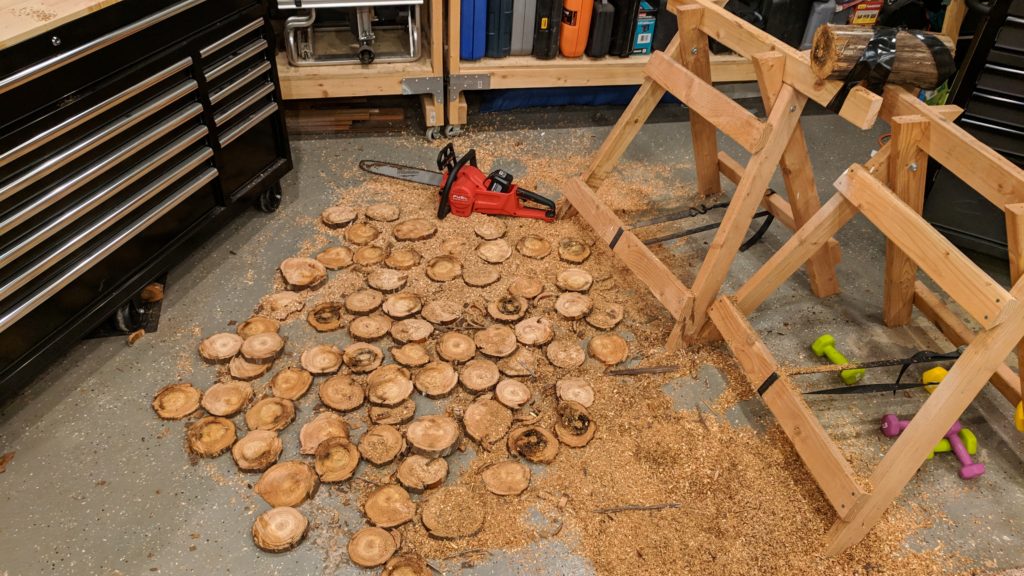 Test #2: Next, Aaron and I compared the Milwaukee chainsaw against our tried-and-true Stihl gas-powered 30cc chainsaw. In this test, Aaron and I raced to see who could cut 6 discs off a log fastest. We YouTube'd that portion of the review and you can see it by clicking the picture below. Spoiler: The Milwaukee proves a bit faster at this task due to not needing to be started.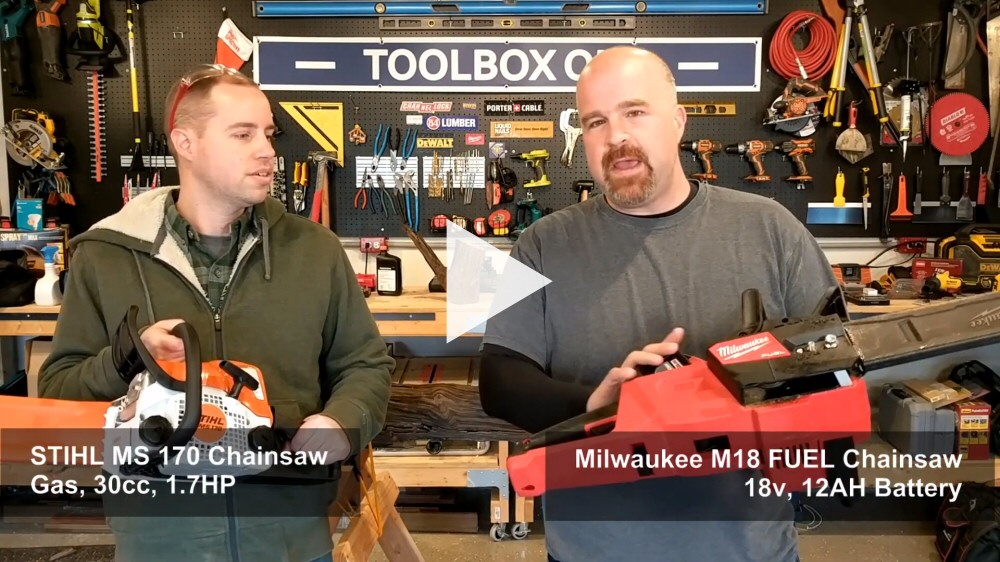 Test #3: For our third test, we used the Milwaukee to cut down downed trees in the forest by our house. Again, the Milwaukee performed great, easily slicing up downed tree limbs in quick fashion.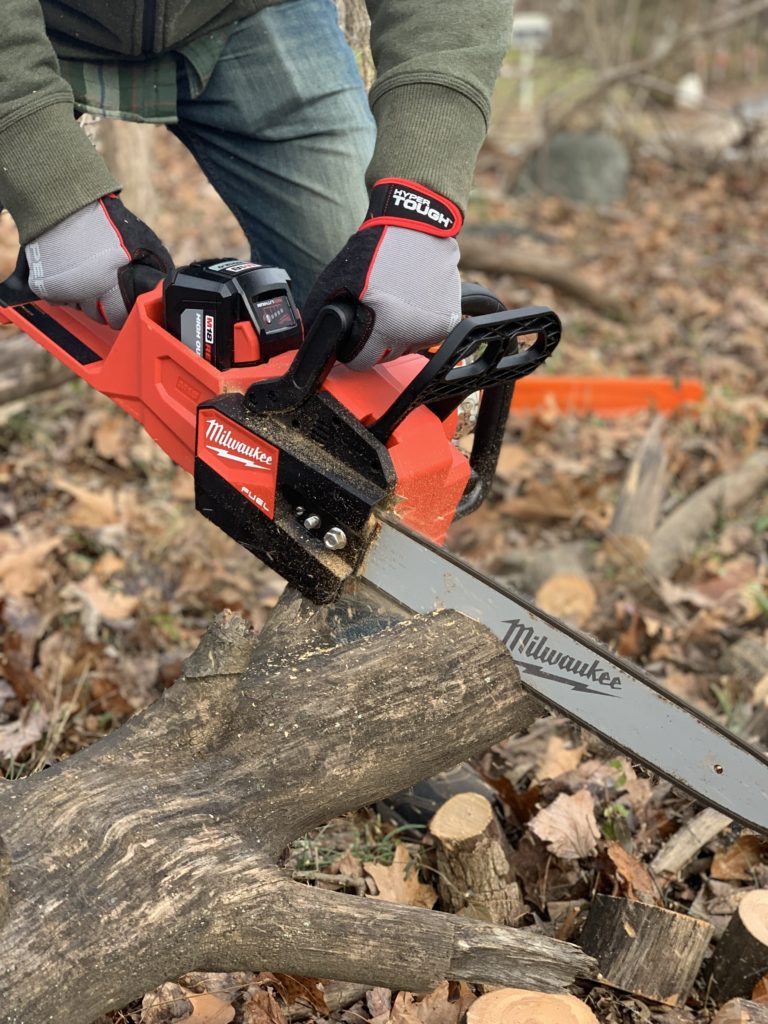 Battery Power vs. Gas Power
The clearest advantage of a battery-powered chainsaw is the elimination of the cost and time associated with obtaining, preparing, and storing gas/oil mixture for the saw. This makes the Milwaukee a clear winner for occasional users who don't want to have to keep a separate fuel mixture in their shed. The battery powered saw also doesn't require multiple pulls to start. Simply pop in the battery and it starts instantly, every time.
There are a few drawbacks to battery power, though: the saw isn't as powerful as the most powerful gas chainsaws on the market. If you are regularly cutting multiple 12″ discs (or more), a high-cc gas-powered chainsaw will serve you better. Also, if the battery runs out, you can't simply pour more gas in the chainsaw, you'll need to wait for the battery to charge, or own multiple batteries you can swap-out.
Who's the Chainsaw Right For?
The Milwaukee M18 FUEL Chainsaw is right for DIYers, Tradesmen, and landscaping companies with low-to-moderate chainsaw use requirements – including clearing the occasional small tree or brush from a property, pruning branches, etc. The saw will also work for those using a chainsaw all day, but expect to buy several high output batteries and a multi-charger for those batteries.
Price and Where to Buy
Milwaukee's chainsaw as well as spare batteries are available at the following links from The Home Depot: