This post was sponsored by The Home Depot.
Spring is just getting started here in Maryland (finally!) and with it comes our annual spring garden and lawn prep activities. As I write this post, Kim and our kids are out front mulching the gardens and getting a head start on planting. But before all that, this morning we finally had a chance to break out a brand new set of Milwaukee yard tools that have been sitting in the workshop for the last two months waiting for warmer weather: the new-for-this-year Milwaukee M18 FUEL Battery-powered Quik-Lok 4-in-1 Outdoor Lawn and Landscape Tool Set!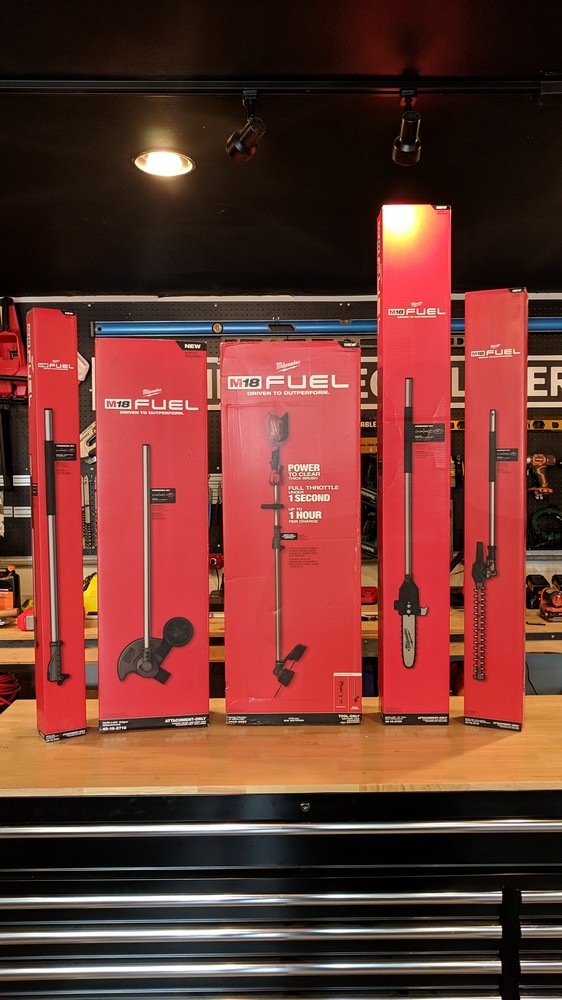 Why are we so excited about Milwaukee's new offering? Well, I've been long-tired of having to keep gas and oil mixture on hand (in all different ratios) for the wide variety of power tools we use, but the truth is that until recently, battery-powered lawn tools have been a substandard choice due to their complete lack of power and run-time. My kids have been using an old Black-and-Decker string trimmer for years with 1.5Ah batteries, but we've always kept a gas version on hand for tougher jobs or when they're mowing lawns in the neighborhood. The battery-powered tool needs 4 batteries to complete the edging on our 1/2 acre lawn and is more suited to occasional use around a postage stamp of a lawn.
Milwaukee's new M18 FUEL 9.0 and 12.0Ah batteries represent a generational leap in power and run-time that opens up all new possibilities for battery-powered tools.
What's in the Kit?
Milwaukee's new Quik-Lok line-up offers four tools: a string trimmer, edger, pole chainsaw, and pivoting hedge trimmers. They also sell a 3-foot extension pole that brings the total length of the tool to a whopping 10 feet. We'll walk through each of the tools including our impressions below.
Getting Started: Home Depot sells the motor base, 9.0Ah battery, charger, and string trimmer as the starter kit for this group of tools.
Up First: The M18 QUIK-LOK String Trimmer
Right out of the box the string trimmer requires very little assembly. You need to put the handle on the base (screws and a small hex wrench provided), but otherwise, Milwaukee even gives you a pre-filled spool of string loaded on the trimmer to get started.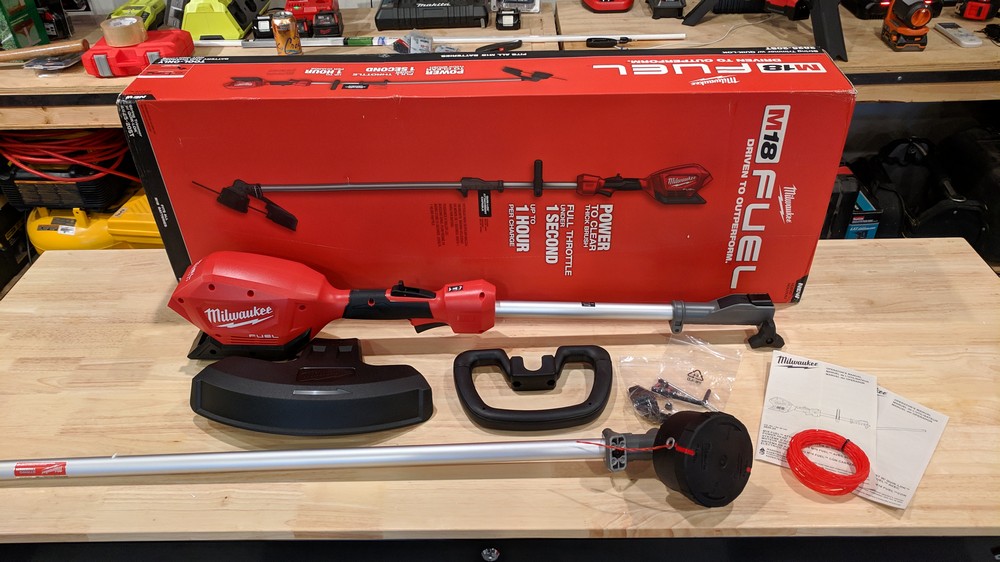 After I ran the trimmer around a bit, my son Jose was excited to give this tool a try. They are super excited to not have to manage gas this summer for the lawn-cutting business and also to be able to cut a whole lawn with one battery.
Impressions: the string trimmer drives as strong as a lightweight gas trimmer and definitely feels comparable to a gas trimmer as opposed to the ultralight electric models that have been on the market for years. This trimmer is a major leap forward in string trimmer technology and will be a welcome addition to our stable of tools.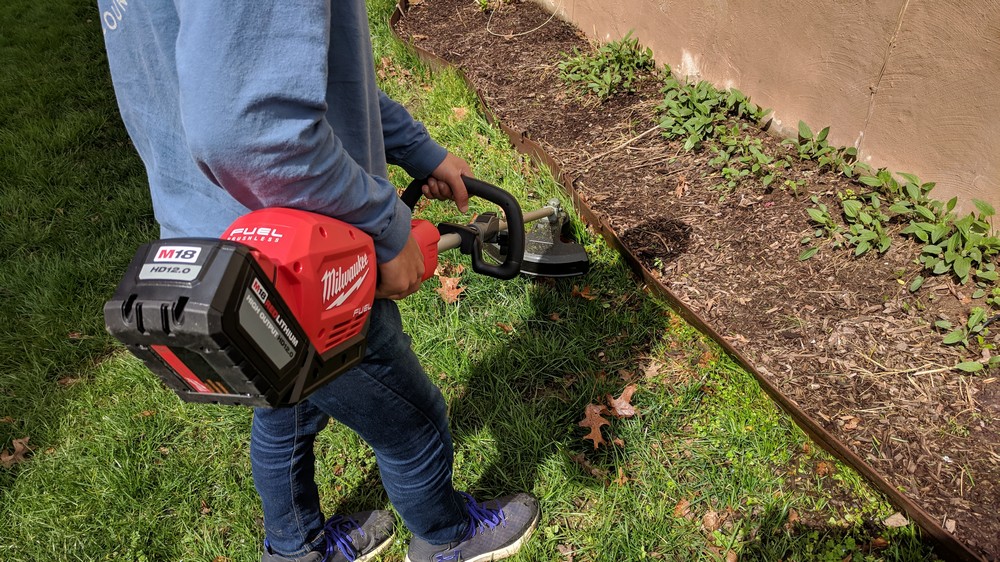 The tool has a decent weight balance with the battery installed.
Second: The M18 QUIK-LOK Edging Tool
Impressions: The edger attachment for the M18 provides a stabilizing wheel and metal blade for edging along sidewalks and curbs. We love that we can own this tool without needing either a different gas mix nor another engine base. The edger attachment is lightweight and easy to connect. Jose ran the edger along our sidewalk, where previously we had just used a string trimmer, and he was definitely impressed the edge the tool created.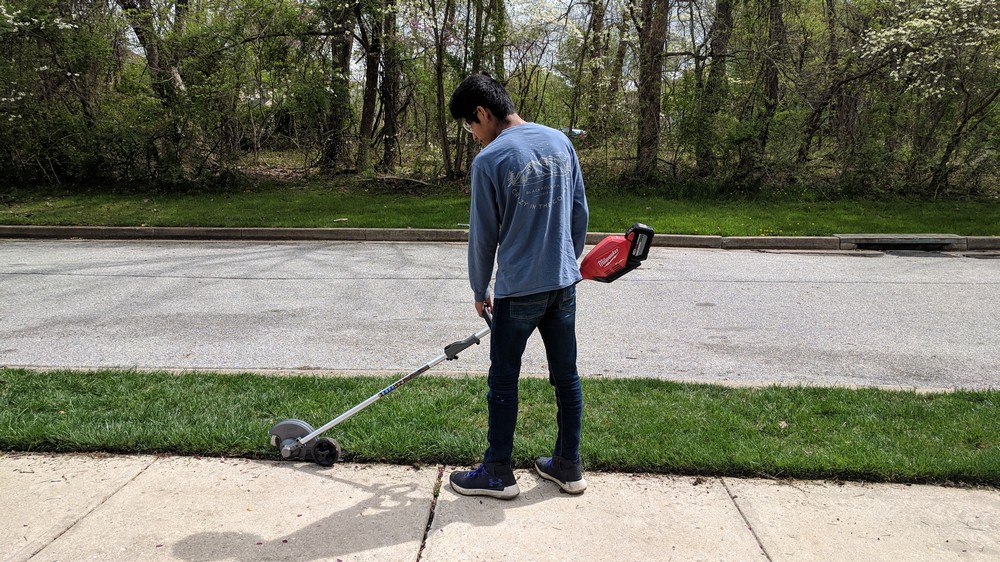 As you can see, the edger creates a nice clean line against the sidewalk.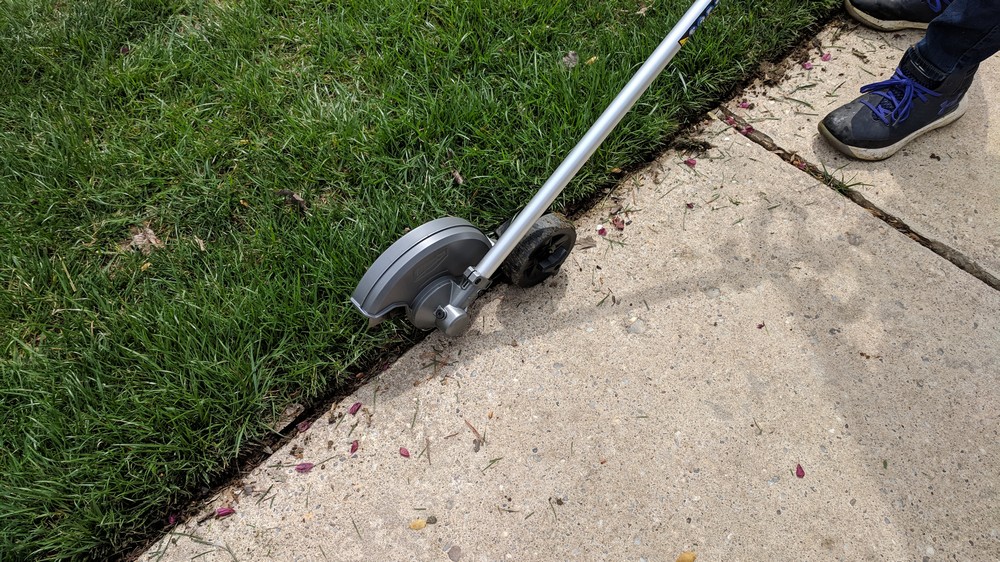 Third: The M18 QUIK-LOK Pole Chainsaw
Next up we tested out the pole chainsaw on a few low limbs on trees in our back yard. We used the pole saw with the 3′ extension which allowed us to reach branches 9-10 feet off the ground. The saw had no trouble going right through the branches.
The pole saw is the only tool in the group that requires one extra step — adding bar and chain oil to the reservoir on the saw to keep the chain lubricated while cutting.
Impressions: The saw made quick work of branches from 1″ to 3″ in our testing.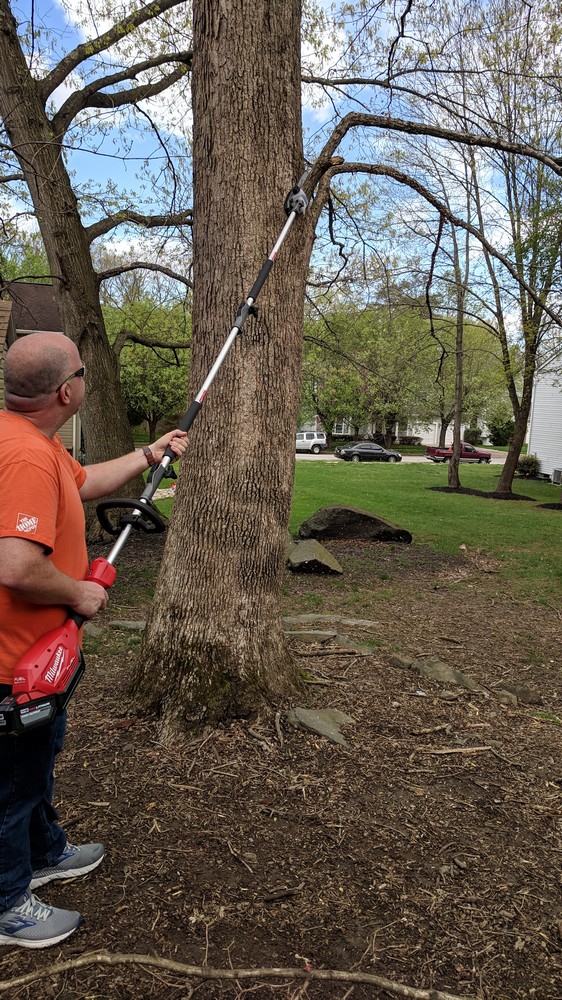 And Finally: The M18 QUIK-LOK Hedge Trimmers
This is the one attachment for this tool we don't see ourselves using on a regular basis, mainly because we don't have particularly large hedges and we already have a set of battery-powered trimmers. The very neat this about these trimmers is that the head can rotate nearly 360 degrees, enabling you to cut the top of a hedge taller than you are (and potentially eliminating the need for a ladder). We gave them a quick try-out, but honestly our hedges were already trimmed last fall.
Here's a picture of Bear demonstrating that their a little unwieldy for up-close work!
Impressions: A really great tool for someone with tall hedges.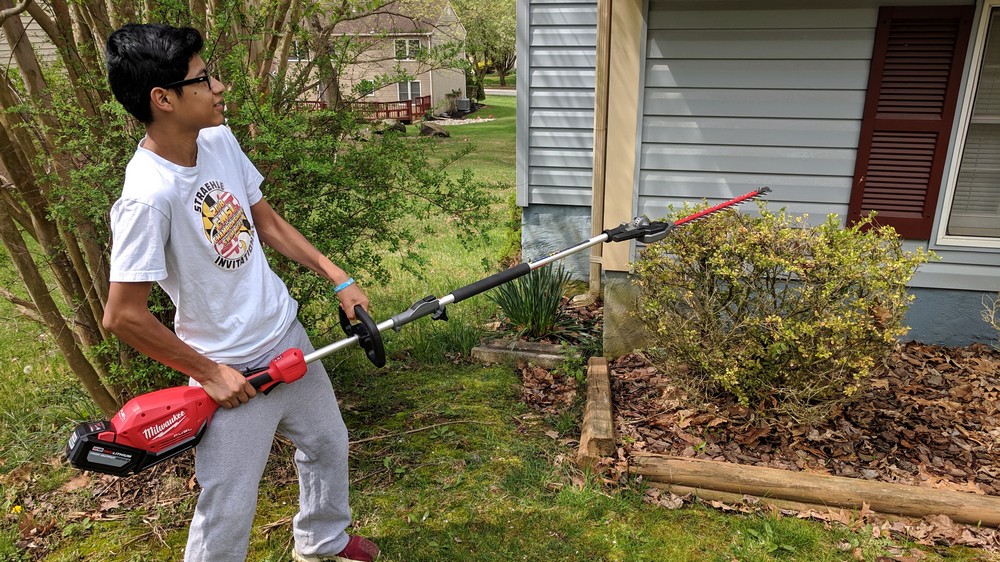 Prices, Overall Impressions, and Where to Buy
The one area where we know our readers will have concerns is on price. For the entire kit you've seen here you will be well north of $800. That's a hefty sum, for sure. The big breakthrough with these tools is a battery-powered system that finally performs as well as gas (and it really does!).
To a degree they are for early adopters or those serious about saving the time associated with not buying and maintaining gas tools. Here's the links for all of them, available at The Home Depot: