This article was originally published on our tool site, Toolbox One.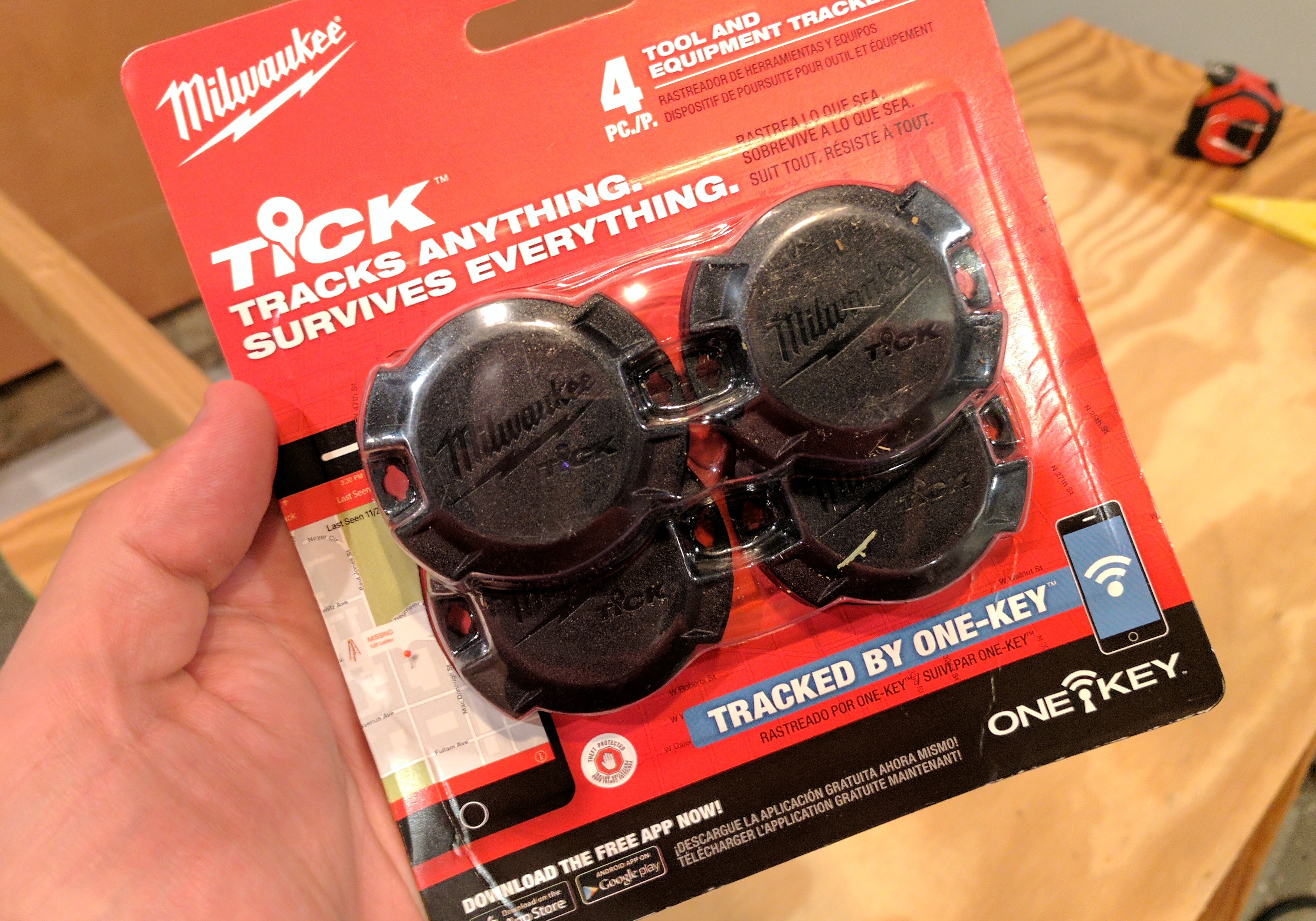 Stuff Lawyers Made Us Say: We're partnering with The Home Depot to provide candid reviews of tools from a wide variety of manufacturers. The Home Depot is both providing the tools for free and compensating us; however, the opinions we express here are our own. Remember, we'll always be up front with you when we're receiving a free product, compensation, or both. And of course we always strive for objectivity in our reviews.
Milwaukee has really stepped up its game in the few years with a wide variety of smartphone/internet-connected ONE-KEY tools including everything from impact drivers to reciprocating saws. These tools come with built-in microprocessors that connect the tool to a smartphone via the Milwaukee ONE-KEY App which enables inventory control, location tracking, and for many tools, control over the tool's settings. (For example, the torque and rotation speed presets on Milwaukee M18 FUEL ONE-KEY impact drivers can be adjusted precisely in the app.)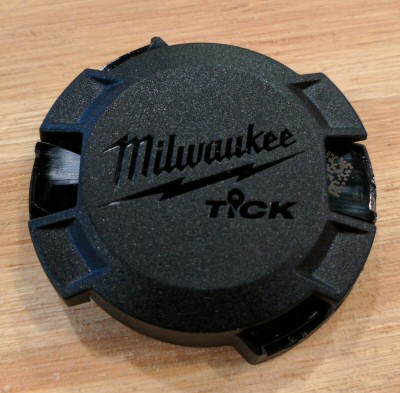 In order to make the Milwaukee ONE-KEY App's inventory and location tracking features available for tools without ONE-KEY technology built in, Milwaukee invented The Tick — a ruggedized Bluetooth-based inventory tag that works with the ONE-KEY App to enable tracking of any tool (or any thing, really) that you can glue, screw, or otherwise attach it to.
We currently don't own any Milwaukee ONE-KEY tools, so The Tick was our first experience with the inventory tags themselves and with Milwaukee's ONE-KEY App. (We used the Android version, available in the Google Play Store, on our Google Pixel phone).
Here's our experience with The Tick and Milwaukee's One Key App:
Getting Started: Five Minutes Got Us Up and Running
Getting started with The Tick and the ONE-KEY App was very simple and straightforward. For the app, we searched the Google Play Store for "One Key" and the Milwaukee App was recommended instantly. Download took just 30 seconds and we were presented with a sign-up screen. We were happy to see the App doesn't require much to get registered (just a First and Last Name, Password, and Occupation). One small improvement on the app side would be allowing a Google-based login as many applications are these days. It tends to be much faster and allows easier login across devices (i.e., phone, tablet, PC).
Setting up our first Tick was equally straightforward. In order to put The Tick in "pairing mode" you take the battery out for 10 second and put it back in. Then you tell the App to start searching for Ticks, and new / unassigned Ticks show up and allow you to assign them to the app (thus making you the owner of that Tick).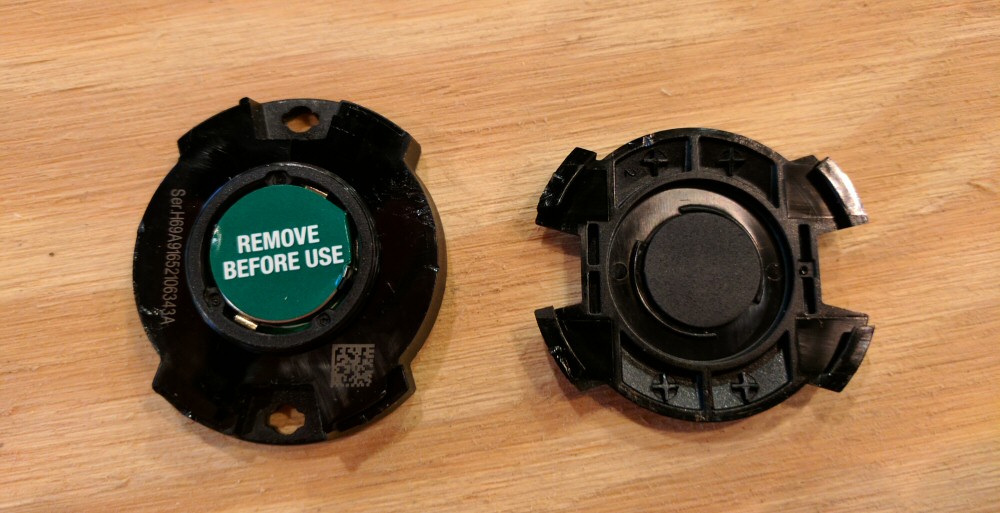 Location tracking began instantly.
Assigning The Tick to a Tool
Since The Tick is designed to allow tracking of any tool from any brand, we decided to associate the tag with our Bosch portable jobsite table saw. We occasionally loan this saw out and thought it would be great to be able to track its location. The app makes associating The Tick with a tool very simple, requiring only a brand name, a tool description, and a model number (any of which you could just put in "unavailable" if you didn't have them). Of course the app also allows you to take a picture of the tool, which is really useful for quick reference in the app.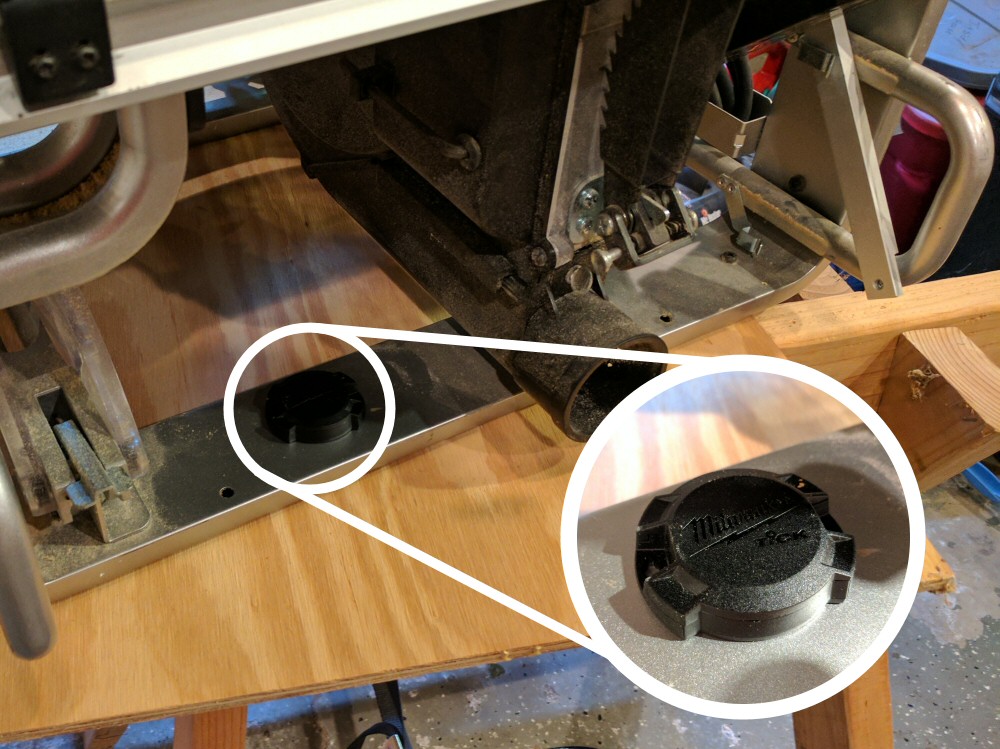 How The App Tracks The Tick
Like most inventory tracking tags, the Milwaukee One Key App stores data about your tools in the cloud, gaining location information about your tools from the phone (or tablet) that last "saw" the tracking tag. (Tracking proximity is approximately 100′ line-of-sight via Bluetooth). The ONE-KEY app uses a crowd-sourcing mechanism for locating tools, meaning that One Key apps installed on phones around the globe are constantly "listening" for tags and reporting data back to Milwaukee's cloud database about any tool's location they see. As more people install the One Key app on their phones, more locations are covered.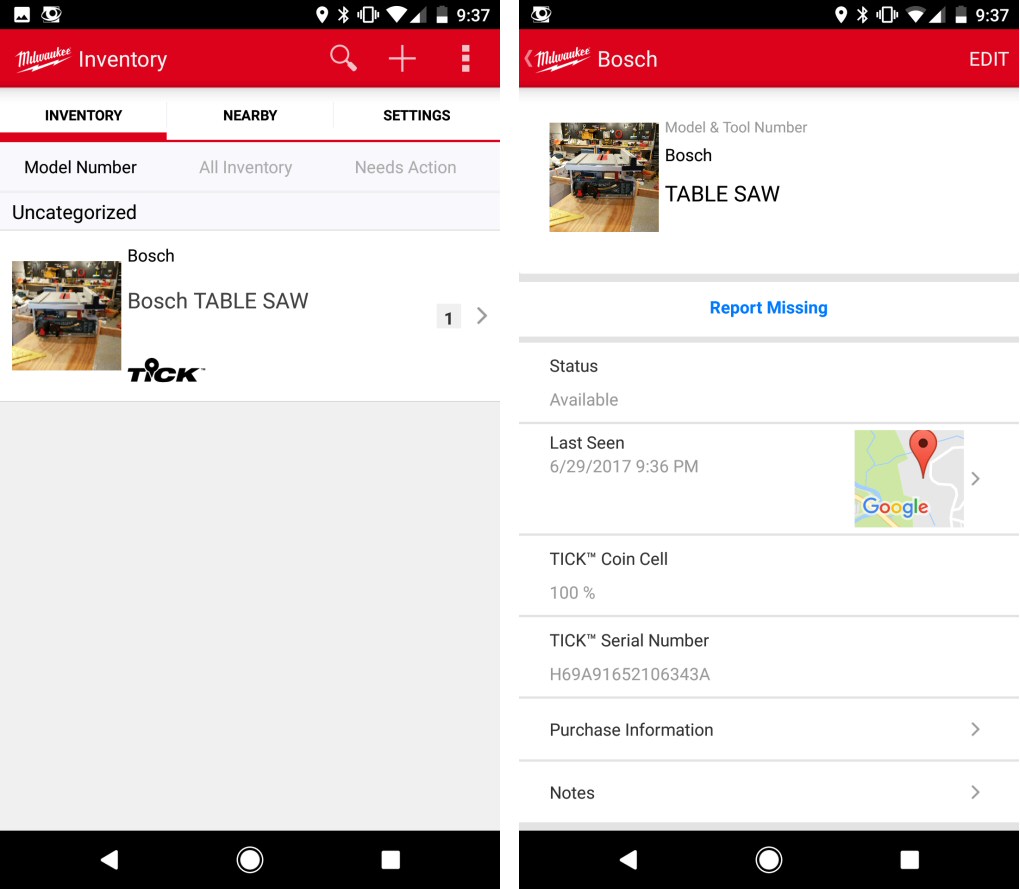 This crowd-sourcing feature is how Milwaukee intends for folks to locate lost tools. If a contractor asks each of their workers to install the app on their phone, the likelihood of being able to find a tool's location goes up considerably (especially in a situation where you are working across multiple job sites).
I asked a Milwaukee representative whether this would allow a nefarious actor to locate a stash of expensive tools. Their reply was that the app does not alert "third party" phones that another person's tool has been found. It merely passes that information through the phone to the cloud so that the real owner can be alerted. This would theoretically allow a hacker to intercept the tracking data, but it would require some effort and we see this type of exploitation as very low risk. Most people who would physically steal tools are not sophisticated computer hackers.
Rugged Build
One thing that sets The Tick apart from other inventory trackers is its rugged, water-resistant and dust proof build. We ran The Tick under running water and found no issues with its performance. Submersion would likely be a problem, but if your tool is submerged you've probably got bigger problems than losing The Tick. Dust resistance is essential for this type of tracking tag, and Milwaukee delivers on that front.
Pricing, Who This Product Is Right For, and Where to Buy
Pricing for the Tick starts at $29.99 and goes down based on bulk purchases. Here's the quantities and price points:
The Tick is marketed to tradesmen who want to keep track of their own tools as well as construction and remodeling companies who need to track a large inventory of tools across multiple job sites. But we think The Tick can also be useful for Do-It-Yourselfers who care about tracking a few key tools they may lend out (especially expensive ones), or to throw on their tool box or tool tote so that if it is left somewhere or taken, they'll have a decent shot at getting it back.