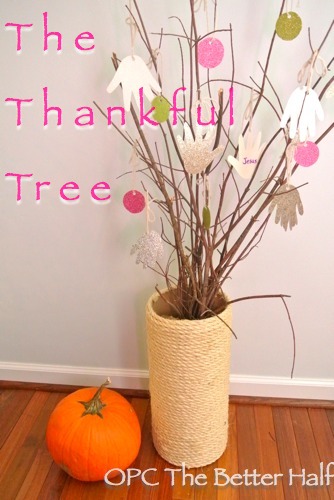 This year, as the girls are growing up, I really wanted a way to keep our hearts humble and grateful, and not just use Thanksgiving as the time to over eat and kill time before Christmas. I have really been enjoying the month of Thanks on Facebook – each day we share something we are thankful for. Its been really neat!
I've been looking for ways to help the girls join in on Thanksgiving, more than just the day. If you are a Pinterest fan or hang out in the DIY/design blogger community, Thankful Trees are super popular this year.  My friend Liz, at Naptime Decorator has a really cute one. I've seen some really cute ones, some big, some small, some using brown tags, other using white circles. But with all the concept is the same. You write down what you are thankful for and hang it on a tree or branches.
A large part of why I made the Sisal Rope Vase using concrete forms earlier this week was so that I could use it for my Thankful Tree. The vase itself looks super cute. Did you see it?!
Instead of plain tags, I am partial to glitter! Michael's happened to have their glitter card stock 50% last week and I picked up a few sheets. I originally was going to use a couple of different, bright glitter colors, but ended up sticking with the neutrals, at least for the hand prints.
Then I traced the girl's hands onto the back of the paper and cut out bunches of hands. The hope is that they look sorta like leaves. 🙂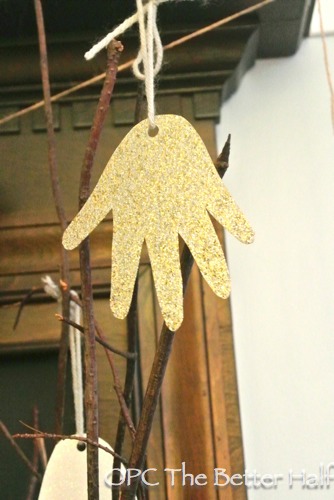 While doing this, we chatted about what they were each thankful for. Izzie, our 3-year-old said-
Jesus
Lucy
Friends
Mommy and Daddy
God, Jesus' Dad (so cute)
Lucy, our 22 month daughter, said:
It was a precious moment, for sure.
After writing down what the girls said they were thankful for, I dusted the backs with spray paint and glitter so both sides would sparkle! I also cut out some colorful circles to put on the tree too.
Then I went on the hunt for some pretty ribbon, with Izzie as my helper. She found some yarn and was obsessed with using it. She also said she plans to get some cats when she grows up and give it to them to play with.  HAHA
The girl's thought it was a Christmas tree, but had a blast putting the thankful hands on the thankful tree. I think Izzie has repositioned them about a million times since then!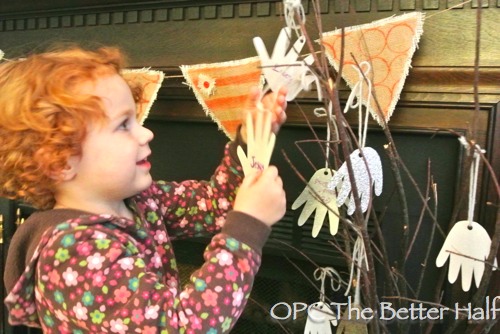 Well, Lucy was more of the peanut gallery than an actual helper, but she was still super cute.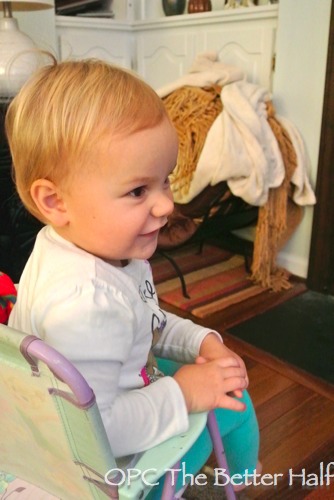 And the final product….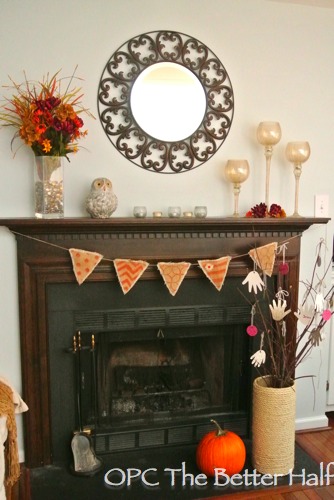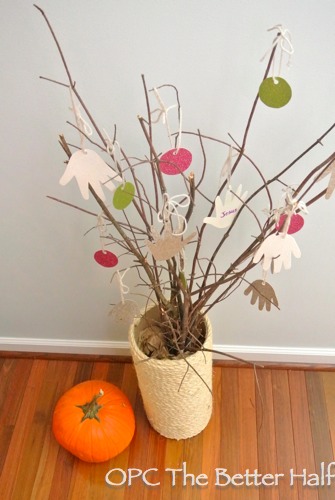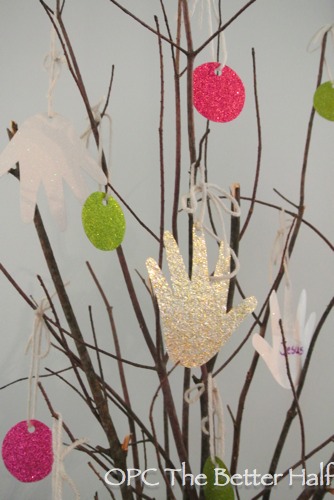 What do you think? What are you thankful for this year?
As Always, thanks for reading!