There's been a lot of talk recently about brushless motors. If you haven't heard, this alternate style of motor has some great benefits like longer runtime, fewer potential points of failure, less heat output and a more compact design. To learn more about brushless motor technology, I'd encourage you to check out the Brushless Motors 101 article from ToolGuyd. Lots of the major tool manufacturers (Festool, Makita, Milwaukee, Hitachi, Bosch) have jumped on the bandwagon, and DeWalt has just shipped us their new brushless motor, 20v Max impact driver. Here's a first look at this new offering.
The New 20v Max Impact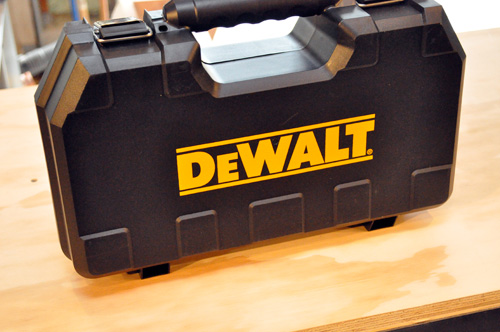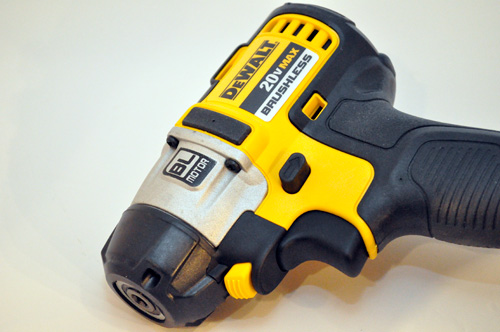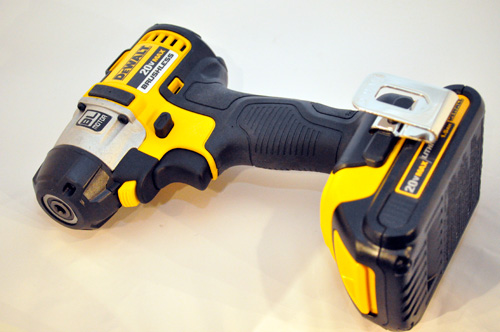 What's New?
Brushless Motor
I've already touched on the benefits of the new brushless motor technology. What most users will notice is the increased runtime, and DeWalt claims up to 1.5X more runtime versus leading competitors. This is a huge step forward, and some product managers liken it to the introduction of lithium-ion batteries. I expect most manufacturers will fully adopt brushless motors in the near future.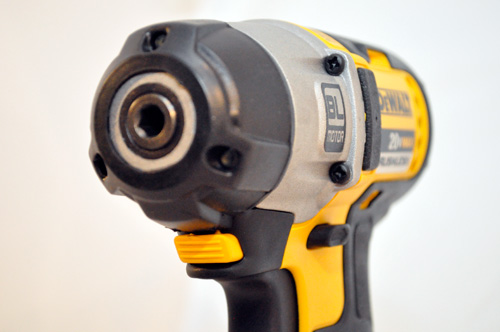 Push-button Chuck Release
That extra yellow button just above the trigger is the new chuck release. Unlike traditional chucks that require two hands, all you have to do is insert a bit, and it locks in place. To release the bit, push the yellow button. You should know that you can't release a bit unless the driver direction switch is set forward or backward (it won't release in the middle position).
I haven't spent much time with the new 20v Max Impact. Even so, I've found that at times the new chuck design can't hold onto the bit. For instance, I drilled several deep holes with a self-feed, spade bit. On multiple occasions, the chuck couldn't hold on while I backed the bit out. I hope DeWalt will address this problem.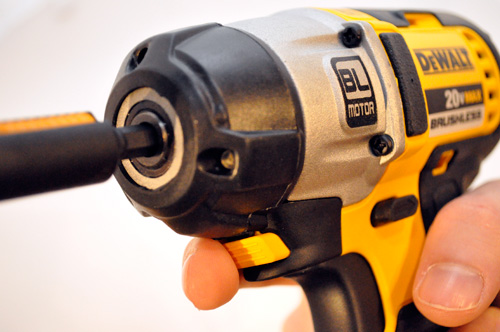 Speed Selector
DeWaltincluded a 3-speed, electro-mechanical selector on the base. They feel this is better than the competition because the current speed is more readily visible. As you might expect, the lower setting (position 1) is designed for finish applications like brass hinge screws, and the speed increases as you move up. You can't change speeds while the trigger is engaged.
In my experience, the new speed selector has a few kinks. Specifically, sometimes the driver remains in speed 3 when the switch is in the second position. I've seen this on two different models.
Battery Fuel Gauge
I was surprised DeWalt didn't include a fuel gauge with their original 20v Max batteries. However, this problem has been rectified, and you can still use the same multi-volt (20v / 12v) charger.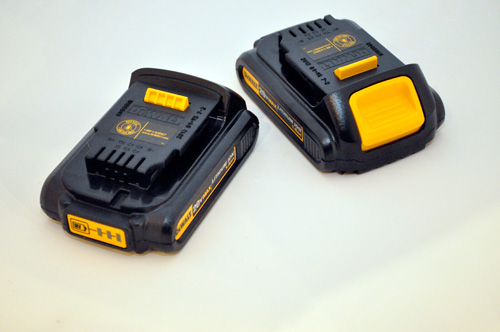 Length
One of the other very noticeable features is the overall length. At 5.25," it's 0.3″ shorter than the previous model.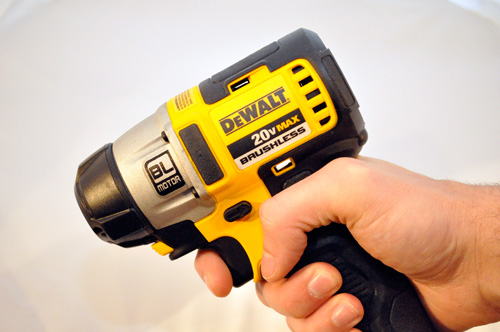 Specifications
Part Number: DCF895C2
Motor: Brushless
Speeds: 3
RPM: 0-2850/1900/950
Speed Selector: Electro-Mechanical Slide
Max-torque: 1500/900/500 IN LBS
Length: 5.25″
Weight: 3.0 LBS
Chuck: (1/4″) push button
Accept 1″ bits: Yes
Battery: (2) 1.5 AH
Battery fuel gauge: Yes
Work light: 3 LEDs (around chuck)
LED delay: 20 sec after trigger release
Belt hook: yes (metal)
Accessory storage: Yes
Rubber bumpers: Yes
Multi-volt charger: Yes (20V/12V MAX*)