I'm always a little leery when tool manufacturers start combining multiple functions into one tool. Before long someone will introduce an egg salad maker / post hole digger, and unfortunately it won't do a very good job making salad or digging posts. The biggest exception to my skepticism is the 6-n-1 screwdriver. I love 'em. It's super-handy to have multiple Phillips, flathead and nut driver sizes all conveniently available in one tool. I was intrigued when Channellock sent me a pair of their new ratcheting screwdrivers- the new Code Blue 13-n-1 and 18-n-1 . If I like the 6-n-1, it stands to reason that the 18-n-1 would be three times as awesome, right? Maybe not.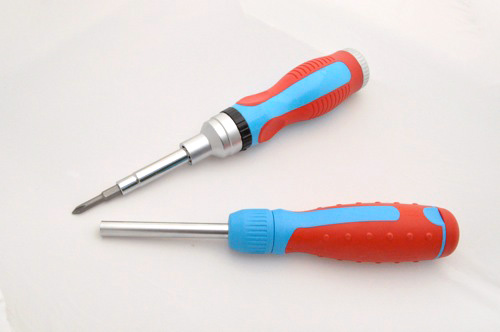 Code Blue 18-n-1 (top) and 13-n-1 (bottom)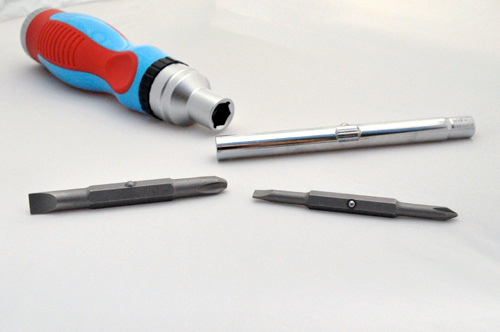 18-n-1 Disassembled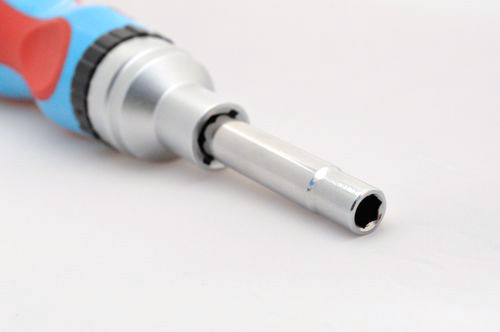 18-n-1 nut driver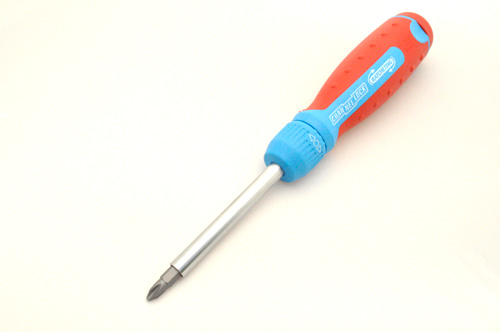 13-n-1

13-n-1 Grip
Both of these drivers have all the common features you'd expect- good handle, solid construction and comparable form factor. Rather than bore you with details (like how the molded grip feels good in your hand), let's focus on what makes these screwdrivers different.
They Ratchet
Call me old school, but most of the time I don't take advantage of ratcheting screwdrivers and leave them locked. It's a great perk when I remember to use it, and it makes repetitive jobs like wiring outlets much easier. The 13-n-1 features a 28 tooth ratchet and it is so smooth. That probably doesn't matter for build quality but it actually makes the tool more pleasant to use.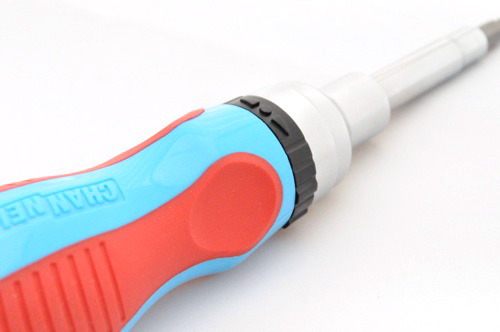 18-n-1 Grip
Better Bit Storage
Like most other X-n-1 drivers, all the additional bits are stored in the handle, however Channellock implemented a very slick bit holder on the 13-n-1 driver. Rather than loose storage or even slots like the 18-n-1, Channellock created a slide out bit holder that locks all six bits in place. This is such a great idea because your not losing bits, and it's easy to find the right one by rotating the bit holder. I don't know why Channellock didn't include this on the 18-n-1 screwdriver but they should.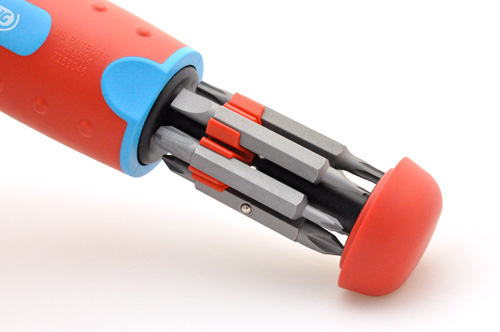 13-n-1 bit storage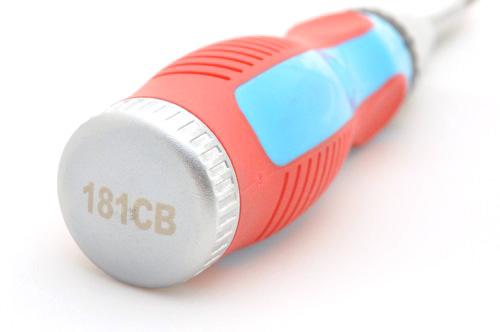 18-n-1 Handle base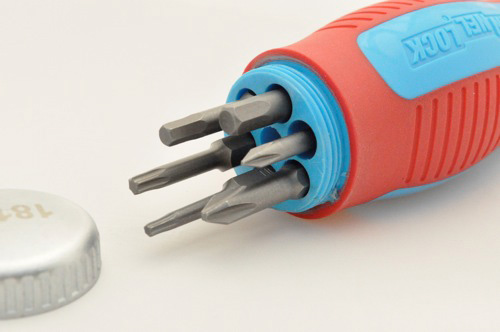 18-n-1 bit storage
Included Bits
You may have noticed that all the bits have a detent that holds them in place- another thoughtful feature. Here are the bits included in each driver.
Code Blue 13 'N 1
#0, #1, #2 and #3 Phillips
#4 and #6 slotted tips
#10, #15, #20 and #25 Torx
#1 and #2 square recessed bits
1/4" hex shaft
Code Blue 18 'N 1
#0, #1, #2 and #3 Phillips
1/8", 3/16", 1/4" and 5/16" slotted tips
#10, #15, #20 and #25 Torx
1/8", 5/32", 3/16" and 7/32" hex bits
1/4" and 5/16"nutdriver bits
The 18-n-1 retails for $17.17 and the 13-n-1 retails for $33.54. Here are the links to see all the specifications (like construction and torque):
What's your favorite X-n-1 screwdriver?