Hello everyone! I hope your Saturday is going great. Kim's out finishing up our holiday shopping, and that gives me time to share a few features we've implemented here on the site.
1. "Print this Post" Capability
You can now print posts and "How-to" articles from our site by following the link at the top of posts. I tried a few different WordPress plugins and wp-print from Aaron Campbell and Lester Chan proved to provide the best formatting. OPC sends a big thanks to both of them.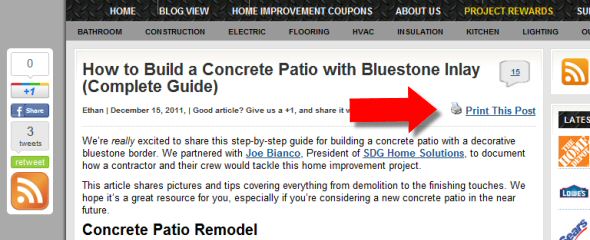 We'll be adding an "Email This Post" button soon as well. That will probably come along with a revision to the post header layout to include the author's picture in the header.

2. Community Blogs Returns
Some changes in our RSS parser/aggregator service created problems loading and displaying community blogs on our home page. That's fixed now. We're working on some changes on the actual community blogs page itself (mainly in the sidebar area). If you write a home improvement blog and want to be added, just shoot me an email.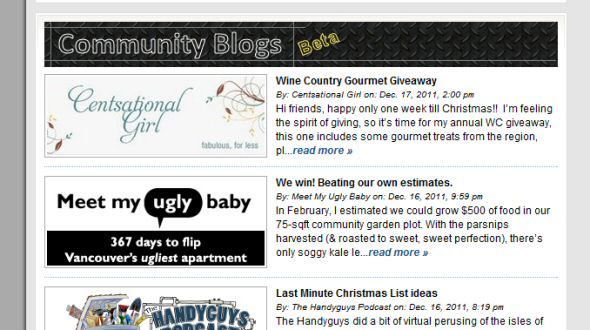 3. Project Guide Categories
We're working to re-categorize all of our older How-To articles into our new project guide format. That effort will be ongoing for some time and will be mixed in with Ethan's contractor following work to create new guides. As we do that re-organization (and as Ethan writes new project guides), you'll see the list of project guide categories expanding on the home page. The category pages themselves right now are pretty lame. I will be working on that, along with the project guides homepage described below.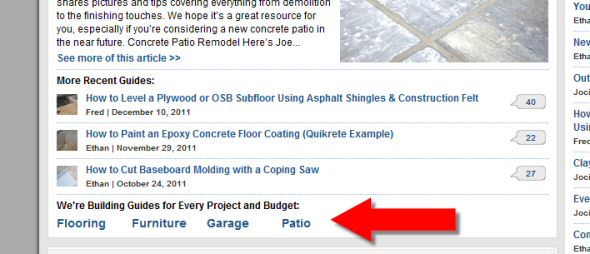 4. A Rough Start on Our Project Guides Home Page
I've started the programming for a home page for our project guides. This is very rough at this point, but the page will feature navigation for all the project guides (grouped by topics like "flooring" or "kitchen", etc).
It will also show the latest guides and will chronicle any "on-going" guide development as Ethan shadows contractors. I link to it here in case you're a web programmer type and wanted to email me some suggestions for layout and design.
5. Graphics for Kim's Coupon Area & Updated Coupon Layout
You can now see Kim's face on the coupon area of our home page. An update to our coupon aggregator page is also coming soon. Kim's also made some changes to the organization of our deals pages for Home Depot, Lowes, Sears, and others, to make them easier to navigate. Feel free to email Kim if you have any suggestions for better organization of the deals, or if you're looking for a particular deal.
As always, we really appreciate the feedback and participation on the site. Glad to have you all with us.