I just got back from the great state of Wisconsin where Milwaukee Tools had me out to see their latest tool developments. It was a lot of fun to learn what Milwaukee has been working on, get a tour of their amazing facility and try everything out for myself. I was impressed with a lot of tools and accessories. Unfortunately, I can't reveal everything as Milwaukee had me sign a waiver, and I think they were serious.
Most media events you hear something like "We want to be the number one tool provider in North America," but that wasn't Milwaukee's goal. Their mission is to be top dog for plumbers, electricians, HVAC and facilities professionals. That means they're leveraging all their resources for a very specific target, and I think that'll result in better products for those user groups. On the flip side, that also means people like woodworkers won't be hearing much from Milwaukee in the coming days.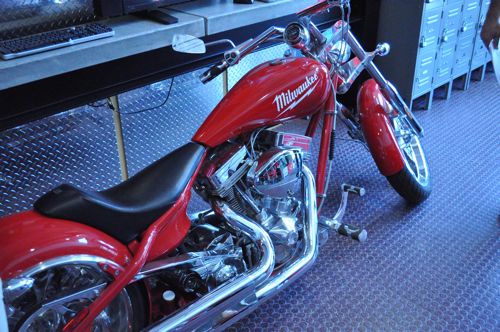 Accessories
You might think it's tough to get excited about accessories. Spend a day working with junkie accessories, and you'll have a change of heart. Milwaukee brought out two Sawzall blades that caught my attention.
The first is The Ax, 6″ blade. The first tooth on the blade is a unique "Fang Tip" that bites into the wood for quicker plunge cuts. The other teeth feature "Nail Guard," which basically prevents the teeth from fully seating around a nail and causing the tooth to break. Check out the demonstration video of The Ax making a plunge cut, cutting through nails and lastly through pressure treated wood.
And here's what the blades look like after. See the Fang Tip and how the teeth wear better?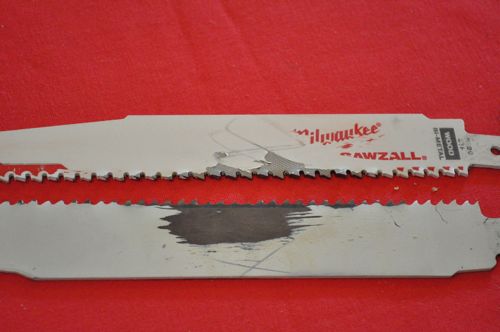 The second blade is a their new Flush Cut, and this blade is perfect for window and door cut-outs. Milwaukee was smart and made the blade longer so that it's easier to cut along a 2×4. The blade is also off-set so that it's lower than the recip. saw providing clearance for your hands. In the same vein, most recip. blades have a slight downward angle, but the Flush Cut is perfectly in-line.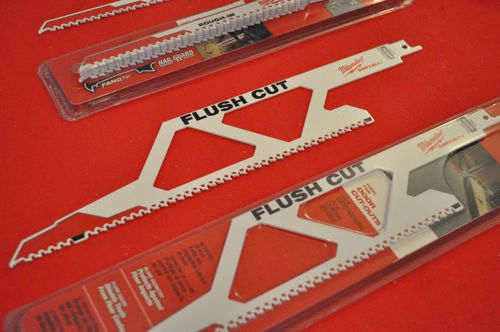 See those black guards? When you make a cut, keep the blade level and those guards will prevent the blade from cutting into the subfloor or dulling on concrete. It's cool to think "Hey, I coulda really used that last week," and that's what I thought about the Flush Cut.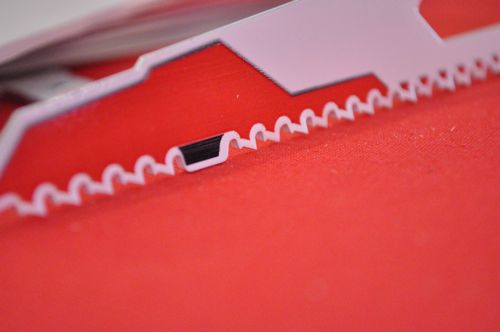 Milwaukee also demonstrated a couple drill bits including this 30° bit holder, and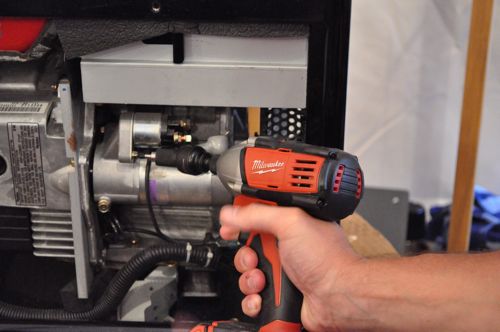 …this fun take on making a bit holder more useful.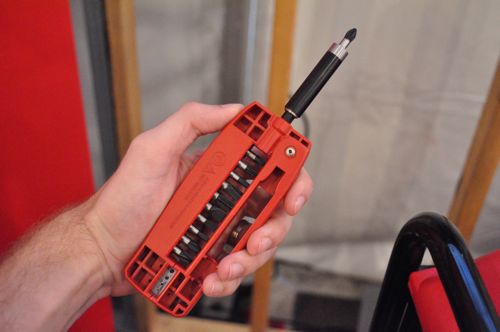 Corded Tools
Next we shifted over to corded tools like SDS Rotary Hammers and grinders. I love how Milwaukee had several competitors tools for us to try out. We couldn't tell which model they were but Milwaukee said they were the latest available.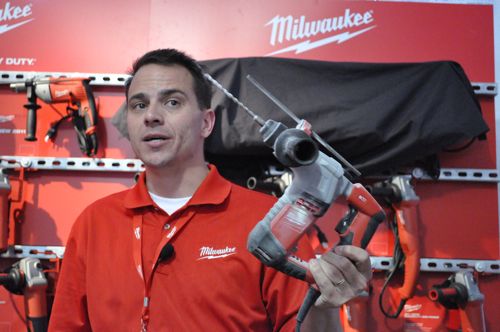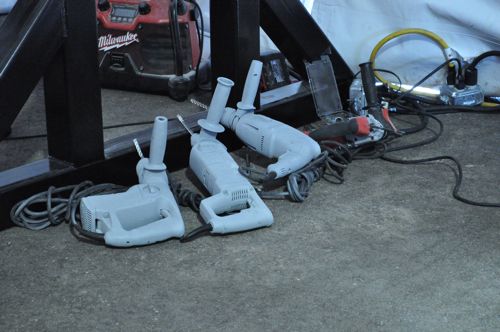 I really liked how the Milwaukee grinders are completely tool free. There's a lever for rotating or removing the guard, and you can swap out accessories by hand. I tried it myself, and it was really easy.
Here's a shot of Dan from Tools in Action trying out a grinder.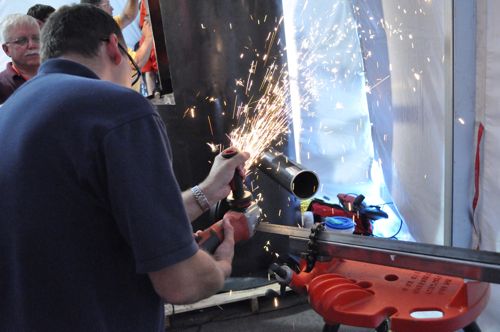 Hand Tools
We saw a lot of hand tools but I can't tell you anything about them. I will say the hand tools are more impressive than what DeWalt just unveiled, and electricians should hold off about a month before replacing any tools.
Diagnostic
In the world of diagnostic tools, we took turns with a new thermal imaging gun that can pair the heat map image with an actual photograph. It also has a built in LED light and the M12 battery can be charged separately (rather than having to charge the gun).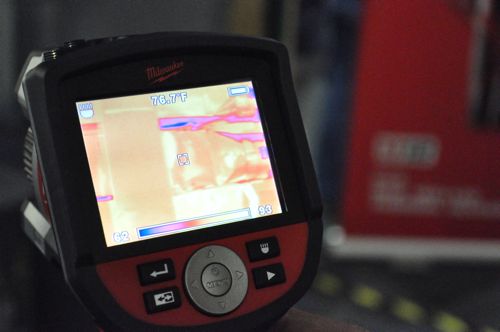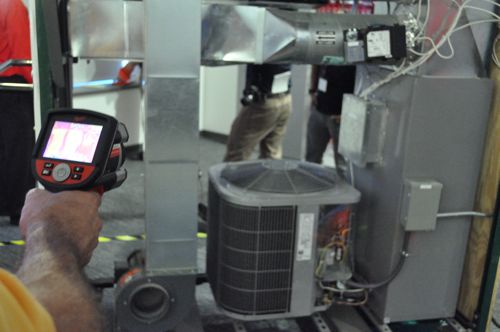 Cordless Tools
Milwaukee has been really successful with their M12 and M18 cordless lines, and they're going to keep innovating. Some of the things I can share include the awesome heated jacket (now available in camo),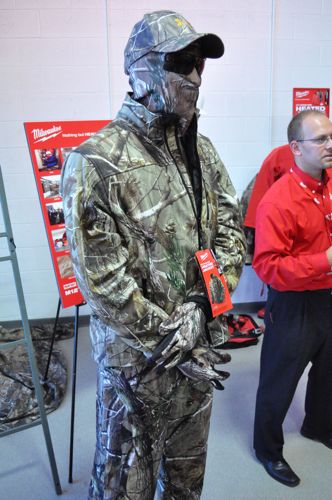 … an inspection scope (that helped me win a t-shirt),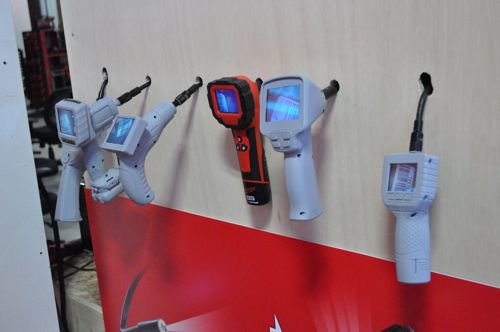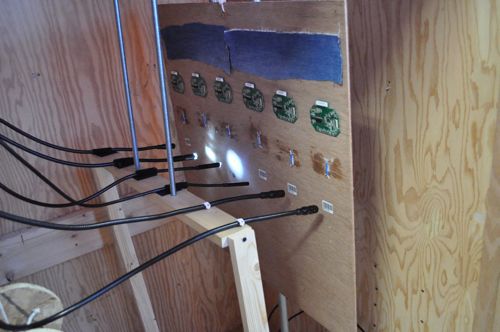 … a quality cordless jigsaw (check out my artistic sea-monster creation),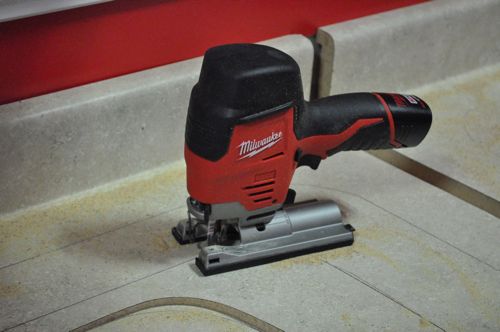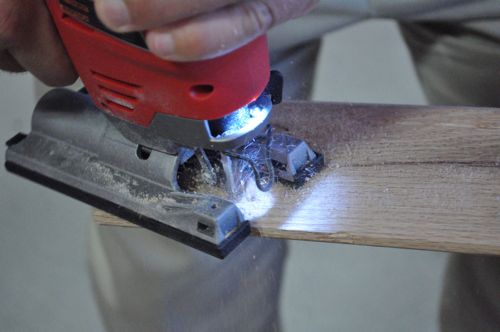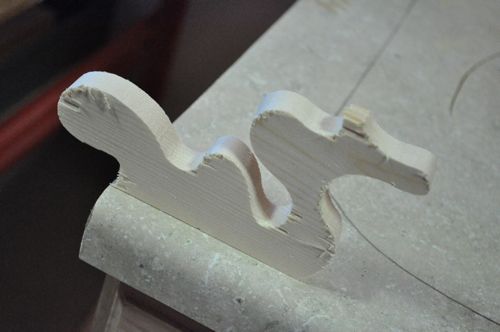 Milwaukee has some new developments that are really exciting. Look for a big shift in cordless tools in Q1 of 2012.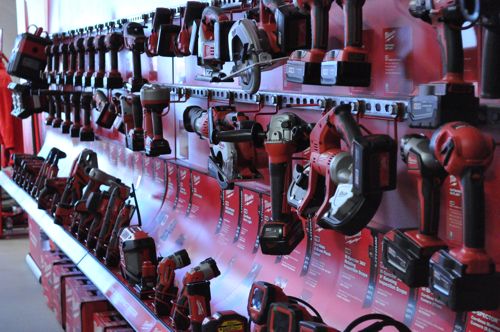 A Tour of Milwaukee HQ
We ended the day with a tour of the Milwaukee facility and it was really cool. Again, I can't share much but they let me photograph a bit of their history. Enjoy!