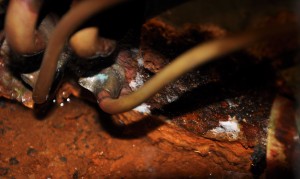 I just found out that my indoor air-conditioning coil is quite rusted (see pic). A small amount of water is pooling in front of the unit because it's not draining properly. My HVAC buddy and I opened up the unit and found a lot of rusty water clogging the drain pipe. The fix is simple; I need a new air-conditioning coil. The only problem is that new freon regulations are in the works.
R-22 Freon Regulations
Right now, residential and light commercial AC units use R-22 freon. Unfortunately, it's been identified as an ozone depleter and will be phased out by the Environmental Protection Agency (EPA). The phase out began in 2004 and will wrap up by completely ceasing production by 2020. Even though there's still time, installers are beginning to push the new freon equipment rather than service equipment that will soon be outdated.
New R-410A Freon
R-410A (aka Puron, Genetron R410A, and AZ-20), the new freon of choice, was created and patented by Honeywell. It does not deplete ozone and can be identified by its pink container (the R-22 container is green). Another difference is that R-410A is more expensive for the time being. But, as R-22 supply dwindles, the price difference will shrink. Lastly, the equipment for each is not cross-compatible. R-410A systems need thicker tubing and compressors capable of withstanding higher pressures. That means that if you replace your outdoor unit, the indoor coil needs to be replaced too.
Decision Time
This information is important because now I have a choice.
I can purchase an R-22 coil and hope for the best. If problems arise, it may be difficult / expensive to get replacement parts or R-22 freon in the next decade. Furthermore, any freon leaks will damage the ozone layer. However, most of my equipment is in good shape and may last a while longer.
OR
I can purchase a whole new air-conditioning system. This option carries a much higher up-front cost, and I'd be replacing equipment that is in good, working order. But R-410A units have been available in the U.S. since 1995. It's proven to be efficient and even more reliable than R-22 systems.
What do you think? Would you upgrade? What freon does your AC unit have?