Jocie and I just got back tonight from our trip down to Shaw Flooring Headquarters, and our brains are humming with future post ideas.  But for this first post, I wanted to get out the time-sensitive information.
The reason we were invited down, given tours of Shaws R&D and Testing Facilities, and shown the new Tigressá Soft Style line this week is that the line is being released in stores this Sunday, May 23, and they want to get the word out.
So here are some highlights of what we learned, saw, and touched with our own hands this week.
What is Tigressá Soft Style?
Tigressá Soft Style is Shaw's newest residential carpet line, inspired by the tiger, designed for softness and strength.  It's made of recycleable Type 6 nylon (which Jocie will go into in greater detail in a future post), and it holds up well over time and wear.  Are there other good quality carpets on the market already?  Sure.  But from what I saw over the past two days, combined with my own experience as a project manager working with vast quantities of carpet, I have no qualms about endorsing Tigressá as a truly remarkable product.  This carpet is amazing!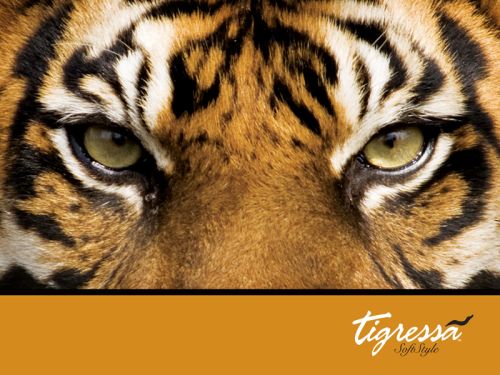 What is so great about Tigressá SoftStyle?
Durability – Made with high filaments-per-square-inch density, the carpet is sturdy and withstands wear very well.  We observed part of the "20,000 Step Walk Testing" (demonstrating the wear on carpet after it's been walked over 20,000 times) and saw some of the samples that had been tested.  Tigressá is less susceptible to crushing and matting than other carpets which means it will still look new after years of wear.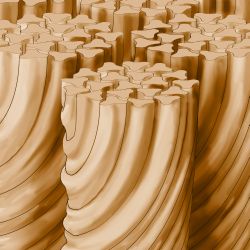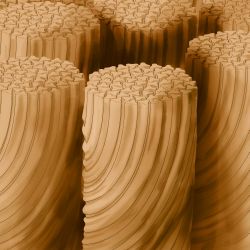 (Tigressá at right)
Style Selection – There's a wide variation of texture, pile heights, and color from which to choose.  The colors are beautiful, and the carpet is designed to withstand elements that would lead it to fade over time (sunlight, humidity, air quality).
Softness – When you think of carpet, you probably think "soft surface."  Tigressá takes "soft" to a whole new level.  I wish I could put my samples on here, so you could feel the difference.  Shaw has designed Tigressá to have extra-thin fibers (1/2 the width of a human hair), and when twisted into the tufts, they truly do lead to a much softer feel than other nylon carpets.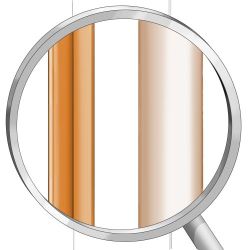 (Tigressa, left, and human hair width)
Stain Resistance – I'm so glad I get to post these pictures because this test blew us all away (and yes, that's me participating!).  We dumped Kool-Aid on two swatches of carpet – Tigressá and "another brand" (which, in the interest of full-disclosure, I must note was a polyester carpet, not nylon).  We then attempted to blot it up and observed what happened.  The specifics will come out in a later post, but basically, Shaw's R2X treatment causes liquids to bead up like mercury, rather than soaking into the fibers.  Clean up is simple and there is no stain left behind.  Observe for yourselves: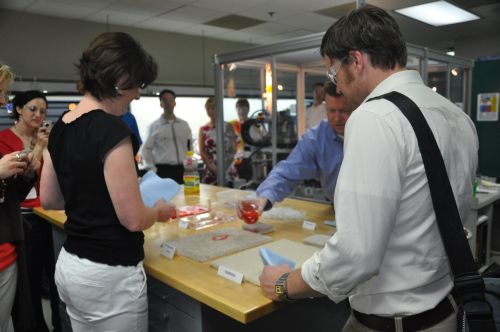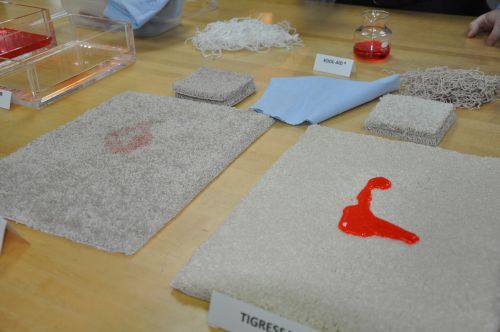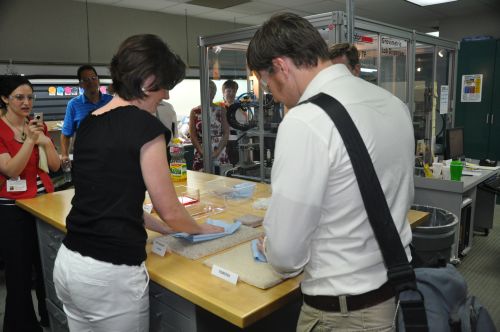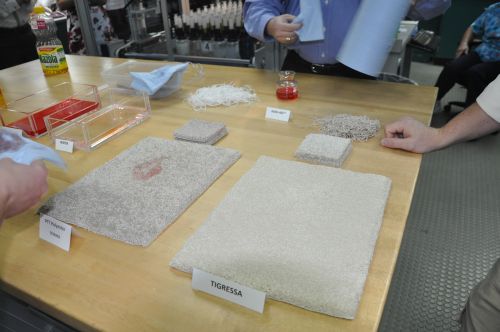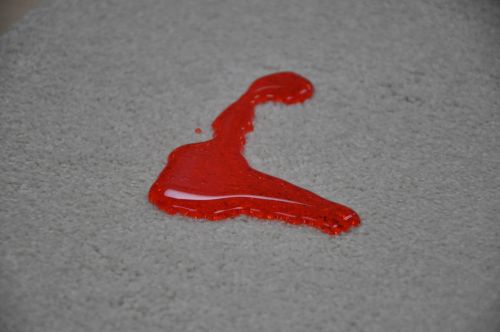 Environmental Friendliness – The carpet is recycleable and can be broken down and reused to make new carpet.  Also, to tie into their Tiger theme, Shaw has partnered with the Save the Tiger Fund and is contributing a portion of its Tigressá proceeds to the Fund.  They've also set up a Twitter for $1 account, where Shaw will match a dollar for each Tweet for Save the Tiger, up to $25,000.  It's great to turn out a good product.  Even better to support a charitable cause while doing so!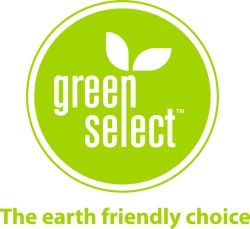 Where Can I Get Tigressá Carpet?
Tigressá is available through Carpet One Floor & Home and through FlooringAmerica retailers.  There is a Retailer Locator on the front page of the Tigressá website.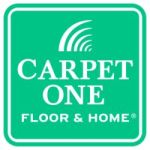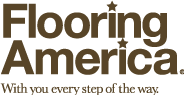 Extra Incentives to Check Out Tigressá:
Tigressá Sweepstakes! – For the next several months, you can enter the Tigressá Sweepstakes and become eligible to win one of a number of prizes ranging all the way up to a trip to India to see the tigers that inspired the line!
Save the Tiger Fund – Even without making a purchase, you can contribute to the Save the Tiger Fund by Tweeting about Shaw's new line.  Once their Twitter link is live, I'll come back and post it here!  And, of course, some of the proceeds of Tigressá sales also go to this fund this summer.
The Bottom Line:
Yes, the event Jocie and I attended for the past two days was sponsored by Shaw.  Yes, they put forth the best display they could of their product, facilities and staff.  It was their best game; we know that.  But aside from all that, the carpet stands out as an excellent product.  It is designed to be the best product at its price point.  No, it's not "cheap," but neither is it priced higher than other carpets we've seen (or purchased) that don't hold up quite as well.  We expect it will last and look beautiful far longer than your average carpet.
It's worth looking into if you're considering new carpet.  Especially if you have children, pets, or other high-traffic/high-soil issues in your home. Jocie and I came home sold!
all photos used with permission from: