If you follow us on Twitter, you know that Bosch was kind enough to invite OPC out to their headquarters located in Mt. Prospect, Illinois. For the past two days, I've been getting in-depth information from product managers about new tools that have just come out and tools that haven't even hit the shelves. Bosch setup a demonstration area where they put each tool in our hands to see for ourselves, and the results were impressive. For even more pictures, check out our new Facebook page.
New From Bosch
Bosch prides itself on innovation, and that's evident with the new products we saw. Here's what really stood out:
Compact Tough
The second generation of Compact Tough drill drivers and hammer drill drivers are available as of this month. Right away you should notice that they've changed the angle of the drive train relative to the handle (also true for the Brute Tough line). Users perceived that their previous style was bigger and less maneuverable so they incorporated that feedback. As Bosch works to further refine their lineup, there's a heavy emphasis on improved weight, size and battery life. A new gear train and clutch makes the newest generation of Compact Tough smaller and more compact when compared to the competition and previous models. These drill drivers and hammer drills also boast the lightest weights in their classes- 3.4 lbs. and 3.6 lbs. respectively with slim battery packs. Both lines are powered by 18V Li-ion batteries. To simulate cold temperatures, Bosch froze a pair 18V batteries in blocks of ice. After extracting the batteries, they fired up two drivers without hesitation.
Compact Tough Drill Driver models: DDS180 / DDS181
Compact Tough Hammer Drill models: HDS180 / HDS181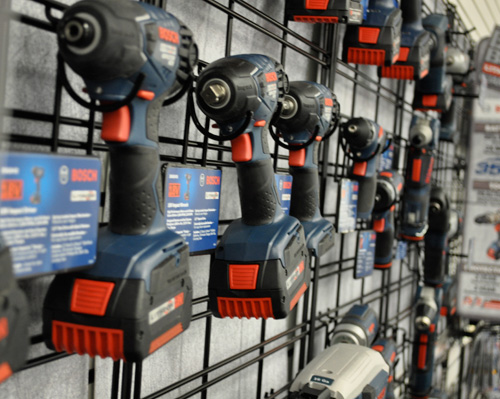 12V Max
The 12V Max lineup has a few additions including an inspection camera, right angle drill and pocket reciprocating saw. The inspection camera is available now with a 2.7″ screen and 36″ long scope. The right angle drill launches in July 2011, and features an articulating head and LED lights. The pocket recip. saw is strikingly similar to the Milwaukee version in design and specifications. It'll be available in August 2011.
Inspection Camera: PS90-1A, $199
Right Angle Drill: PS11-2A, $149
Pock Reciprocating Saw: PS60-2A, $159
18V System Tools
Bosch added several new cordless tools, and the real standout from this group was the cordless band saw. The new BSH180 is the most compact band saw in it's class. It weighs 7.5 lbs. and measures 13.5″ in length- way better than comparable Milwaukee and Stout models. Putting out 500 Surface Feet Per Minute (SFPM), I was able to slice through metal pipe with ease. The size and weight make it incredibly easy to work overhead, and I'd recommend this to any plumber, electric or HVAC professional. The BSH180 launched in March of this year.
Finish Nailer: FNH180K-16, $449
Work Light: CFLED180, $69
Bandsaw: BSH180, $349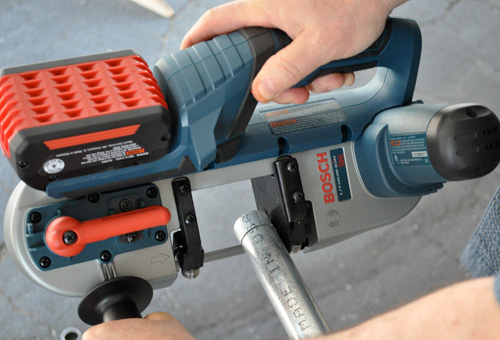 Woodworking
The MX25E, Bosch's multi-tool offering has been available since March of this year. OMT's are great, but I was really impressed with their new random orbit sander. The new ROS65EVC5 is a large random orbit sander. It can accept 5″ or 6″ discs and the translucent dust canister is an improvement over previous models. What is so impressive about this sander is the amazing vibration control. I've never used a random orbital sander with such smooth handling. Jim Stevens, the product manager, shared that they achieved this by using foam pads to act as a sort of "independent suspension", separating the housing from the rest of the mechanism. The result is amazing control that I haven't found elsewhere. Look for the ROS65EVC5 in August 2011.
Oscillating Mult-tool: MX25EK-33, $199
Random Orbit Sander: ROS65EVC5, $229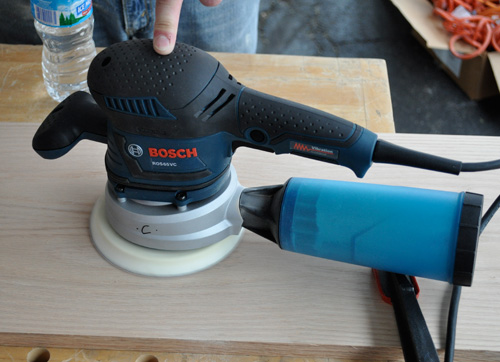 Putting Bosch to the Test
Bosch wanted to backup their product claims with real experience and they did this in two ways.
First, imagine four, pressure treated 4X4's setup lengthwise. Bosch pitted their 18V Li-ion driver against comparable Makita, Milwaukee and DeWalt models to see which cordless would drive the most screws. Everyone took turns driving screws, and eventually all four batteries died. The results? The Bosch battery outlasted them all, surpassing second place by 96 screws.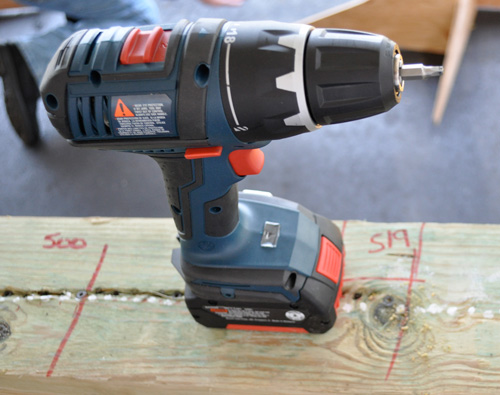 The second demonstration focused on durability. Tools are often dropped on the jobsite so Bosch loosed a pair of hammer drills from a helicopter 532 ft. off the ground. The tools fell to the dirt, and both functioned just fine.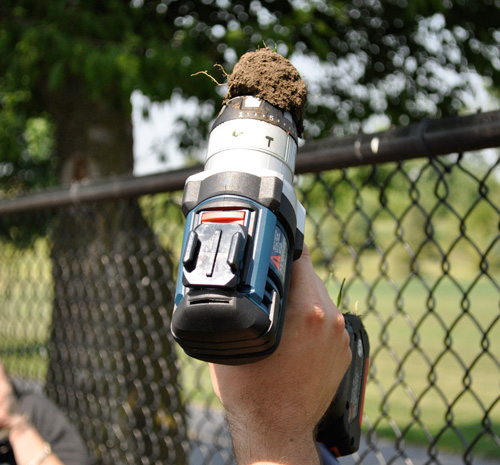 Innovation and Round Tables
It was great to break into smaller groups to discuss ideas and products we'd like to see in the future. Before attending, everyone submitted ideas for "Tools of Tomorrow". I'm happy to share that my idea, a universal battery adapter, was voted the top choice by fellow peers and Bosch leadership. Some of the other suggestions included an iPhone app, laser concrete cutter and even a portable beer tap (courtesy of Marc from HomeFixated.com). It was refreshing to see the Bosch product managers so eager for feedback and ideas. They truly want to learn what products the end-users need, and how they can rise to the challenge. If you have some inspiration, leave a comment and I'll make sure to pass it along.