Hi. My name is Jocie, and I love owls.
Okay, so I have admitted I have an owl problem, but I bet you may too! 🙂
This past weekend, when I was yard sale-ing with my friend, Kellie I found these amazing (old) owls for the wall. They were being sold by this very sweet older couple who, if I weren't so eager to find more yard sale deals, I could have stayed and hung out with them all day.
When I asked the older gentleman how much the owls cost he said,"I don't know, we'll have to ask my cashier." wink wink. His kind and gentle wife walked over and said, "FREE! You can just have them."
Say WHAT?!? Yes, thank you, I will!
It was my yard sale find of the century… Okay, maybe not the century, but definitely the day. lol.
While I was at Walmart picking up some diapers and toilet paper, I bought some Ivory Satin Krylon spray paint (paint and primer in one).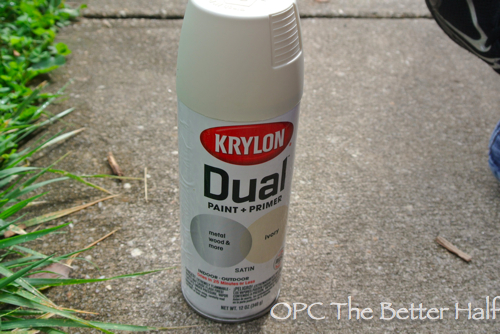 Once it stopped raining here in Baltimore, I took the owls outside and placed them on my very expensive, His and Hers spray paint pedestals (aka coke and diet coke cardboard).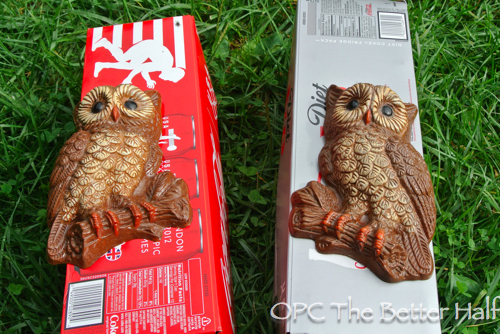 I then tried to spray thin coats of paint onto the owls. I truly hated this spray paint. It was all thick and globby (yes, that is a real word) even when I held the can 2 feet away. Argh. Next time, I will make a special trip to HD to have a bigger selection and buy Rustoleum. I'm also not sure what the benefit of paint and primer was, so if you have any ideas, let me know.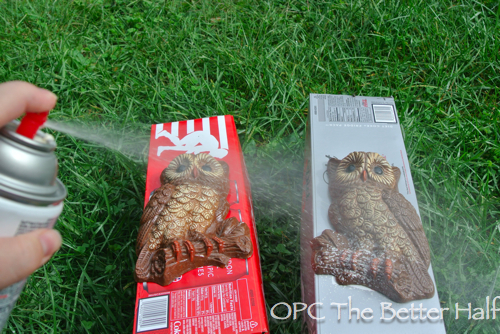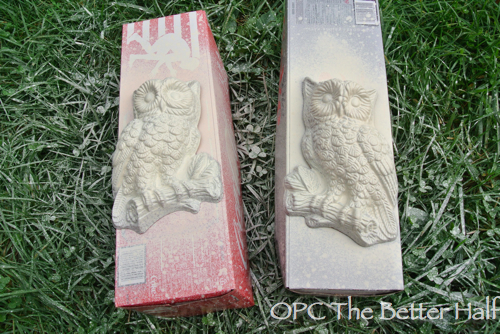 After a good bit of dry time which was longer than usual because of all the humidity, I brought them inside to hang in my pretty kitchen!
Lookin' good, right? Not sure they will stay on the chevrons, but we'll see…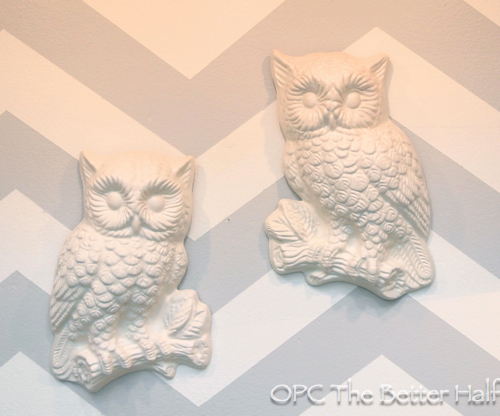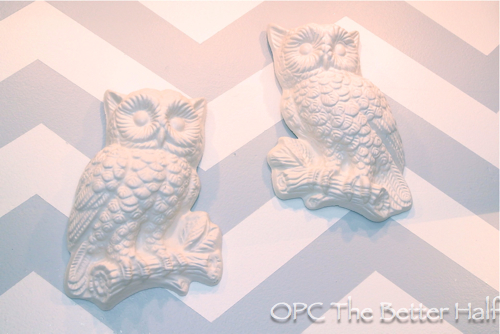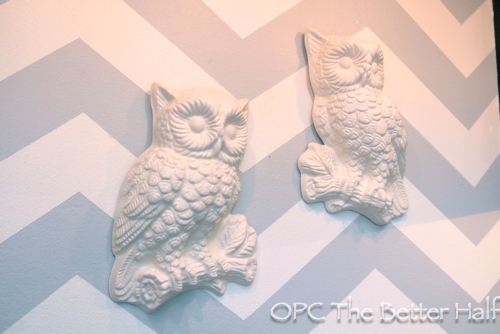 What do you think? What brand of spray paint do you use?
As Always, thanks for reading!