Welcome to OPC's The Better Half. My name is Jocie, and I love to craft and DIY my home into something wonderful. I hope you enjoy this tutorial on Dollar Store Christmas Trees. It's been a popular article with over 22K pins and growing! If you enjoy this article, check out some other recent crafts and consider subscribing to The Better Half (email or RSS). Also, feel free to share this tutorial on Facebook and give it a +1. All the buttons float along the left side of your screen. And, if you love DIY projects and a good deal, check out our awesome coupons for all your local Home Depot and Lowes needs!Thanks!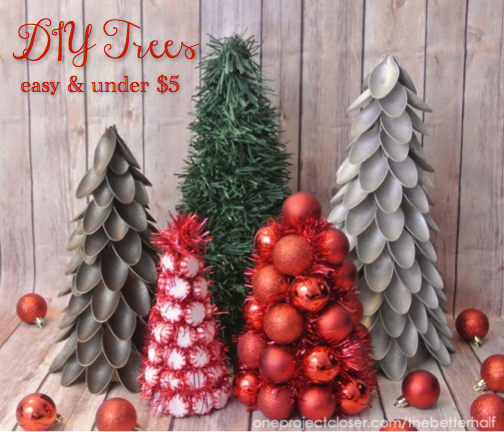 I began this Christmas tree endeavor with one really good idea and it snowballed into making MANY trees! No surprise there.
All the trees turned out super cute and, best of all, they were all made for under $5 each and from materials mostly purchased at the Dollar Store! Crazy, huh? So here's how I made four FAB trees and the number is still growing.
Plastic Spoon Christmas Tree
If you're a fan of Pinterest, you know that about 6 months ago plastic spoon mirrors were all the rage. A week or two ago I was racking my brain for new and interesting ways to make Christmas trees, and thought of those mirrors. It is my favorite and most unique of the four.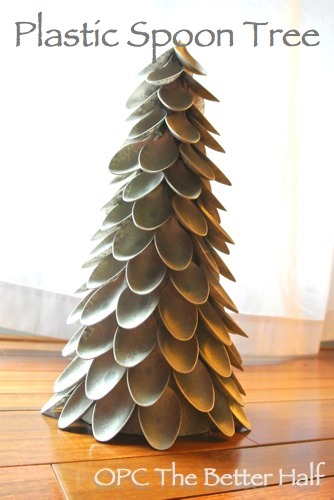 Materials:
Cardboard tree form
120 plastic spoons
Hot Glue
Spray Paint
I bought a two packages of plastic spoons from Target, which wasn't enough. I ended up going back for more, needing a total of 118 spoons.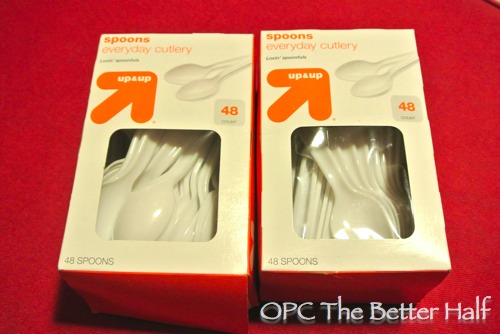 Once home from my Target trip, having bought way more than just the spoons, I cut the heads off all the spoons. My kitchen shears, with the little notch in them, worked really well.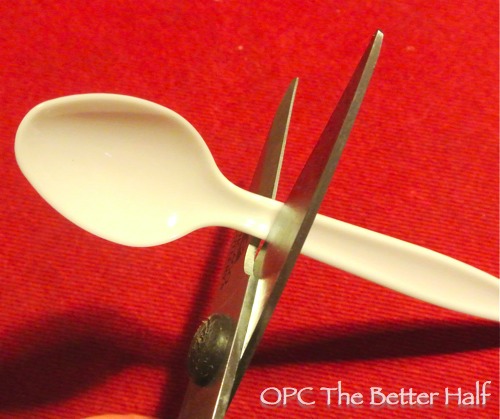 I then grabbed some spray paint I already had lying around and sprayed all the spoons, both sides. I think I've said this before, but I really hate Krylon spray paint – it sprays uneven and thick. Its nasty and my hands are still covered in it. 🙁 Moral of the story, buy Rustoleum.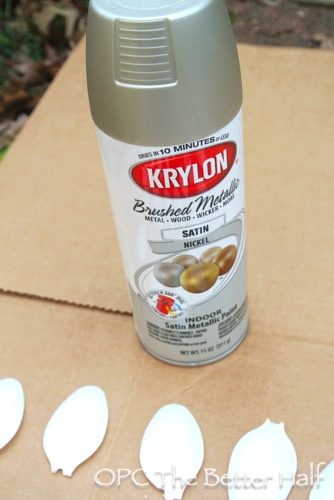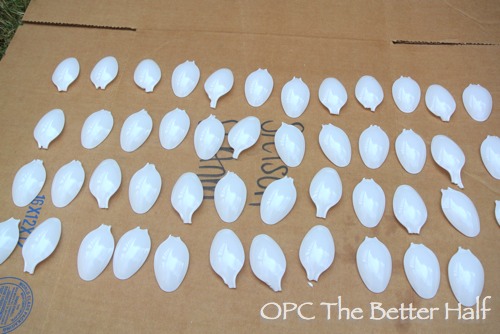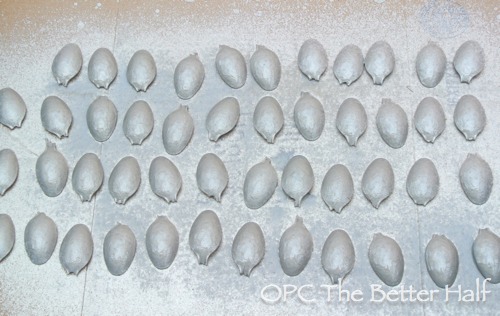 I found a bunch of CHEAP cardboard Christmas tree forms at Michael's for $0.49 each (on sale). I used the taller one for the tree – about 10 inches. While the spoons were drying, I sprayed the paper tree also, in case some shows through.
Once the tree and spoons were dry, I began at the bottom of the tree and started gluing the spoons in rings, working in circles around the tree.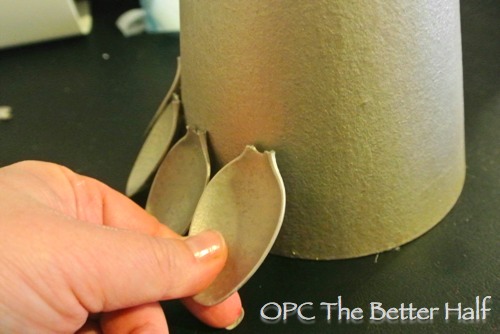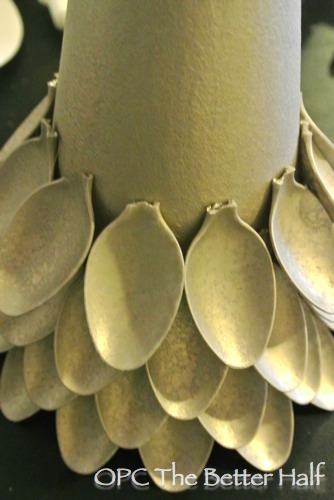 At the top, I glued three together tightly. I thought about adding a star, but decided against it.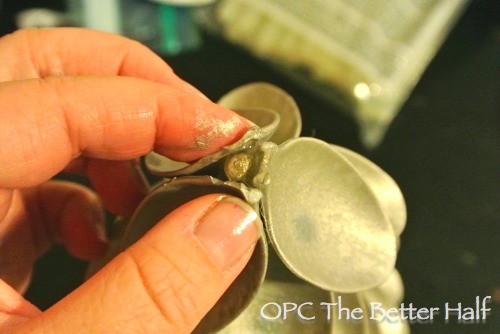 Ornament Christmas Tree
This is my second favorite tree I made for a total of $3!! So cheap, but so pretty. I saw an almost identical one at Target, complete with glitter ornaments and red garland in between in the balls for $15. I could believe how simple it was to make.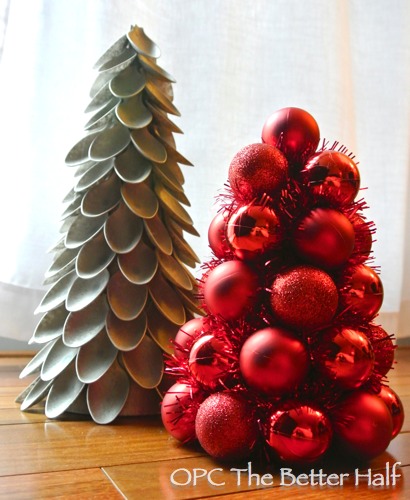 Materials:
Small Ornament Balls
Hot Glue
Garland
Cardboard Tree Form
Sometimes, buying supplies at the Dollar store is not always cheaper, but it totally was in this case. The ornaments were 12 for $1 and the garland was $1. I priced out the same things at Target and both were $3 each – so I saved $6 for two packages of glass balls and one package of garland.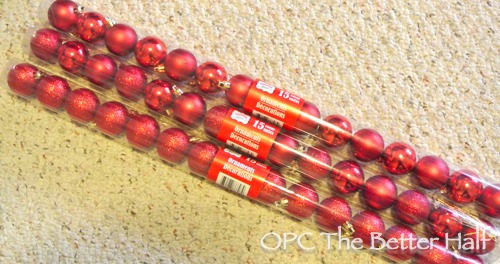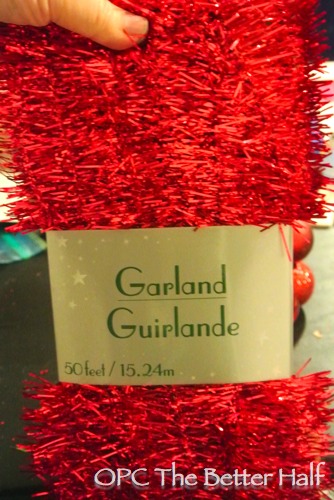 Once armed with my supplies, I took all the little metal tops off the balls…you know the metal thingy that holds the hooks. Yeah, I'm so technical.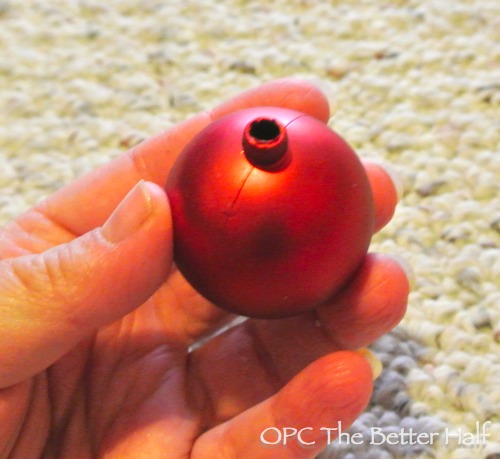 I then started gluing the balls on the tree, starting at the bottom and moving upward in circles. Since the balls are so much heavier than the spoons, it was a slower process. I had to hold the balls in place until the glue was firm but not completely dry so they wouldn't slide.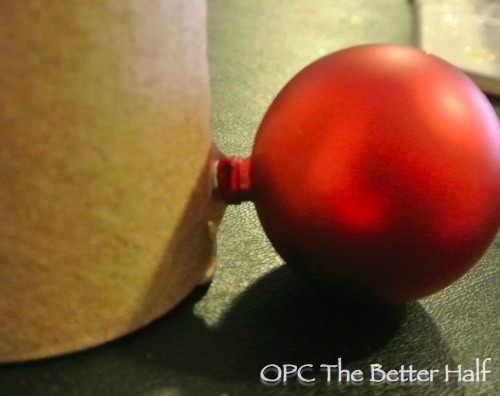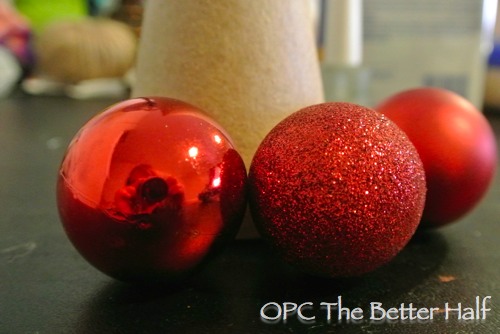 Also, I found it really helpful to place the balls around the tree, on circle at a time, to test how well the balls would fit. In some cases, I have to really press the balls close together and in other cases they had to be more spread out. Either way, plan first, and then if you glue is still a little soft, you can shift them slightly as needed.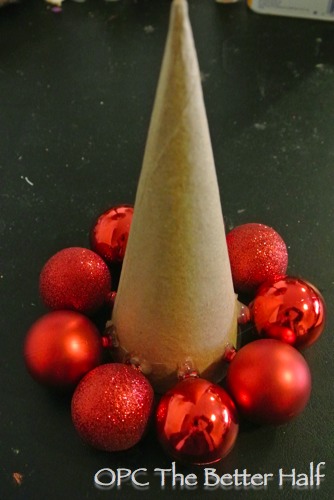 Midway through, I freaked and thought the card board form would show, so I painted it. Turned out that was unnecessary. Skip that part. 🙂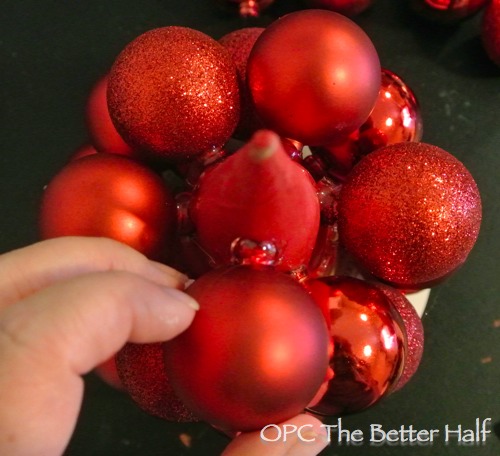 After all the balls were firmly in place and the glue was dry, I wove the red tree garland in between each of the balls. It was sorta like flossing teeth! lol! It was so easy and looked amazing. I also needed very little glue to hold the garland in place because the balls were so tight together.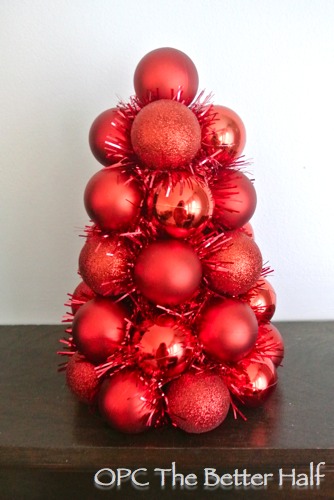 Classic Christmas Tree
Growing up, my two siblings and I all had individual Christmas trees we kept in our room through out the Christmas season. It was really special to me and it not sits in my oldest daughter's room for Christmas. Now that I have two daughters, there is a need for a second tree. While I'm sure small Christmas trees are not that expensive, I made this classic Christmas tree for $1.50!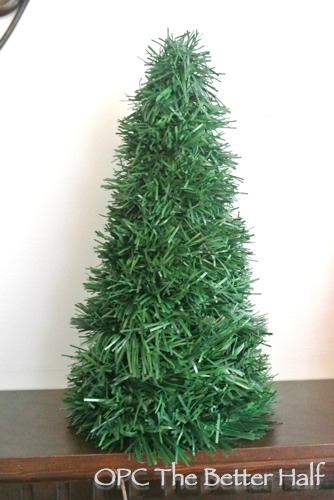 Materials:
Hot Glue
Garland
Cardboard Tree Form
I bought this Garland from the Dollar Store and while it doesn't look really great in the package, it looks really wonderful on the tree itself. In these pictures, I chose not to decorate it, but may eventually put lights, mini ornaments, and a topper on it.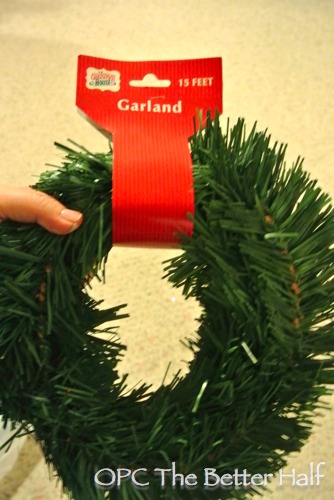 Just like the two previous trees, I used my cheapo cardboard form and some hot glue to affix the garland.
I started at the bottom, using hot glue to keep the end in place, and kept winding the garland around the tree, working upwards. As I wound, I pushed the garland downward, to keep it as tight as possible.
I periodically glued some of the garland in place to keep in from moving up the tree. That's it – crazy simple!
Candy Christmas Tree
This was another cheapo $1.50 tree but super cute. I've seen a lot of candy trees on Pinterest and all are adorable. A faithful reader, Carol, also made the suggestion of a peppermint candy tree on Facebook last week. I may end up making some more candy trees, maybe some with and some without the garland. Maybe M&Ms or gumdrops…any suggestions?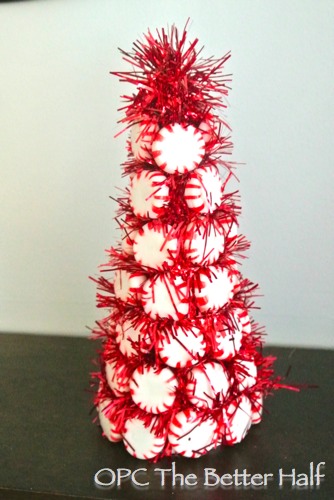 Materials:
Round Peppermints (or candy of your choosing)
Hot Glue
Garland
Cardboard Tree Form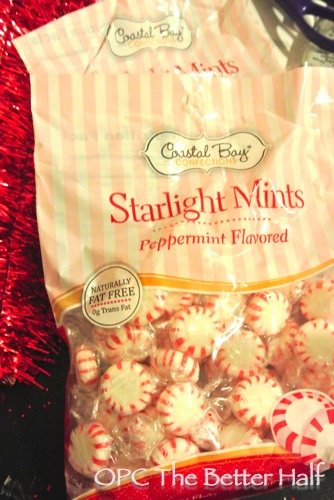 This was almost an identical process to the ornament ball tree except a lot quicker since the candies are lighter and easier to glue.
I added garland to the tree, but wasn't sure I was going to do that, so I first painted the tree. Next candy tree, I will probably do it without the garland and just paint the tree form white.
Then, I glued all the candy on, again working in circles upward. BTW, take the wrappers off. It's a little sticky, but cuter. Another lesson learned from a previous project – Elmer's glue melts some candies (like Candy Corn), so I stuck with my handy-dandy hot glue.
Once the glue was dry, I laced the garland (still left over from the ornament tree) in between the candies and added a little poof on the top.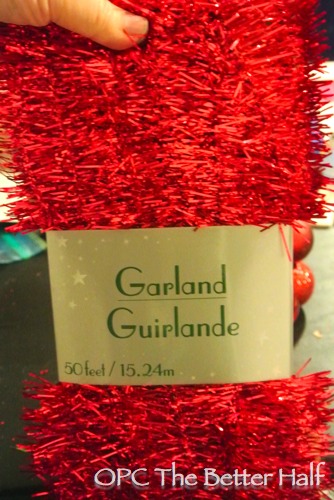 And the fab four… They are sitting on my mantel right now, and even though it's not time to break out the Christmas decor, they are so pretty its hard to take them down.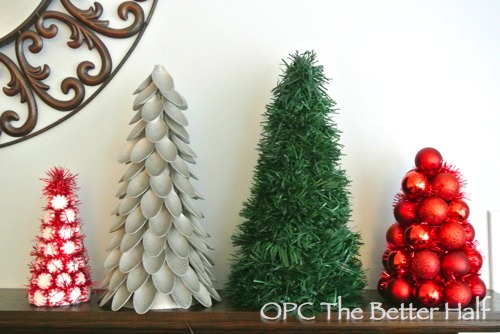 What do you think? What have you made trees out of? Any suggestions for my next tree?
As Always, thanks for reading! Hope to see you on Friday for another great link party – we will be giving away another week of FREE ad space too.