This post on Painted Mason Jars with Flowers originally ran on July 2013 but still remains one of my favorite mantel pieces. If you enjoy it, be sure to check out my other DIY stuff!
I know, I know, all the cool kids are doing painted mason jars with flowers these days. So I didn't create anything original, but I do love them and wanted to share them with you.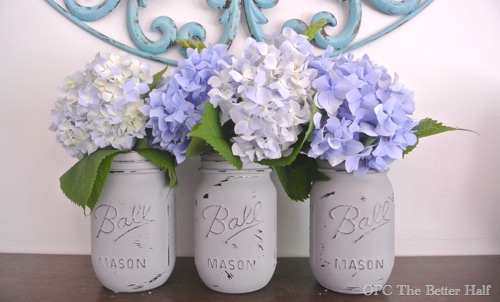 I was inspired by Linda from It All Started With Paint – she paints mason jars with Annie Sloan Chalk Paint, then distresses them. Talk about fabulous! If you don't want to make your own, go visit her Etsy shop to buy a set of painted mason jars!
I didn't use ASCP on my jars, although I do love Chalk Paint and made a painted mason jar for a friend using Old White.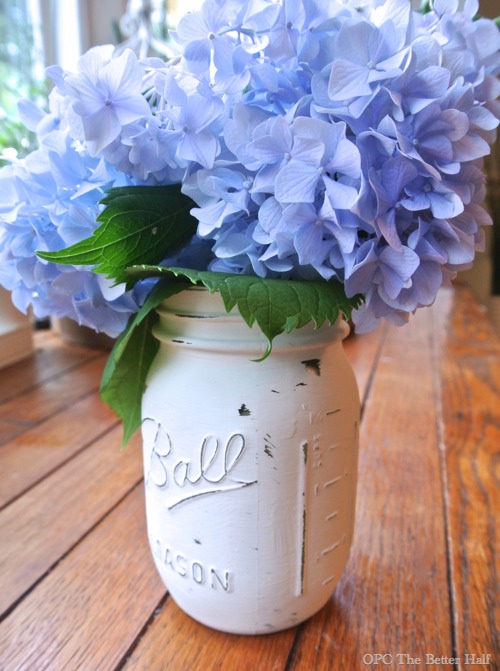 Instead, I used paint I already had for the room and added Plaster of Paris to help it adhere to the glass. I painted the whole exterior twice and let it dry overnight. The next morning I used my sanding block to distress the jars. Seriously, it was that easy!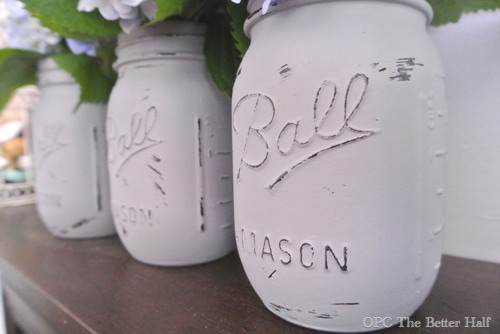 Next, all I had to do was find some flowers. Fortunately, I was over my friend, Janell's house a week or two ago and commented on her beautiful hydrangea centerpiece. They came from her garden, and she said I was welcome to take some home. I passed at the time, but this week I texted her and went over and stole some from her garden. I say "stole" because she was out-of-town, and it felt a little weird cutting a few off and running to my car. Fortunately, the cops didn't come. lol.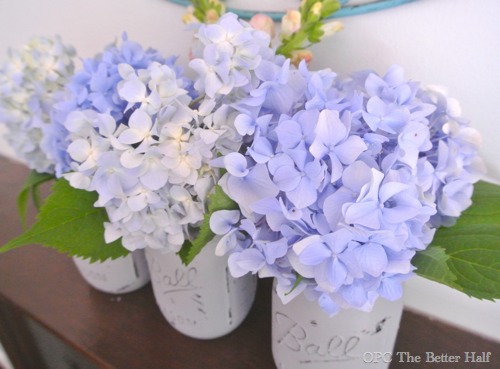 And now they sit pretty on my mantle. I've made some over changes to the room that I will be unveiling soon, so stay tuned.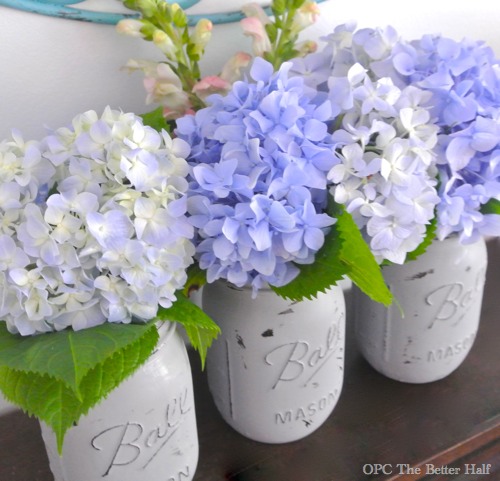 Btw, my friend, Melissa from the Happier Homemaker gave me a tip to help cut hydrangeas last longer!
What do you think? What color will you paint your mason jars?
Thanks so much for tuning in for painted mason jars with flowers,