The other day I shared how I replaced a missing shutter. Today, we focus on painting the aluminum covering overtop our bay window.
A few years ago, Jocie and I had all of our windows replaced, and the new ones have a white frame. They look great except when they're sitting next to dingy, off-white aluminum (or need to be cleaned). Last week I went about repainting the overhang to match.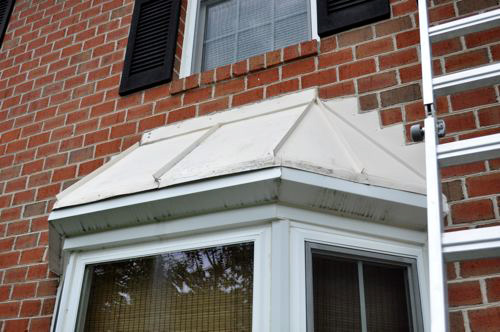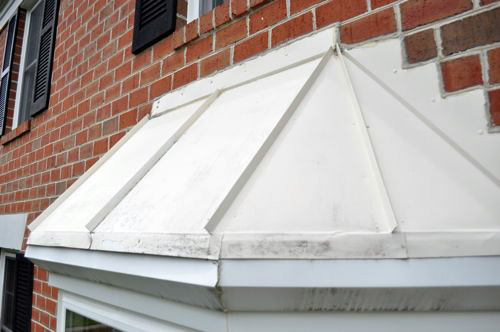 If you can't tell, the paint is flaking in several place, some of the aluminum is bent, many of the nails have popped out a little and the whole thing is pretty dirty. Here are some close-ups of what I'm up against.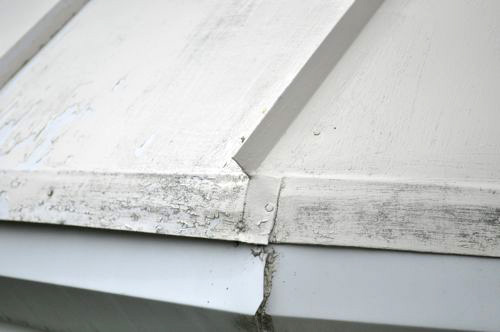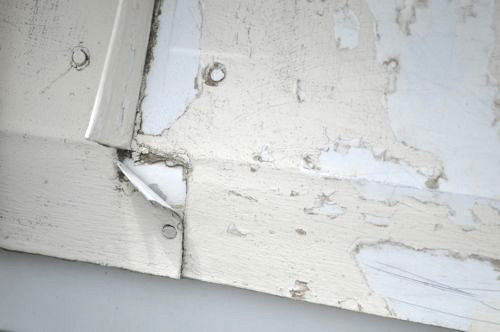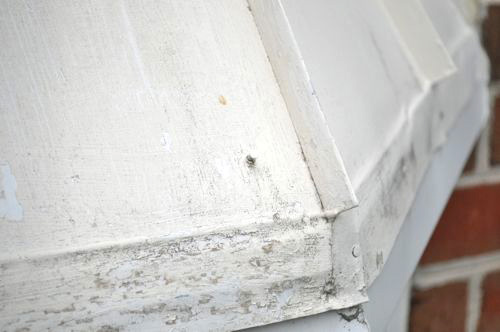 Half of this project is making the right preparations to paint. I've come to realize that most failed paint jobs are the result of poor prep. It's important that everything is clean, caulked, scraped and sanded before you grab that paint brush. I started with my handy painters tool to scrape away all the flaking paint.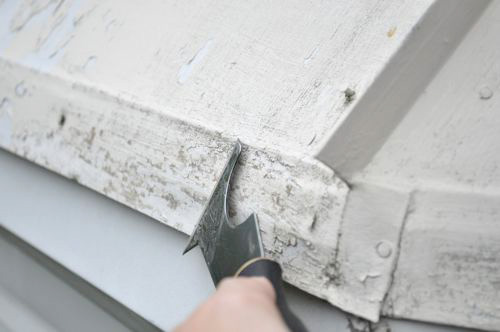 I mentioned that many of the nails had popped out a little. In reality, just about all the nails needed a little nudge back into place. I reseated all the nails with a nail set and used a rubber mallet to encourage some of the bent aluminum back to its original form.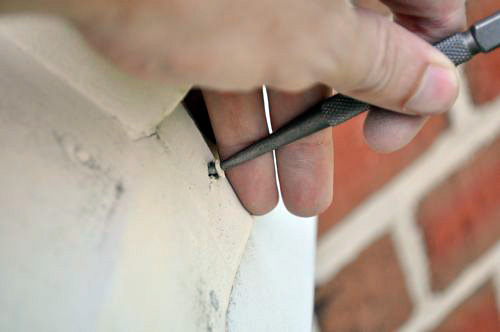 Next up, I grabbed some course, 60 grit sandpaper and went to town. About five minutes into this, I retrieved my palm sander, and things went much quicker. The course sandpaper roughed up the surface and removed even more paint. This is important because it helps the new paint adhere better. I followed the course sandpaper with some fine, 160 grit sandpaper to smooth out any noticeable edges.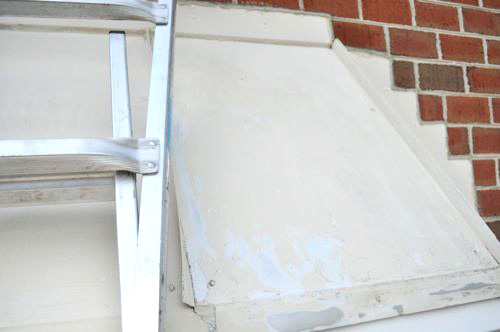 The next step was to ensure everything was clean and dry. I grabbed a garden hose and spare cloth to make sure all the dirt and dust were washed away. In the heat, everything dried pretty quickly. There aren't any pictures of this step because it's hard enough to manage a hose on top of a ladder without operating a camera too. Safety first people.
To waterproof and conceal the nail heads, I used some DAP 3.0. This stuff is great for sealing windows, doors and lots more. You can use it inside or outside, and it'll adhere to almost everything including your hands. This caulk is paintable (very important for our paint project), and it's mold and mildew resistant. I was generous with the caulk because nobody likes a leaky bay window.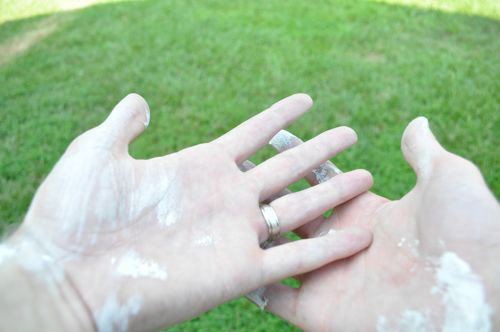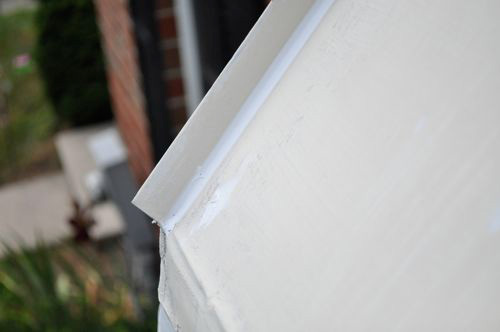 I purchased Valspar Duramax semi-gloss exterior paint for this project. The big incentive was that I could avoid having to prime anything as that would have added at least a few hours of drying time. Initially, I use a small roller to apply the paint, but that left a noticeable texture. Since I'd have to go over everything with a paint brush anyway, I ditched the roller. It was right about then that I remembered how much I hate painting. Why did I pick this project again?
The proof is in the pudding, and I'd say everything turned out well. The overhang looks fresh and clean, and you can't even see most of the nail heads. Best of all, I won't have to look at that eyesore every time I come home!