I have never been more excited to announce my sponsored partnership with Home Depot and their Do-It-Herself Workshops! Seriously, its like a dream come true! I'll be sure to keep you in the loop over the next month, but I wanted to give you the advanced scoop on all the fun stuff I will be doing with Home Depot.
Do-It-Herself Workshops
Have you heard of the Do-It-Herself Workshops? They are WAY cool!  These FREE weekly workshops are a great way to get step-by-step instructions and hands on experience learning to do basic repairs and easy home improvements. Be sure to check your local The Home Depot store to see if it's holding Do-It-Herself Workshops!
What is my role, you ask? Well, I will be at our local Home Depot on May 16th helping lead a Do-It-Herself workshop on succulents! Not a gardening guru? Me neither, but that's the beauty of succulents. They are super hard to kill and lots of fun to plant. Whether you are local to Baltimore, MD (like me) or elsewhere, learn how to make your own succulent garden with The Home Depot and register for the May 16 DIH Workshop today!
Editors Note: The Do-It-Herself Workshop was a great success. If you missed it, here's a short video showing how I made one of my succulent gardens. I hope you like it.
Twitter Party
Join The Better Half and The Home Depot on May 2 at 8:00 PM for a one-hour Twitter Party to learn about the Do-It-Herself Workshops: Inspired by Pinterest and succulent gardens! All the cool kids will be there!
If you aren't already, be sure to follow OPC and The Better Half on Twitter and Home Depot so you don't miss out on any of the excitement.
A Few More Surprises
There will be a few more exciting surprises over the coming month, including something that rhymes with "sift hard," if you catch my drift, wink wink. Also stayed tuned for my guest post on Home Depot's Apron Blog, unveiling my own succulent garden with a creative twist! Here's a little sneak peek…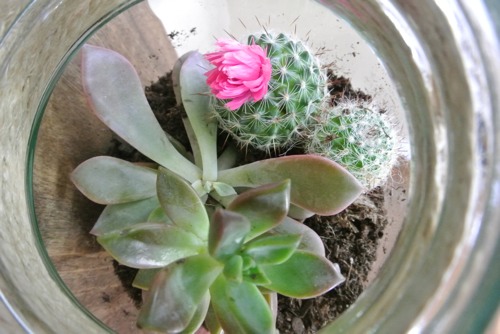 Mark your calendar for May 16th! Hoping to see you at the DIH Workshop.
Don't forget to check us out on Facebook and Pinterest!
Disclosure: The Home Depot partnered with bloggers such as me for their Twitter Party and DIH Workshop program. As part of this program, I received compensation for my time however all opinions are my own. The Home Depot's policies align with WOMMA Ethics Code, FTC guidelines and social media engagement recommendations.