At the Remodeling Show I was able to get my hands on a brand new tool offering from Paslode- the Cordless Roofing Nailer. It was a lot of fun to get a first look and actually try it out. Check out this picture of Rob from A Concord Carpenter nailing some shingles.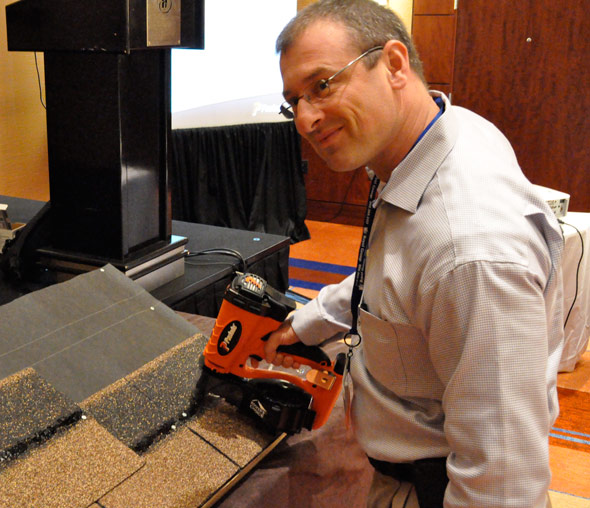 Paslode did the research and found a growing number of homeowners looking to repair their roof rather than replace it. They also took a hard look at what tools people use to repair roofs today and how they could be improved. With that in mind, they developed a cordless, lightweight tool that is ready to go in no time.
Features
Roofing Tool Comparison
The two most common roofing nail drivers available are a compressed air nailer and a hammer. Hammers are easy to use and require no setup but even experienced roofers will fatigue over time. Plus, it's tough to match the speed of a roofing nailer. Pneumatic nailers let you work all day long but require a compressor and a hose- a significant amount of setup time.
Paslode took the best of both worlds. This nailer can drive 2 nails per second utilizing a small fuel cell. There's no compressor or hose to setup saving an estimated 40 minutes per job. The result is a fast, consistent roofing nailer.
Any Nail
Paslode recommends using their spline nail, coated for better depth of drive. However, these nailers can shoot any standard roofing nail.
Quick Nose Clear
Paslode recognized that even the best nailers jam or misfire and it actually happened at the demo. What impressed me was how easy it was to clear.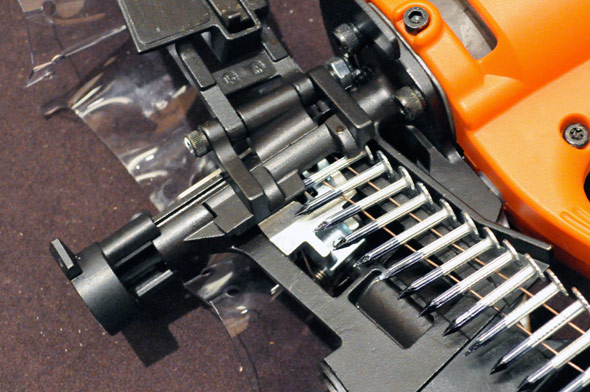 The Numbers
Fuel cartridge- 1,000 shots
Battery- 2,000 shots
120 nails per coil
2 nails per second
First maintenance at 30,000 shots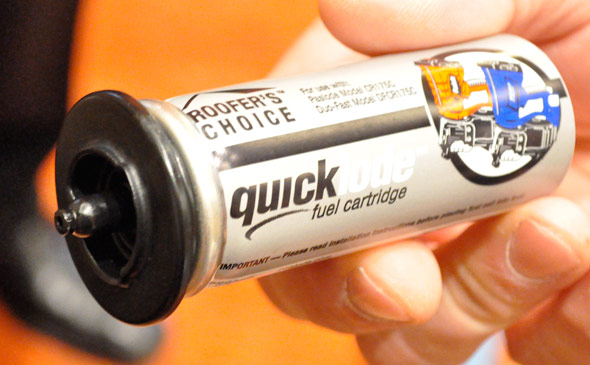 Repair and More
You can see from the numbers that these tools are not designed to install an entire roof but that doesn't limit them to roof repair. It's easy to see lots of applications where roofing nails are appropriate- flashing, dormers, ridge-vents, etc.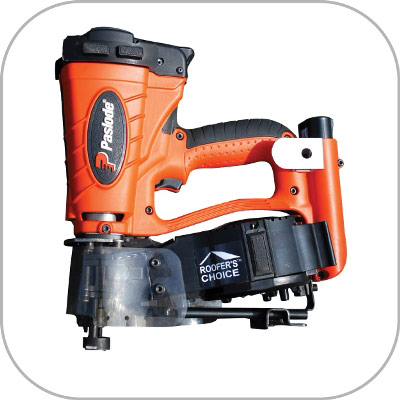 Specifications
Model CR175C
Part # 904500
Weight 7.5 lbs
Height 16 3/4″
Length 14 1/8″
Width 6 5/16″
Speed 2 Nails/Second
Nail Capacity 120 – 1 coil
Nail Range 1¼" – 1¾"
Nail Collation Wire Coil
Nail Type Roofer's Choice Galvanized Fuel + Nail Combo Pack
Fuel Type Roofer's Choice quicklode™ fuel
Nails per Fuel Cell 1,000
Fuel Life 21 months
Battery Life 2,200
Warranty 1-year full warranty, 5-year limited
What's Included & Where to Buy
These nailers haven't hit stores yet but they'll probably be sold as a kit. Each kit will retail for about $529.00 and include:
CR175C Nailer
Safety tether
Battery & Charger
Fuel cell
6 coils of nails
Soft case
What do you think? Think this is a good addition to your toolbox?