Paslode sent me information about some new nails they released at the beginning of this year. The Engineered Lumber Nails are designed for use with engineered products like LVL and LSL, and Paslode claims they drive flush the first time. If you know me, you know I love testing manufacturers' claims, so I had them send me a box.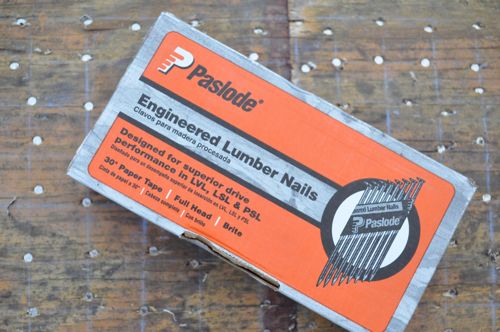 Nailing engineered products can prove challenging because they are denser than typical dimensional lumber, and you're more likely to "short shoot" the nail. And if the nail isn't flush, you'll need to pull it or finish it off with your hammer. Either way, you're wasting time. Paslode boasts that by using their nails, you'll avoid those interruptions and you'll save wear and tear on your compressor by keeping it at a lower setting.
So what makes the Engineered Lumber Nails different? Paslode developed a proprietary coating and a proprietary geometry designed specifically to optimize the drive performance of the nail when used with engineered lumber.
You won't find engineered lumber at HD or Lowe's (at least around here), so I took a trip to 84 Lumber and bought some laminated veneer lumber (LVL). You can see in the video that LVL is an engineered wood composed of many thin layers held together with adhesive. On a job site, it's great for things like headers and rim boards.
I used the new Paslode PowerFramer PF350S and my Porter Cable compressor to drive over 120 Engineered Lumber nails. Check out the 40 second video to see how well they performed.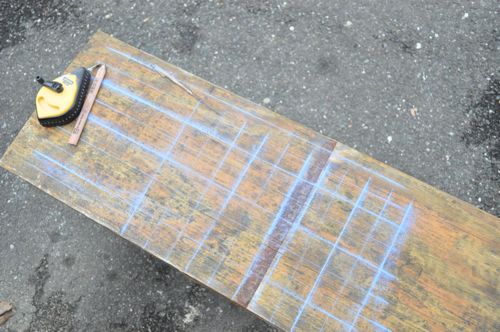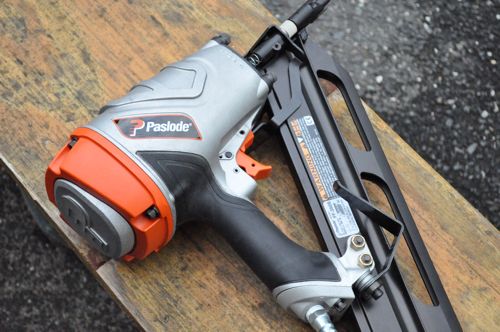 The first two nails I used to set the depth adjustment, and those short breaks in between rows were to give my compressor a moment to catch up. If any of the nails missed, I didn't want it to be because the compressor was lagging behind.
You can see in this picture that every nail was flush or just below the surface. For those of you that were counting, I didn't video all 120 nails. It's probably for the best as watching someone put in nails isn't that captivating.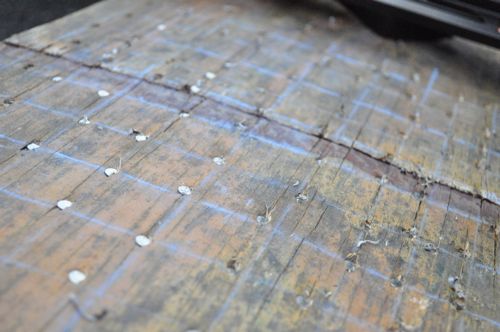 I can't comment on how well they compare to other nails but it would seem that Paslode is on to something.
Engineered Lumber Nails are brite 30 degree paper tape collated nails with a full round head. They come in 1,000 count packs and here are the prices and sizes:
3 x .120 ELN – MSRP of $29.00/box
3 x .131 ELN – MSRP of $34.67/box
3-1/4 x .131 ELN – MSRP of $39.46/box
(Vernon Hills, IL) – Driving nails into engineered lumber just got easier as Paslode (www.paslode.com) introduces its made-in-the-USA Engineered Lumber Nails. These new nails are designed to increase a contractor's productivity and maximize profitability.

The building industry is using more engineered lumber than ever before. But harder materials like LVL, LSL and PSL make it difficult to sink nails flush the first time. Contractors waste time fixing or pulling standing and bent nails. Turning up the pressure on compressors to try and overcome this problem doesn't always work and it means increased fuel costs and more wear and tear on tools and equipment.

"Paslode's mission is to make professional contractors more productive, so they are more profitable," said Steve Golich, Marketing Manager for Paslode. "Our new Engineered Lumber Nails do just that. They are designed for superior drive performance in the hardest LVL, LSL and PSL."