Welcome to OPC's The Better Half. My name is Jocie, and I love to craft and DIY my home into something wonderful as I strive to be both thrifty and fabulous. I hope you enjoy this plastic plate wall and continue to follow along on my dining room remodel. If you enjoy this article, check out some other recent crafts and consider subscribing to The Better Half (email or RSS). Also, feel free to share this tutorial on Facebook and give it a +1. All the buttons float along the left side of your screen. Thanks!
I can barely contain myself…I am just so excited to share with you our dining room progress! We've been painting, getting rid of furniture, getting new furniture, and decorating with plastic plates…yes, plastic. And I can't wait to tell you all about it!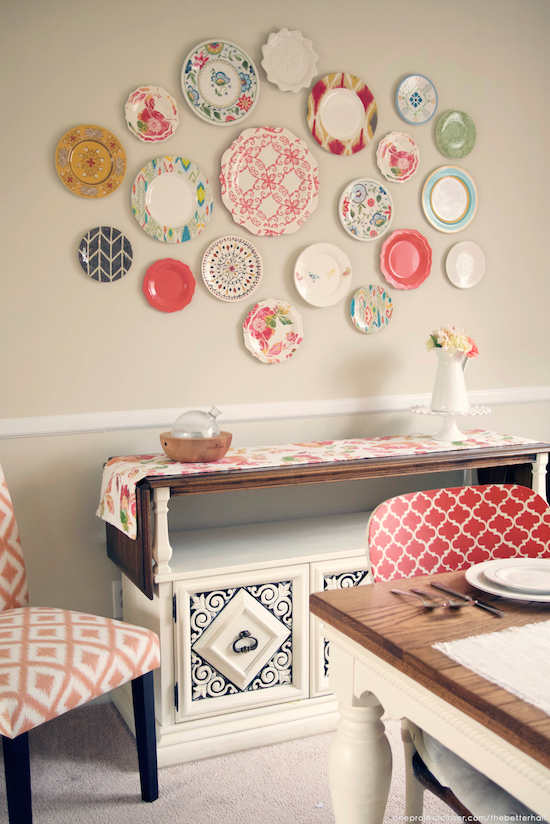 A month or two ago, we got a call from Ethan's favorite aunt and uncle saying they were moving to Florida and down-sizing. They were kind enough to offer us some family heirlooms and antique furniture – we were VERY happy to say "yes!" But, in our townhouse with little storage, bringing in new stuff means getting rid of old stuff.
When we first moved into this house 7 years ago, we painted the walls red and sponge painted the top half to add texture. At the time, I loved it!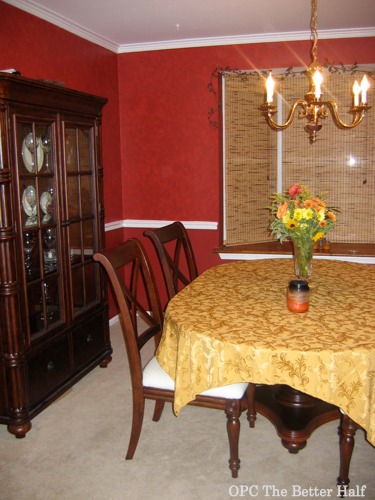 Then, about 4 years ago, I painted over the red with blue on the top and white on the bottom. The intention was to do some wainscoting, but we never got around to it. As the girls grew up a bit, we also added a kid's table along with artwork. I loved the furniture, but it was too big for the room and the chairs were so big it was impossible to get around the table with people sitting at it, plus the chairs seriously dented the walls.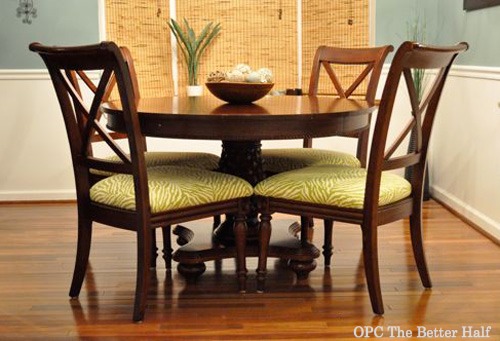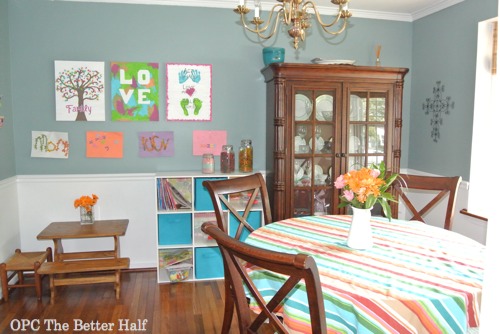 So we sold the dining room set for $575 and got to work! So far, we have painted the walls Ben Moore Green Cast, painted the trim and chair rail, brought in a secretary desk from Ethan's uncle, and bought a buffet from Second Chance, Baltimore for $90. I have some plans up my sleeve for the buffet so stay tuned.
Now for the big news….my plastic plate wall! I knew I wanted to do a plate wall and was on the look out to incorporate orange or coral into the green cast/mint walls. While I was in my favorite store, Target (obviously, heehee), I found these fabulous plastic plates.
The girls really wanted to help me organize it, and Lucy brought some good ideas to the table while Izzie sang some tunes to get us in the mood!
The beauty of plastic is that even if they fall, they don't break! And with two crazy kids, a plate falling is a strong possibility. lol. And, even better, I used Command strips to adhere them to the wall!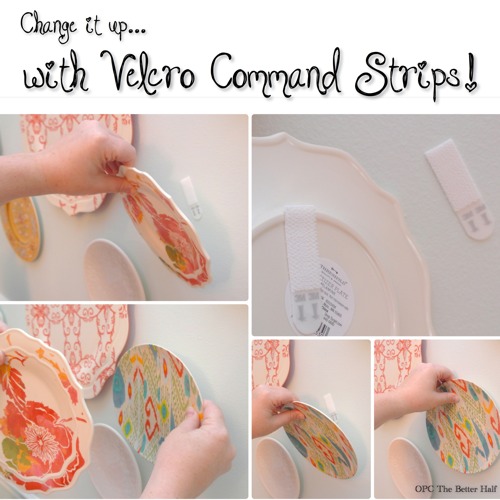 Now to be honest, one of these plates is not plastic…can you spot it? It's the cream plate with the four birds. I found that one at Pier 1 and just couldn't walk away from it! <3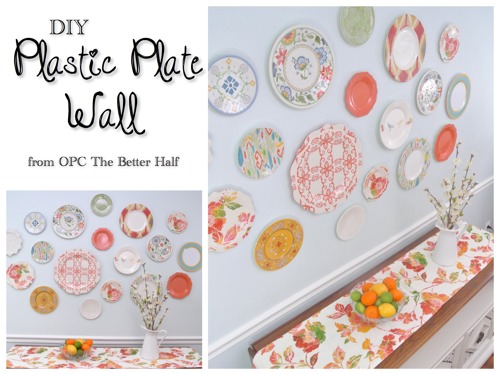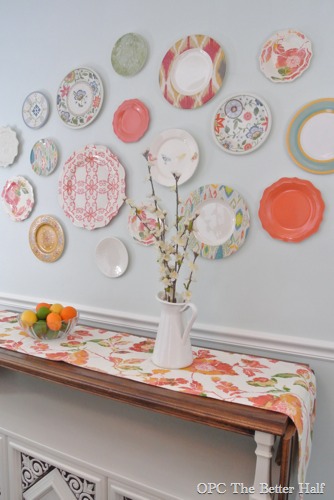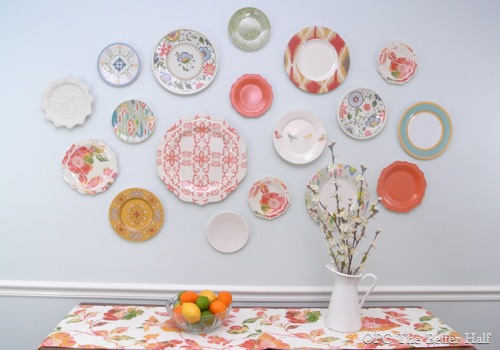 What do you think? Where would you put a plate wall?
Thanks so much for reading along about my new dining room and plastic plate wall!

Don't forget to check us out on Facebook , Instagram, & Pinterest!