We're back with this weeks inspiring before and after story! I think it's a lot of fun to see the creative ways people turn boring, unused, neglected, etc. spaces into real works of art, and I hope you do too. If you have a before and after story to share, send us an email! We'd love to feature your makeover, and, if selected, you'll win a $50 gift card for that next home improvement project. Not to mention, we'll make a $100 donation to Habitat for Humanity on your honor. To learn more about our Before and After series, check out the official announcement.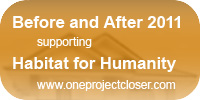 This weeks winner is no stranger to many of you or our B/A series. For the fourth year in a row, Rhoda from Southern Hospitality is back, and this year she shares a dramatic porch turn-around. Rhoda writes, "My parent's 1970's house has an ugly sunporch on the back that has never been utilized in the almost 40 years that they have lived here. I recently got a blog sponsored opportunity to turn it into a dreamy porch that we can actually use now and love how it came out. The Before and Afters are pretty amazing."
It has sure been a lot of fun fixing up that old covered porch at my parents' house.  It's actually a little sunroom with windows and at 8 feet wide by 16 feet long a little bit of a challenge to get furniture arranged in there. But, I think I managed to make it completely livable and comfortable to be in, as well as pretty and functional too. We had to keep the function of this porch, that was a must.

Strategic storage pieces were definitely the answer. Storage can be pretty and I found some good versatile pieces. I spent every bit of my allowed budget and we are so happy with the outcome. I'll be spending a lot of time on this porch now, you can believe that!

Let's refresh our memories with the poor old Before pic. Tired, cluttered and not very inspiring.

The After is everything I dreamed it would be. A wonderful spot to relax and enjoy the sunshine and an occasional breeze. I got all the furniture and storage pieces at Home Depot, except for that creamy white cabinet on the left. Once I saw this vinyl wicker set with the green cushions, I knew these were it! My color scheme was born and off I went. And when I sat in that motion chair (rocker, glider, swivel chair), I had to have it. There was only room for the loveseat, motion chair, and ottoman, and it makes a complete sitting area.

My parents were real troopers and pitched in to help get this porch in shape. My dad put together every bit of this furniture and that really helped out a lot.

They are both really happy with the outcome too and I can see that we all will be enjoying this space now. It will definitely be my new computer spot. This set is by Martha Stewart at Home Depot and is Charlottetown.

My sweet friend, Sharon, in Birmingham gave me the antlers.  Her hubby is a hunter and had plenty to spare.  I love them out here.

Another of my very favorite $5 yardsale finds, this original watercolor is just perfect out here too and gives the porch a vintage feel.

At the other end of the porch, I concentrated on getting all the shoes in a huge storage bin and it will be perfect for keeping this space organized. This is an accurate look at the new wall color, Colony Green by Dutch Boy, the same color I used in my old office nook. It worked perfectly out here and I had enough left to paint this space.

There is still plenty of room to come and go with a good pathway down the middle to the back door.

My sweet Daddy fussed at first when I asked him if I could paint his oak rocking chair and said no at least twice. I kept on because I knew how good it would look and he finally relented.  With 4 women in our family, he doesn't have a chance most of the time with things like this.  We know how to wear him down. And then he likes it!

After I sprayed it with Rustoleum's Dark Brown spray paint, he totally admitted that it looked so much better now. A new color coordinated cushion finishes it off. There's only room for one rocking chair now, so the other one will go up to NC to their mountain house.

NOTE: Someone asked if the other rocking chair was painted and yes, yes it was.  After I painted the first one, I was just going to leave the other one oak since it was going to the mountains.  Mom mentioned that Dad really liked the new paint job, so I should paint both of them the same.  So, I did!  I knew he would love it after I painted them and I was right.

Also, someone asked about the walls.  That is paneling on the walls that was original to the house, with cinder blocks on part of the walls.  That's how the house was built back in the 70's, so we didn't do anything out there but put on fresh paint.

Inside the big storage bin are shoes and porch essentials, now neatly hidden away behind this door. Much better than leaving everything out.

The old shelf got a new coat of paint and looks so much better with Dad's caps hanging on it. You might remember my brass lovebirds from my old porch. I was able to bring out some of my treasures to finish off this space and that made me happy.

This is a Martha Stewart storage bench in Espresso. I loved the fabric drawers that it holds and there are a bunch of colors offered in these. Loved this aqua shade to add some accent out here.

Inside one drawer, my mom tucked away their garden gloves.

My small iron bakers rack that was on my old deck pulls duty as a plant stand, holding mom's beautiful African violets that she grows with her green thumb. Those other 2 plants are mine.  I took some regular wall paint and brushed her plastic planters with a new blue color, just to unify them all.

Live plants are perfect on a porch and I love having them out here, adding life and color.

One of my thriftstore oil paintings fits in nicely out here too. I still love this little find.

You'll notice that I added chocolate brown bamboo Roman shades on every window and that really gives this space a finished look.

These pretty paisley pillows came with the loveseat and I just loved the colors in them. The perfect jumping off spot for my accent colors. It was hard to capture the true colors out here.

Lamp was a yardsale find for $5 (without the shade) and this side table was also a yardsale find. My sweet Birmingham friend, Sharon, gave me the antlers, which I think look great hanging out here.

Here's a little tip for you.  I changed out the old glass that was on this table for a large piece of tile.  The glass had been outside and had some scratches on it that didn't come off, so I changed it out for a 14×14″ piece of tile from a local tile shop for less than $2.

This big clock will come in handy and it's large enough for older eyes. It was a yardsale find too for $20 and is huge. The original sticker on the back is from Homegoods, where it sold for $60 retail. Quite the bargain.

I adore this space! The lattice rug is also from Home Depot, an 8×10. It's actually gray and tan and I love the contrast it has with my other colors. Look up and take notice of the pretty new light fixture. This just about kicked both my dad's and my butt, but we stuck it out and got that thing hung. I was not about to give up! That old light had to go.

This pretty creamy white storage piece is from Target and made by Sauder. it's a great piece for holding all the extras out here.

Perfect spot for Mom to hide away all her essentials that need to be in reach.

I'm sure several of you still have the Target bunny weathervane that was all the rage a few short years ago. I waited until the last minute and almost missed out on getting one, but managed to score him for around $7 and he is still one of my fave pieces.

I managed to get in a couple of my bunnies on the porch and they fit right in.  If you'll notice in the above pics, he was on the other side of the cabinet.  Thought he'd be safer on this side.  I already had to glue his ear back on from the moving mishap.

So, that is the porch! I hope it was worth waiting for. It is definitely going to be a much loved space in our family home.
Thanks Rhoda!
The new porch looks like such a great place to relax. I'm a bit envious that you have this amazing "computer spot" now. Thanks so much for sharing this great makeover with us and our readers!
Habitat for Humanity Factoid
Did you know that the average cost of a Sandtown (Baltimore area) Habitat home costs between $65,000 and $115,000- roughly half the cost for traditional development. The costs for these two or three-story houses is kept low by maximizing volunteer labor and donated materials and the required "sweat equity" of at least 330 hours put forth by the family who will own the home.
Where's Your Before and After Story?
We hope you'll consider submitting a Before & After story. Email your pictures and a "how to" description to beforeandafter@oneprojectcloser.com to join in.
Help Us Spread the Word
Are you a blogger? If you'd like to support us, please write an article on your blog about the contest, and consider adding one of our buttons to your sidebar. You can find the buttons and more information on our main Before and After article.