Porter Cable recently shipped us an 18 Volt Cordless / 120 Volt Corded JobSite Radio to review. I'll be honest, initially I wasn't thrilled at the idea of writing about a radio but after spending hours working on Fred's deck, I've come to really appreciate it. Plus, Porter Cable included some nice features.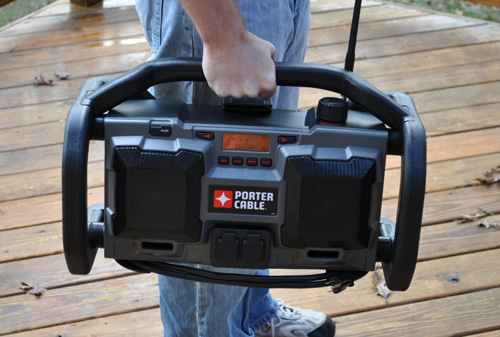 JobSite Radio (PC18JR) Review
Overall, I was really pleased with this radio. It's a simple device that functions well and will stand-up to rigorous use. The power pass through and protective roll cage are welcome features and the auxiliary input is a nice touch. The controls operate as expected with a backlit display for easy visibility.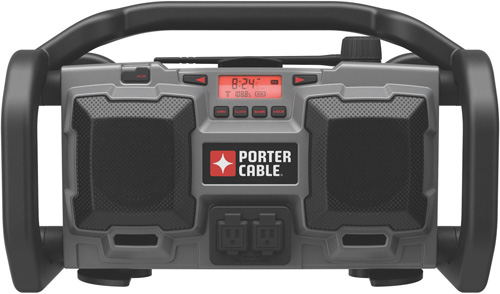 Features
There are several features worth highlighting.
Durability
Porter Cable took steps to ensure this radio would be rugged and durable. That means weather-resistant speakers, a heavy-duty power cord, flexible antenna, and a protective roll cage that doubles as a handle.
Power
The JobSite radio can be powered with 18 volt NiCad or Lithium Ion batteries. I used a spare NiCad and it lasted 5 hours with no signs of stopping. When it's running on AC power, the two outlets each act as a 120v pass-through. This is especially handy when you're short on outlets (like running off a generator). A convenient cord wrap is located on the underside.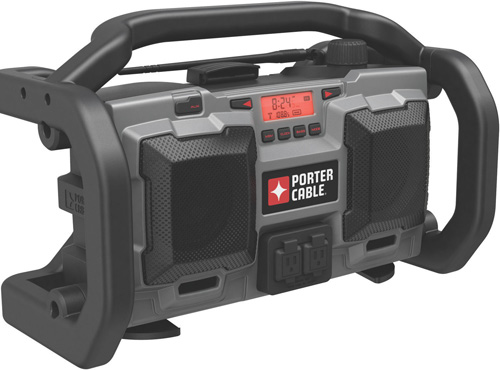 Controls
The controls are backlit for easy visibility and the buttons are well-spaced for gloved hands. The radio includes all the features you expect like seek, volume, memory and audio fine tuning (like bass). There's also a 3.5mm auxiliary input for mp3 and CD players. I doubt anyone will use it very often but it's good addition.
What do you think? What job-site radio do you use?