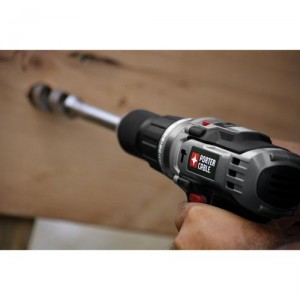 I've been very pleased with my 14.4v cordless drill for several years now. But recently, I've come across a few jobs where it's just not up to the task. Enter my new Porter Cable 18v hammer drill! I had no idea what I was missing until I started using this tool.
In 1906, Porter Cable began creating quality tools and products for the work of journeymen and professional craftsmen. Delta and Porter Cable became one company in 1960 and today they continue to provide tools of the highest quality and reliability. Porter Cable was kind enough to send me this hammer drill and I can honestly say, I would have purchased it.
Porter Cable 18 Volt NiCad Hammer Drill Review
Hammer Action
A hammer drill features a repeated hammering action that pounds through difficult material. The unique clutch punches in and out so rapidly the user doesn't even feel it. The Porter Cable hammer drill has 24,000 max blows per minute (BMP) to easily drill into concrete, masonry and brick. I used this drill to put in 2″ masonry screws. It took about 15 seconds to drill a pilot hole. My old drill/driver took about 5 minutes for the same job.
Drill/Driver Too
A great feature of the modern hammer drills is the on / off toggle. It allows a user to turn off the hammer action for regular drilling. The Porter Cable hammer drill has a two position gearbox with 490 in-lbs of max torque. The first position is for low speed, high torque uses and the second speed is for high speed drilling and driving. There's a 32-position clutch to adjust the torque for various screw sizes.
18 Volt Power
This cordless hammer drill is powered by an 18 volt NiCad battery. There are two batteries included, along with a charger. The Porter Cable NiCad Fast Charger recharges batteries in less than 1 hour, getting you back on the job.
Side Handle
Lots of drill/drivers and hammer drills feature side handles but most really aren't that useful. As you use the tool, vibrations loosen the side handle and it becomes a real bother. This side handle tightens down and stays in place – providing better control.
Summary
I think this is a great tool. It serves the function of a regular drill but can do so much more. The hammering action punches through block wall with ease and is now, my go-to-tool. I can't recommend it enough.
What do you think? What's your experience with this hammer drill?