What makes the impact driver so special? It's all in the power. While regular drill-drivers deliver an average of 400-600 in. lbs. of torque, the typical impact driver delivers more than 1000 in. lbs. Impact drivers accomplish this using an internal spring-loaded cam and gear mechanism that pulsates and hammers in a circular motion, effectively delivering a shocking blow to the screw or bolt head several thousand times per minute. This differs from their drill-driver counterparts which create continuous in-line torque. Despite the added power, impact drivers deliver virtually no impact to the user, providing the ability to loosen the tightest bolts and drive screws into the most stubborn materials with relative ease.
Porter Cable 18V Lithium-Ion Tools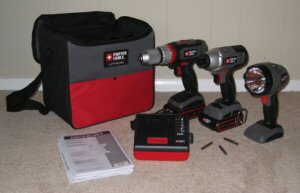 Porter Cable recently entered the market of battery-powered impact drivers with a new 18V Li-Ion high-output version of the tool. PC's impact driver comes as part of a larger 18V Li-Ion offering that also includes a new-for-2009 drill-driver, circular saw, reciprocating saw, and more. All the tools in the line-up incorporate excellent ergonomics, sport Porter Cable's new industrial design color scheme (sleek blacks, grays, and reds), and feature relatively compact packaging that makes them easy to store and tote. Just like most competitors' offerings in this genre, the group shares lightweight 18V lithium-ion batteries.
Porter Cable shipped us a test version of the PCL318IDC-2, a 3 tool kit that includes the impact driver, drill driver, and flashlight. Overall, we're very impressed with the sturdy, rugged construction and high-quality workmanship evidenced by the set, both from the tools themselves and the simple, compact carrying case. We'll be sharing our review of each tool separately, and decided to kick-off the series with the 18V impact driver, our favorite in the line-up.
Portal Cable 18V Impact Driver Review
At 3.6 lbs., PC's impact driver (official site) delivers big power on the job. While comparable models top out at 1200-1400 inch lbs. of force, the Porter Cable impact driver pushes the limit at a walloping 1600 inch lbs. of force | 2800 blows-per-minute and a 2900 max RPM. The result is the ability to loosen extremely tight bolts–for instance, removing shop-tightened lug nuts from auto wheels– or drive screws into masonry, engineered lumbers, or any other high-friction material.
>> Features Review >>
Variable Speed Motor & Control – The 18V impact driver is powered by a variable speed motor embedded in a heavy duty cold-forged impact block and controlled by a precision trigger. Power delivery is up to 1600 inch lbs. at 2800 blows-per-minute (BPM). We had no trouble pinpointing the desired force level during driving applications by adjusting pressure on the trigger. The motor features electric stop; when the trigger is released, rotation stops instantaneously — a nice feature for precision driving.
1/4 Inch Hex Chuck – Standard 1/4 inch locking hex chuck secures bits in place using a sliding sleeve. The chuck is simple to use and makes bit-swapping easy.
Dimensions – At just 6.5 inches deep, the impact driver fits into tight spots, most notably between 12′ on-center studs where traditional drill-drivers might have trouble fitting. Other dimensions are pretty typical at about 3″ wide and 10″ tall.
Ergonomics – Weight balance is good; the center of gravity when drilling downwards is near the bottom of the trigger, making the tool very easy to control. A rubberized handle and moderate proportions make the tool easy to grip and operate for small and large hands alike. At 3.6 lbs., the tool doesn't cause instant fatigue, but over time it could become an issue. That said, no competitor offers a similar tool at a substantially lower weight. If you want the power, you should be prepared to handle the weight.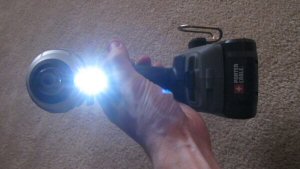 LED Work Light – One innovative feature PC added to this impact driver is a bright white LED lamp just below the hex chuck. The lamp activates at the slightest pull of the trigger, illuminating the work area directly in front of the tool. In a dark environment (for instance, changing a tire at night), the light is actually very useful. PC gets two thumbs up for this seemingly superfluous feature that turns out to really add value.
Tool Belt Clip & Bit Holder – Both work as expected. We would have liked at least 2 bit holders, and there is space for another in the design, but PC must have figured it unnecessary.
Carrying Case – All three tools in this set fit nicely in the storage tote shown in the picture above. We prefer the semi-soft case to the hard plastic alternative – it's lighter, easier to transport, and comes with a decent shoulder strap.
Absent Features — Some competitor's lithium-ion batteries can self-report charge level, a feature absent on the Porter Cable 18V batteries. Other than that, this impact driver has it all, and makes up for any deficiencies with the amazing power delivery (see below).
>> Performance Review >>
Driving Power: For traditional driving applications, the tool performs as expected (…almost all in this genre would, so no biggie). The real story is in the amazing power this driver delivers. The PC really shines when loosening or driving really tough screws and bolts.
We decided to try our hand driving a galvanized 3 inch #14 (1/4 inch wide) flat head wood screw into the side of a 2×4 without pre-drilling, an application that would make typical drill-drivers cry 'uncle', and quite honestly leave most impact drivers in the same situation. The real test: could the Porter Cable impact driver countersink the screw head?

The answer is that it can and did fully drive and countersink that screw, albeit with a tremendous amount of racket (as the BPM increases, so does the noise level – you should wear ear protection when operating for extended periods).
And, lest you think the test was rigged, we decided we would try consecutively smaller screws until the impact driver could deliver results. The largest wood screw we could find was the #14, 3 inch screw in our initial test, and the Porter Cable bested it. This is the most powerful cordless impact driver we've ever used.
Battery Life & Recharges: Battery life is dependent on the load put on the driver in different applications; we were unable to test overall life, but suspect it is on par with similar 18V models. Porter Cable includes a 30-minute fast charger with the kit, a very nice feature… Unless you're moving really fast, you should be able to charge one battery while using the other. PC claims their batteries don't lose much life when shelved for some time, a claim we can believe given our experience with other 18V kits and improved charge-retention technology.
Editor's update: We found after using this tool for about a year that Porter Cable's batteries died after about 50 re-charge cycles. We later learned that the batteries are 1.3 amp-hour models, where nearly all competitors are supplying 1.5 amp-hour batteries. You should factor this into your buying decisions.
Comes With?
The three-tool test kit we're reviewing comes with:
18V Impact Driver
18V Drill-Driver
18V Flashlight
Two (2), 18V Lithium-Ion Batteries
30-Minute Fast Charger
Storage / Carrying Case
Price & Where to Buy
Porter Cable products are available at Home Depot, Lowes, ToolKing, and many other retailers.  If purchasing at Home Depot, check our Home Depot Coupons page for common coupons available for THD.
The 18V Impact Driver Retails by itself (no battery, or charger) for $70-$80.
For the complete three tool kit (drill driver, impact driver, and flashlight), expect to pay $240-$250.