This past September, Porter Cable released the new C2004-WK pancake compressor. This unit packs 165 pounds per square inch, features a 4 gallon tank and 2.6 SCFM (@ 90 psi) for fast recovery. PC was kind enough to send us one to try out, and here's what we found.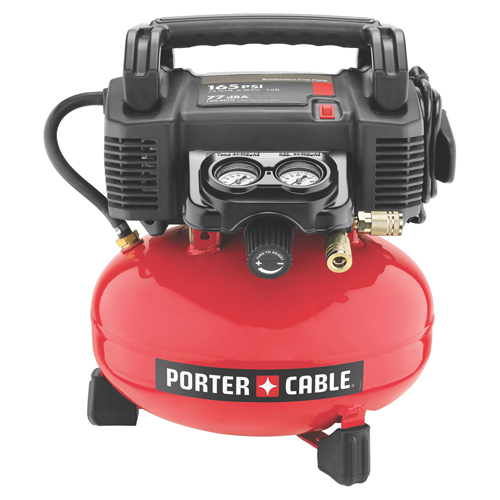 Porter Cable Compressor Review (Model C2004)
The Good: Lightweight; Compact; 4 gallon tank; 2 couplers; 165 max psi.
The Bad: None (not a praise we give too often here).
Overall: The perfect choice for a portable, pancake compressor!
C2004 Notable Features
Light and Compact
This compressor is 15% lighter and 20% lighter than previous models.
Quiet
At 75.5 decibels (dBA), the C2004 is 35% quieter than previous models (per ISO 3744).
Performance & Controls
Delivering 165 pounds of usable air and 2.6 SCFM recovery (@ 90 psi) enables this compressor to support up to 3 nailers at once. The controls are as expected- a tank pressure gauge, outlet pressure gauge and regulator knob. Gauges are standard sizes, and the 2 quick connects are positioned perpendicular to each other. The quarter-turn ball valve on the underside is a nice modification from the typical drain valve.
SCFM Meaning
You may not be familiar with an SCFM measurement so here is a short explanation. It stands for Standard Cubic Feet of air per Minute, and is a measure of air flow. Manufacturers use it to describe the air flow into the compressor unit, conveying quicker recovery time.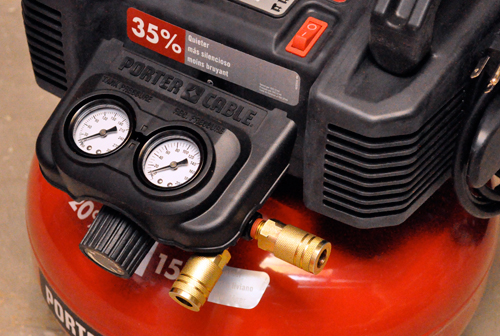 Weight & Size
The second most common measure of portable compressor is how easy it is to lug from job to job. Comparable compressors can weigh north of 50 lbs, but the c2004 weighs a best-in-class 29 lbs. That's a huge difference! The handle is well positioned, and this compressor is more compact making it extremely portable.
Noise
The C2004 compressor puts out 75.5 decibels (dBA)- 35% quieter than previous models. A quick look online I see that other 4 gallon compressors are usually in the 78 – 85 dBA range but even little bit helps, especially when working indoors.
Maintenance
This is an oil-free compressor meaning you don't need to worry about adding lubrication. Even so, you should follow the suggested maintenance to ensure a long lifespan. Check the safety valve before each use and drain the compressor tank after each use. Store the compressor in a clean, dry location.
What do you think? Ever use this compressor?