Porter-Cable is back in the spotlight with a relatively new offering- a 15 Amp Heavy-Duty Circular Saw, model #PC15TCSMK. This professional grade saw is a great addition for any contractors or avid do-it-yourselfers looking for a dependable, lightweight circular saw.

Porter-Cable recently shipped us a PC15TCSMK as part of a test kit and overall, we're very pleased with it's performance. This saw has a lot of benefits- lightweight, powerful. Read on for the full, comprehensive review.
Porter-Cable 15 Amp Heavy-Duty Circular Saw Review
The Good: Lightweight; powerful 15 amp motor; 10′ long cord; comfortable design; excellent dust blower!

The Bad: Not suggested for cutting dense materials on a regular basis.

Overall: The PC15TCSMK is a great addition and go-to saw for typical cutting- dimensional lumber, plywood, etc; a great compliment to your toolbox.
Features Review
Lightweight
Weighing in at 9.5 lbs, this saw is light- especially when compared to some of the construction grade saws available. A lighter saw means you can use it all day without strain and it's easier to maneuver.
Durable Materials
PC included a magnesium shoe, cast metal depth and bevel levers and aluminum upper guard. Metal parts are more dependable and longer lasting than plastic.
Design
The main and auxiliary handle are positioned comfortably and feature a soft grip. A large window makes it easy to see the blade and cut line. The whole tool is well balanced and very easy to use.
10′ Long cord
I also appreciate the extra long power cord. Check the competition and you'll find a lot of 6′ cords.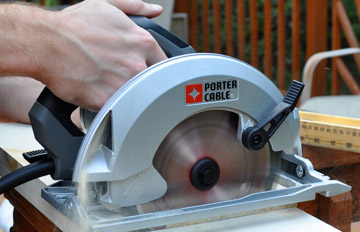 Performance Review
Motor
PC included a robust 15 Amp, 5600 RPM motor that delivers lots of power. I used it to cut through several materials including pine 2 x 4 with no problem. This saw features a direct drive motor shaft commonly found on most circular saws. The alternate, a worm drive, provides greater torque but are heavier and more costly.
Depth & Bevel
There are two generously sized levers (rather than the plastic knobs)- one for adjusting the blade depth and the other for adjusting the bevel. The depth can be set to as much as 2″ deep while the bevel ranges from 0° to 55°. Detents at 22.5° and 45° make it easy to move between common angles.
Integrated Dust Blower
The integrated dust blower is very effective! It's nice to use a saw that manages the saw dust so well.
What's Included & Where to Buy
The PC15TCSMK includes Rip fence, Wrench, Kitbox and 24T carbide tipped thin kerf framing blade. You can find Porter Cable tools at Lowes, Home Depot, Amazon, and other retailers. Check Porter Cable's web site for buying locations.
Specifications
Amps: 15 Amps
rpm: 5600 rpm
Blade Diameter: 7 1/4″
Capacity at 45° Cut: 1 13/16 "
Capacity at 90° Cut: 2 3/8 "
Weight: 9.5 lbs
Anti-Slip Comfort Grip: Yes
Blade Change: Wrench
Blade Type: 24T carbide framing blade
Switch: on/off
Spindle Size: 5/8″
Voltage: 120 V
Power Cord: 10 ft
What do you think? Have you ever used this saw?