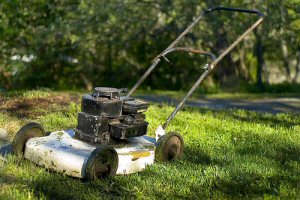 Actually, I didn't 🙂 But this did just happened to someone close to us who poured used oil (from automobile oil changes) into the gas tank of a Craftsman Push Lawnmower. I guess there should have been labels on the containers…
I thought this might happen to someone else out on the web, so I give some tips below for how to fix it.
Before I start, note the following disclaimer: Accidentally mismatching fluids in an engine could lead to overheating, fire, engine destruction, serious injury, or even death (in rare, worst case situations). These instructions will require you to empty gas out of your lawnmower which, if not done properly, is an environmental hazard and adds to the danger of fire/explosion in this type of fix. If you've made the mistake of pouring oil into a gas tank and you choose to try to fix it yourself using our method below, you do so at your own risk. We recommend taking it to a service center 🙂
Steps for Fixing A Lawnmower With Oil in the Gas Tank
Pouring oil into the gas tank of a lawnmower engine isn't the end of the world. You'll probably be able to get the lawnmower working just fine by following these steps:
Make sure you're working in an open, well-ventilated area. This should be done outside.
Disconnect the spark plug wire from the spark plug.
Empty out the regular oil from the lawnmower following the lawnmower's regular oil change instructions.
Empty out all the oil and gas mixture from the lawnmower's gas tank into an approved gasoline container. If you have a push mower, this can be complicated because you'll need to turn the mower over in most cases. For riding lawnmowers, there's likely a fuel hose you can disconnect.
Refill the engine's oil resevoir to the appropriate level according to the manufacturers' instructions.
Refill the engine's gas tank with new gas.
If applicable, prime the engine using the push button primer.
Start the lawnmower.
You'll likely end up with white smoke billowing out of the exhaust for the first few second as the engine burns off the oil. In the end, the engine will likely start up find and you'll be good to go.
If the engine still won't start, you may need to replace the spark plug, which could be covered in oil [thanks Jennifer], or repeat steps 5-6 one more time. If the engine won't start after all that, you should take the lawnmower into an approved service center. You may have gummed up the carburetor and it will need to be cleaned in order to start the engine.
What do you think? Did this help you? Do you know anyone who's done this before?
Image Courtesy of Ansik.