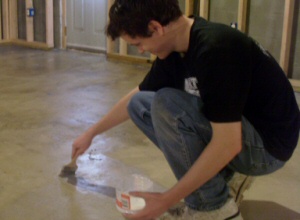 We're finishing up the 4th quadrant of our basement electric radiant heating installation.  To recap the project, we're installing electric radiant heating wire over a cement slab in a 1000 square foot area.  After laying the heating element, we're encasing the wire in 3/8-inch self leveling underlayment (LevelQuik ES), which will be topped with Schluter Ditra, and then with some type of ceramic or natural stone tile.  We divided the room into 4 quadrants (or zones), each with its own radiant system and thermostat to make the job more manageable.
Throughout this project, we never covered the first step of the process for laying the floor, which is to prepare the cement slab for the heating wire and self leveler.  So, here's that information for those who are considering this project.  If you're looking for more information on various stages of this project, we suggest using the search feature at the top of our site to locate more articles.
Prime a Cement Slab for Radiant Heat & Self Leveler
Preparing the slab for radiant heat is a simple task.  In fact, the radiant heating element itself dictates no particular requirements.  Only the self leveler (LevelQuik ES) requires steps to ensure a good bond between the underlayment and the floor.  These steps must be taken prior to fixing the radiant heat to the floor.
Sweep the slab to clear all visible debris.
Wash the slab to remove all remaining dirt & residue. If efflorescence is visible, you may also need to use an etching product to remove it.  Home Depot and Lowes sell several etching products.  (Check in the basement waterproofing section).
Paint on a latex primer to seal the slab. LevelQuik ES recommends LevelQuick Latex Primer.  We decided to use the LevelQuik brand product because it was locally available. (see details below).
Allow the primer to dry thoroughly before laying the heating wire. If you're using the hot glue technique to lay the wire, the glue won't stick well until the primer is dry.
Why Prime the Slab?
The goal of the primer is to seal the slab and create an adhesive layer for the self leveler.  Sealing the slab is essential to ensure the cement does not steal moisture too quickly from the self leveler, which would cause premature drying and cracking of the leveler, ultimately ruining an installation.
Whatever you do, don't skip the priming step.  Self leveler is an expensive product.  Latex primer is relatively cheap, and skipping the priming step will almost certainly result in a sub-par installation.