I picked up a new tool over the weekend. I was in Pennsylvania with my wife's brother in-law (Jocie's sister's husband) when he held up a long, skinny box and asked if I wanted it. At first, I thought it was a level in a case. But, I was wrong. Inside the case was a flexible fiberscope!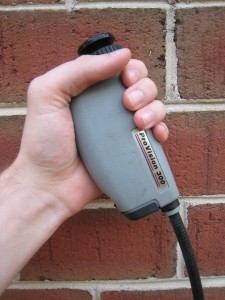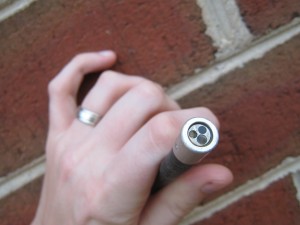 What is a Flexible Fiberscope?
A flexible fiberscope is a amazing inspection tool that allows you to see around corners and into tight places. This device utilizes flexible fibers to transmit light to an eyepiece. Here are a few more details:
36″ long flexible shaft.
ABS plastic and flexible sheathing will hold a position until you change it.
Shaft is water resistant.
Integrated lamp to illuminate dark areas.
8″ bend radius.
Durable carrying case included.
For newer fiberscopes, check out the ProVision site.
How Flexible Fiberscopes Work
The key to fiberscopes is the tightly packed bundle of fibers. These fibers are aligned so that both ends are positioned exactly the same. As long as there is light, you'll see what's on the other end. That makes the integrated lamp so very useful. The only danger is bending the fibers so much that they break. As fibers break, the image degrades. That's why it's important to use the scope carefully and always store it in the carrying case. Click here for more information about optical fiber from Wikipedia.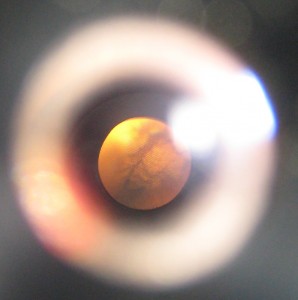 Projects and Uses for a Flexible Fiberscope
There are tons of applications for a fiberscope.
Electricians – I wish I had one of these when I ran that speaker wire. I'd be able to better avoid snags and help guide the wire that much further. This could be a huge help for an electrician running any kind of wire.
Carpenters – How many projects involve knocking out a portion of a wall or removing a bulkhead? With a fiberscope, you can check what's inside before you make a major mistake.
Mechanics – Mechanics use fiberscopes to inspect engines and other hard to see areas.
Exterminators / Home Inspectors – One of the first things I tried was examining a hole in my mortar. I had no idea the hole went so deep. This is a great tool to find out where the bugs are getting in or what kind of damage has been done.
Plumbing – I suppose you could look down a drain. The shaft is waterproof. But, I'm not sure I want to see any clogs up close.
Image Quality
Info online says this scope has a high resolution lens providing a clear image. I wouldn't compare the image quality of the scope to a plasma television, however, you can clearly see objects as close as 3/4″, and as far away as one foot. The integrated light casts a yellow glow. The picture above is a look inside a hole in my brick mortar.
What do you think? Ever use a fiberscope? What project would you use it for?