We have a reader who is very fervent about purchasing American made tools. He likes to say stuff like "You forgot, this (darn product) is made in Red (non-democratic country), you (insert derogatory name calling)". He argues that purchasing these tools takes jobs away from hard-working Americans. Well that got me thinking- what qualifies as American made and what companies meet that criteria?
Marketing Lingo
I remember learning about some sneaky marketing tactics used to sell juice. Eventually, the FDA caught on and set down some very specific rules regarding the appropriate terminology and implied messages for juice sellers. Here's a few excerpts from the FDA Food Labeling Requirements:
If the beverage contains fruit or vegetable juice, the percentage shall be declared by the words "Contains _ percent" juice
If the beverage contains 100 percent juice and also contains non-juice ingredients …. it must be accompanied by the phrase "with added ___,"
If the labeling or color and flavor of the beverage represents, suggests, or implies that fruit or vegetable juice may be present …. then the label shall declare "contains zero (0) percent (or %) juice".
So I started researching what guidelines exist for the claim "Made in America" and here's what I found.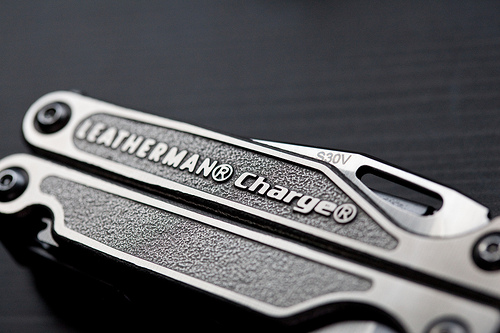 What Does "Made in America" mean?
Just like the FDA, the FTC has set down standards for the advertising or labeling claim of "Made in America", even covering suggestive messages like depicting the American flag. If you're interested, here's a good read from the Bureau of Consumer Protection with full details. This is my quick summary:
Unqualified claims that a tool is "Made in the USA" means that "all or virtually all" significant parts and processing are of U.S. origin and the products contain no foreign content – even if the percent is negligible. You need to pay close attention to the verbiage as this is different from qualified claims like "Manufactured in the USA from foreign materials" or "Assembled in the USA".
Verifying Tools that are Made in the USA
The big question is what tool manufacturers live up to the claim. I searched around and started verifying a few manufacturers. You may be surprised with what I found.
Leatherman
The Leatherman headquarters has been located in Portland, Oregon for over 25 years. That's also the location of their factory but they cannot claim their products are "Made in the USA". Here's the reason (direct from their site):

These Leatherman tools were all built and assembled by U.S. workers at U.S. factories using primarily parts made entirely in the United States and some parts processed, in part, in Western Europe, Mexico, or Canada. Unfortunately, Leatherman is not able to procure all of its component parts in the United States because of quality, technological, or economic considerations. But Leatherman Tool Group has never shipped a job overseas, and the company remains committed to keeping and creating as many jobs here as possible.

Klein Tools
Klein Tools operates nine plants in the US in addition to a plant in Mexico City. They make this information very obvious on their website, including the following statement:

Klein Tools de Mexico has operated a plant in Mexico City since 1970. This plant produces products for the Mexican and Central American markets. A few tools that are made here are sold in the US, like our knockout punches, but for the most part Mexican made products are consumed in Mexico.

Klein Tools has never closed a US plant and outsourced manufacturing to other countries – and we have no plans to do so.

Klein Tools does sell some products that are made in other countries to our quality standards. For the most part, these are items that are simply not produced in the US any more – a good example is electronic products like multimeters.

So, you can rest assured that Klein Tools remains firmly committed to US manufacturing and continues to invest in the latest technologies for our US production facilities.

CHANNELLOCK
Channellock has a great "factory tour" of the entire process called From Steel to Shining Steel. It describes how every Channellock product starts as high-carbon, North American steel. It's an impressive video that leaves no doubt that these products are Made in America.
What do you think? What tools do you know are Made in America?
Images courtesy of Brian.ch and lindsayshaver