Today we're taking a quick look at one of Ryobi's least expensive ONE+ tool offerings, the under-$25 P738 High Volume Power Inflator.
Stuff Lawyers Made Us Say: We're partnering with The Home Depot to provide candid reviews of tools from a wide variety of manufacturers. The Home Depot is both providing the tools for free and compensating us; however, the opinions we express here are our own. Remember, we'll always be up-front with you when we're receiving a free product, compensation, or both. And of course we always strive for objectivity in our reviews.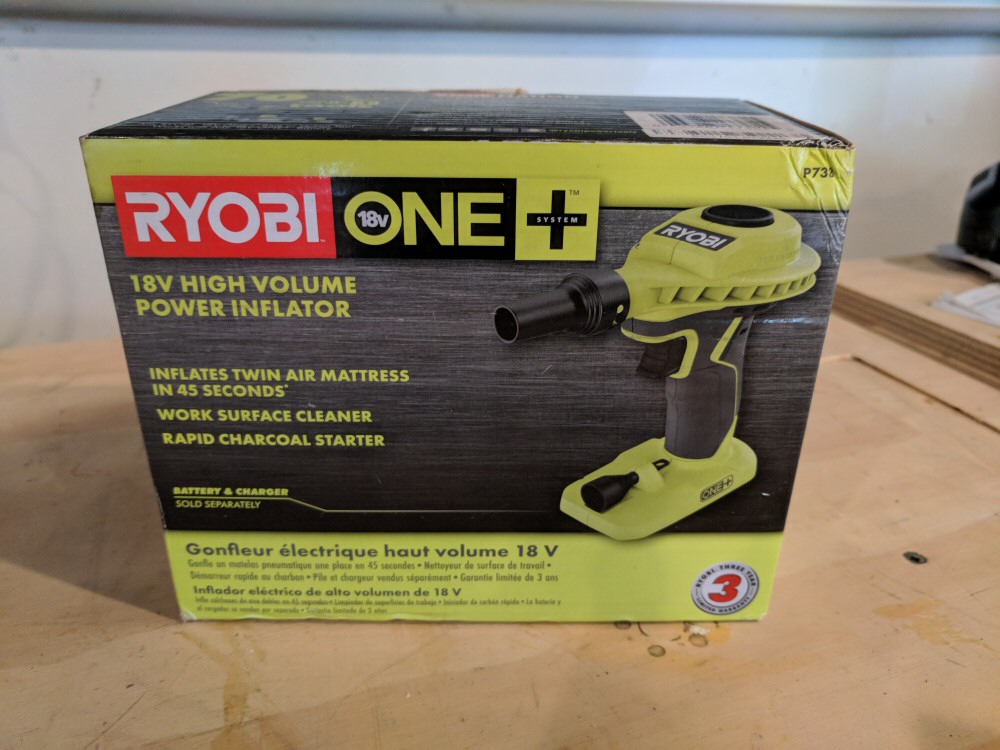 Out of the box the inflator is one of Ryobi's simplest tools. It has only 3 parts – the tool itself and two nozzles that connect to the tool to change the shape of the tip. Sold as a "bare tool", the P738 is not sold with a battery, which makes sense. Once you own 2-3 Ryobi batteries, there's no need to buy additional batteries and chargers for additional tools.

We grabbed one of our Ryobi ONE+ batteries to give the 18V High Volume Inflator a try around our shop. Here's what we noticed:
Airflow is adequate for quickly clearing work surfaces of sawdust or other small particle debris, but the P738 isn't as powerful as a traditional blower nozzle connected to a pancake compressor, which has long been our go-to for clearing a work area. That said, the P738 is much faster to setup than the compressor and you don't have to wait for a compressor to fill with air before using it – making the P738 useful for quick clean-up activities.
As the packaging suggests, we think the P738 would be great for accelerating charcoal or even using as bellows for a wood fire on a camping trip to really get things started, though we didn't try it.
Certainly will work for blowing up air mattresses and pool toys with the included nozzles.
There's a little more vibration in the tool than we'd prefer for a handtool like this. But we assume no one is going to be holding this tool for more than 10 minutes at a stint, anyway.
The tool is a bit loud.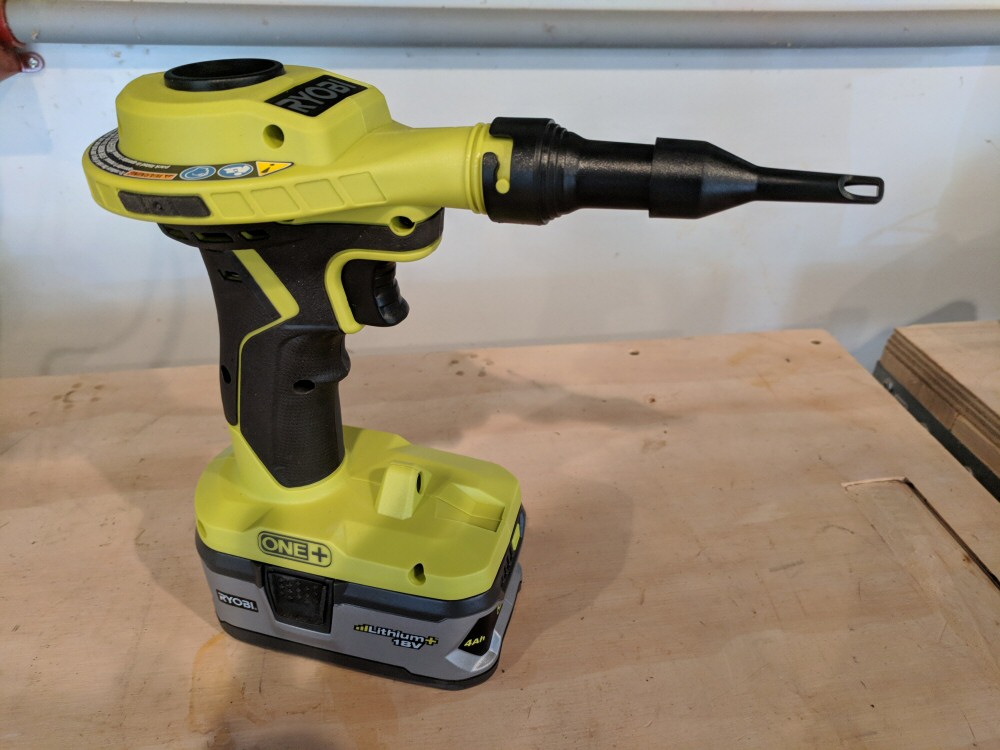 Who is This Tool Right For?
Folks who are already bought into Ryobi's ONE+ Line of 18v tools (since this tool does not come with a battery or charger).
Campers who need a solution for inflating air mattresses, starting wood/charcoal fires, etc.
Carpenters who want a quick solution for blowing their work area clear.
Price and Where to Buy:
At just under $25, the Ryobi is priced right for folks already bought into the ONE+ line up who need an inflator on hand. You can buy directly from the Home Depot at this link: