Today as part of our #PROSpective partnership with The Home Depot we're taking a quick look at DeWALT's latest Drill Driver and Impact Driver Kit and their new Stackable 20 Compartment PRO Organizer. We've long been fans of DeWALT's 20v MAX line-up and Ethan uses DeWALT's Drill and Impact Driver as his go-to drilling and driving tools.
Let's take a look at the new 20 Compartment PRO Organizer first.
Stuff Lawyers Made Us Say: We're partnering with The Home Depot to provide candid reviews of tools from a wide variety of manufacturers. The Home Depot is both providing the tools for free and compensating us; however, the opinions we express here are our own. Remember, we'll always be up-front with you when we're receiving a free product, compensation, or both. And of course, we always strive for objectivity in our reviews.
DeWALT 20 Compartment PRO Organizer Review
Around our shop, we can always use more small parts storage. Seems like we accumulate an endless number of different fasteners and this organizer has been a great addition for us. As far as small parts organizers go, this one is pretty straightforward. Here are the features we like most:
The organizer effectively holds all but the very smallest fasteners in their proper location even when carried vertically and bounced around a bit. With very small fasteners, such as small finish nails, we find that they can slip under the movable dividers to some extent, though most of them will stay where you put them.
The plastic top is sturdy and exceptionally clear. As you can see in the pictures, it's easy to see what each bin holds.
The dividers can be removed as needed to fit larger items, such as drill bits. (We've removed one divider to hold a few of our drill bits.)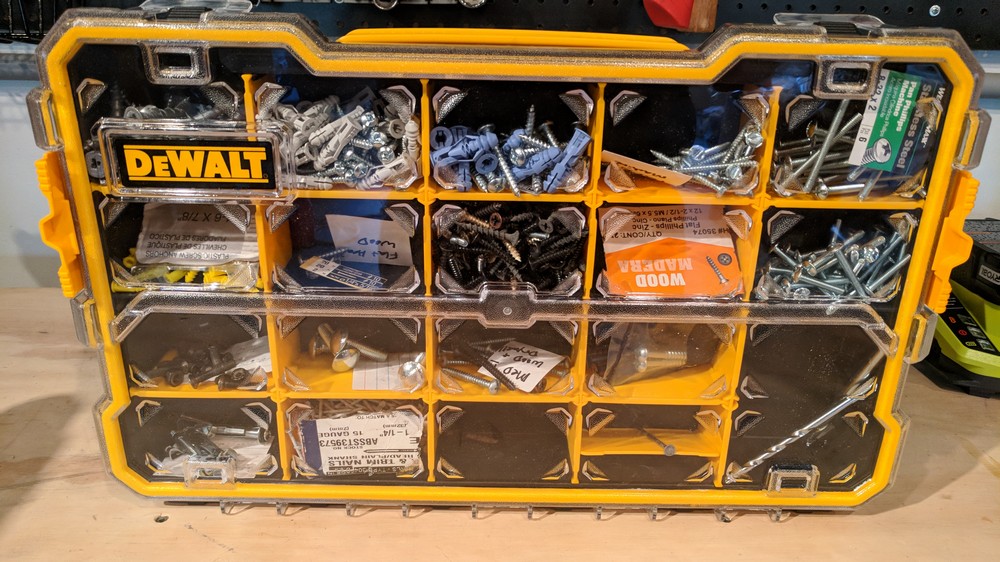 The real claim to fame of this organizer is that it's stackable. See those yellow latches on the side? They purposefully extend above the plane of the top of the case when closed to "grab on" to another case. Using these fasteners you can easily stack three or four of these organizers together and carry them as a single unit. That's really useful for tradesmen who find themselves carrying a wide variety of fasteners and bits onto the job site.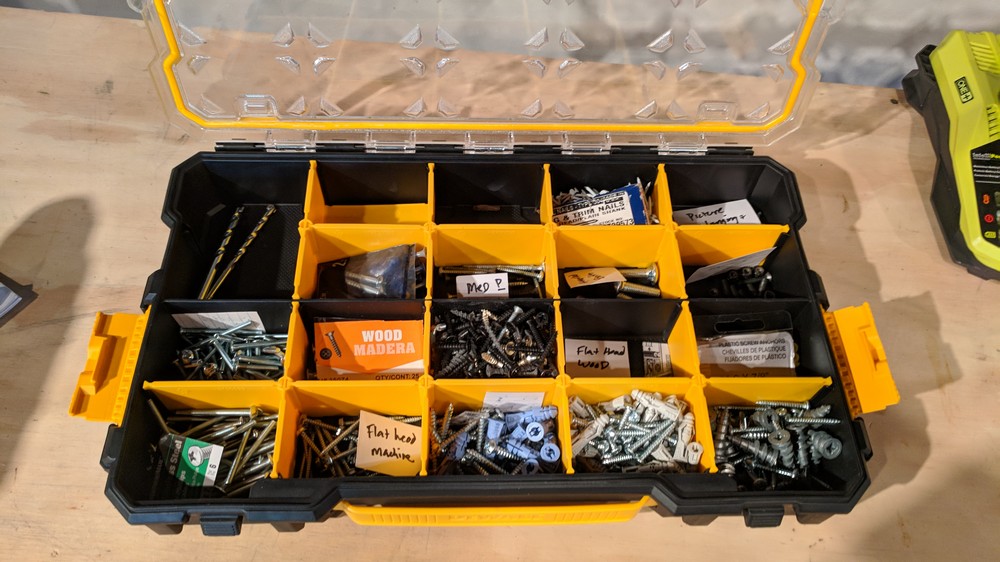 Here's an up-close shot of the side latch that can be used to fasten this organizer to additional organizers (of this shape or smaller ones).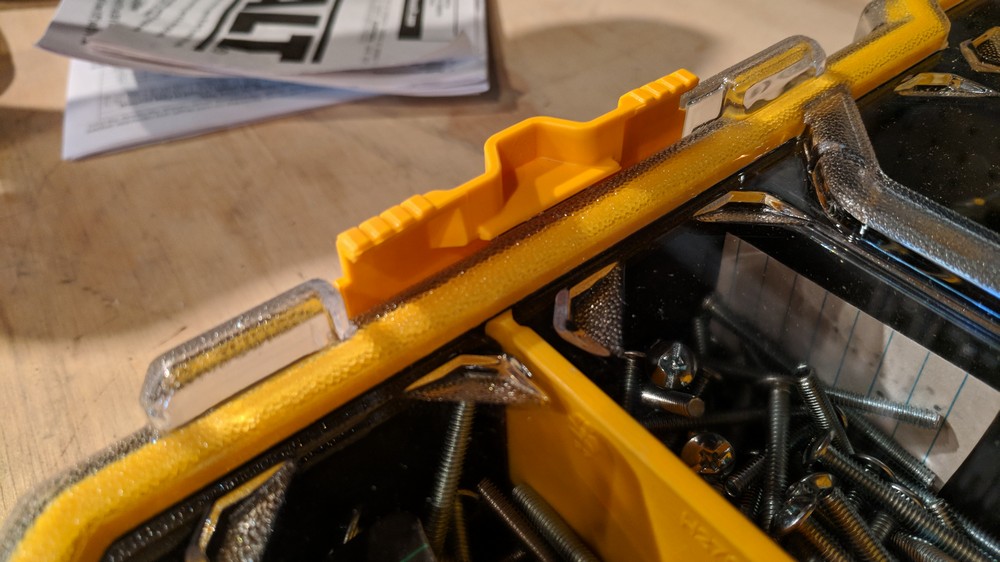 And here's what it looks like up close if you remove one of the horizontal dividers.
Overall, we think DeWALT has created a winner with this organizer. It's very reasonably priced at $13.97, making it easy to pick up two or three to solve most, if not all, of your small parts storage needs. Here's the link @ Home Depot:
DeWALT 20v MAX Drill & Impact Driver Kit
We've long been fans of DeWALT's drills and impact drivers and this particular kit is on sale now at The Home Depot for $179 ($20 off list price).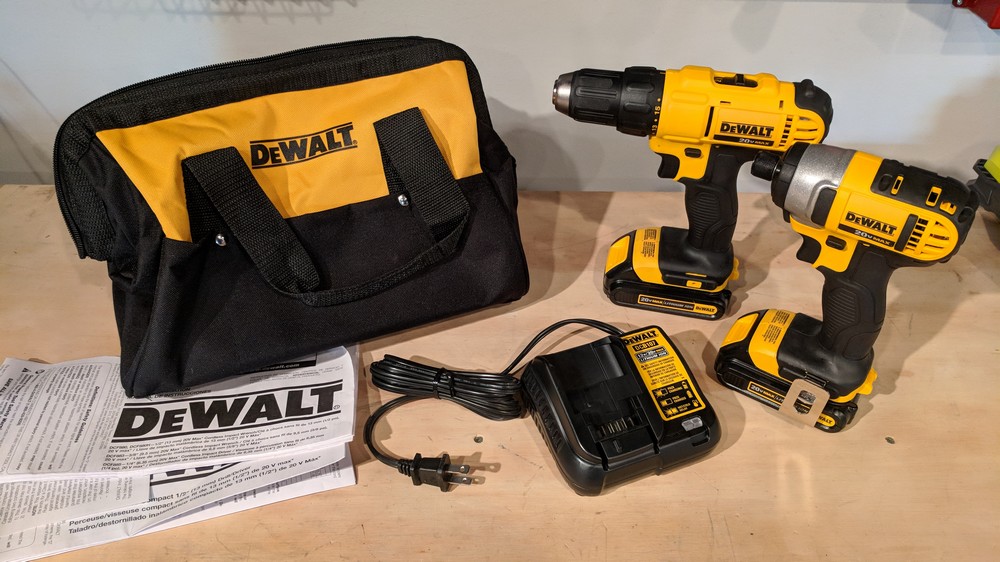 Key Features of the DeWALT Kit include:
Kit Overall:
Compact carrying bag.
Small footprint charger and two 2.0 amp 20v MAX batteries.
Batteries charge in as little as 30 minutes.
Drill Driver:
One of the smallest form factors for these tools in the industry, enabling people to get into tight spaces.
1/2″ ratcheting chuck to handle larger bits and provide firm grip.
Variable speed trigger w/ 2-speed transmission (0-600 RPM or 0-2000 RPM)
Suitable for small and medium fastening and drilling.
Impact Driver:
Delivers up to 1,400 in. lbs. of torque and a maximum of 2,800 RPM.
Includes a 3-LED array around the bit for great illumination of the fastener and material. (We've included a picture of this below).
1/4″ hex chuck can be loaded with one hand (though it's easier with two hands).
Here's a few pics of the grip on these tools
. Both of these tools are very comfortable in the hand and easy to hold.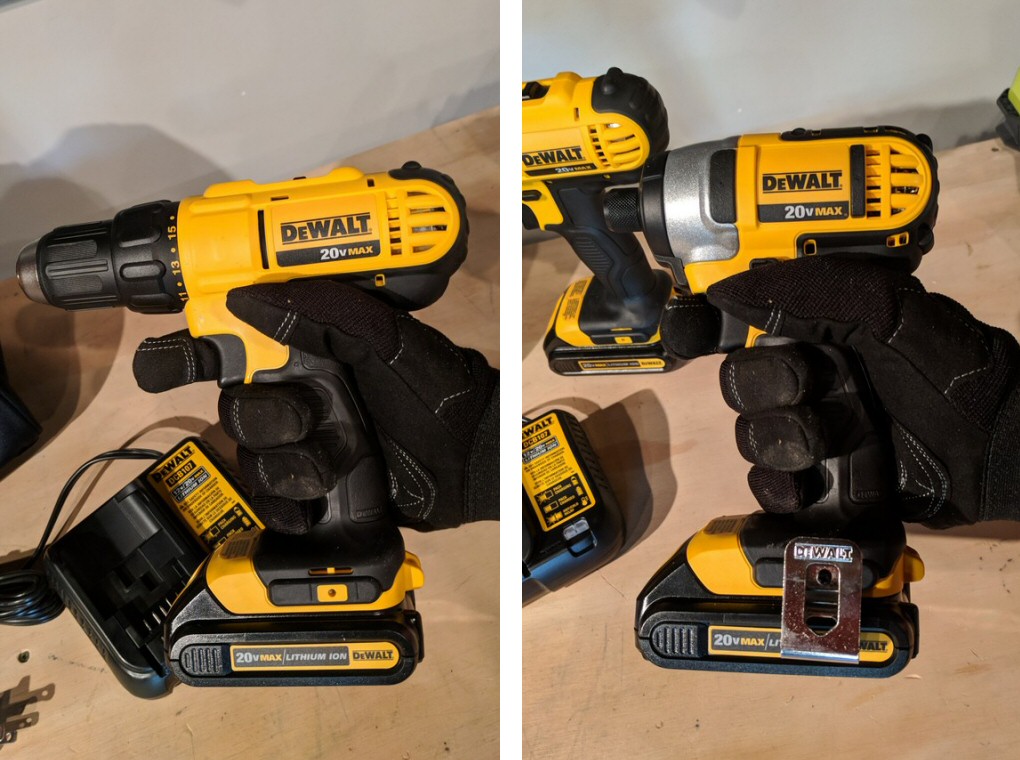 Here's the 3-LED Array on the impact driver. We really like how much focused light this arrangement puts on the workspace.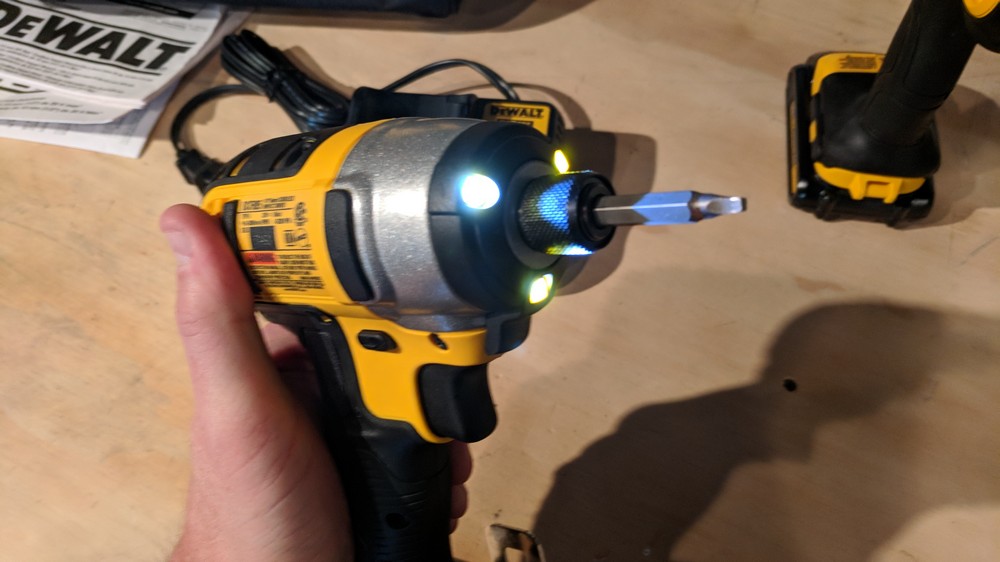 This gives you a little perspective on the size of these tools.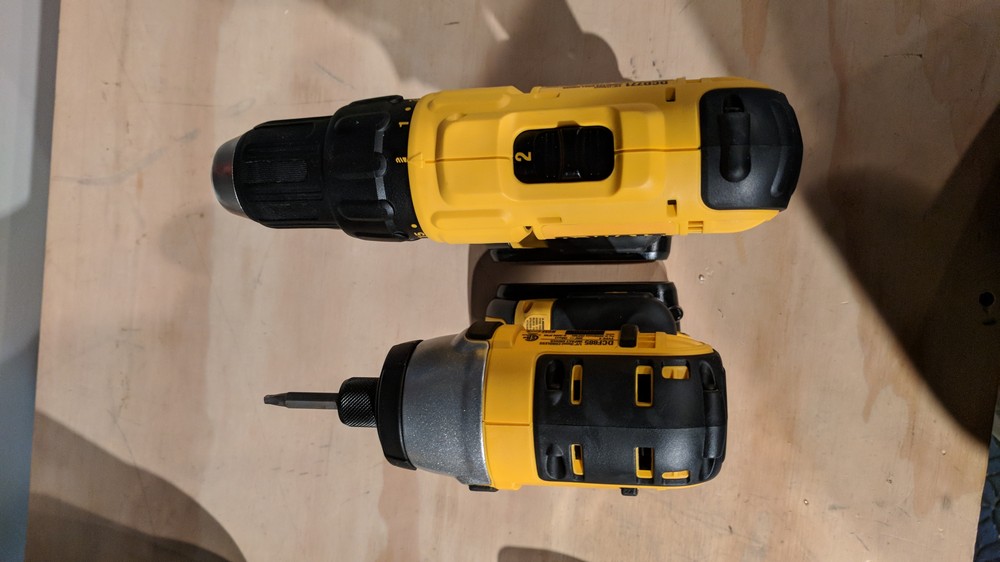 The DeWALT drill and impact driver are currently on sale at Home Depot for $179. Here's the link: