OPC and The Better Half LOVE to give away free stuff. We often do giveaways on the site and on Facebook. But the easiest and surest way to get free stuff is by joining our rewards program. "What?" you say, "rewards program?"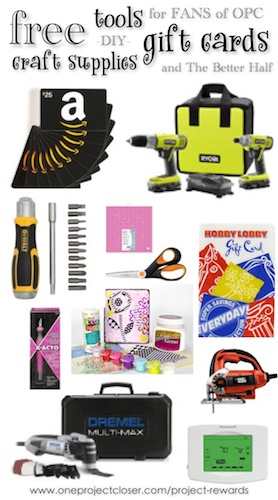 Its pretty simple, really. You sign up for the program, creating a user name and password. Then every time you visit the site (as long as you are signed in), you get points. Every time you comment on a post on OPC or The Better Half, you get MORE points
Once you have saved up some points, you visit our rewards center and use your points to bid on cool stuff. Sometimes its tools or gift cards, sometimes its craft stuff. If there's ever something you really want, we're always open to ideas!
Check out the top left hand side of the website – that's where you sign in. And the top right is where you can bid on items and check who's leading the pack in points.

It's that easy! No tricks. We won't spam you with emails or solicitors. We won't sell your email or info. We just appreciate you as readers and want you to come back!
How it Works
Earning Points: You earn Project Points (pp) for various actions on our site, like logging in (worth 2pp once/day), or by leaving a valid comment on an article (worth 5pp /valid comment). You can also earn points through special promotions, like visiting certain advertisers' sites, giving us feedback on new features, entering other giveaways, etc.
If you didn't know, we have two parts of the site – One Project Closer (OPC) and The Better Half. OPC is geared towards the hard-core improvement projects, while The Better Half focuses on the finer side of DIY. Whether you read both or just one, you can start earning points!

Spending Points: You spend Project Points in our Rewards Center, which includes auctions for home improvement gift cards, tools, services, craft supplies and more. Auctions close just about every other day, so there's plenty of opportunities to bid and win.
Keeping an Eye on the Competition: Want to see how you're stacking up against other readers? Check out the Leaderboard, which shows you the top 50 point holders at any given time. Every now and then we'll dole out a prize to whoever's at the top of the Leaderboard, so keep an eye out!
Losing Points: We don't want you to lose points, but we also want to play nice and keep it fair for everyone. So, you can lose points for:
Spammy commenting. Comments that don't contribute to the conversation, are self-promoting or mean have no place here. If we delete a comment because it's spammy, you lose 7pp. If it becomes a repeat problem, you'll lose your account.
Going AWOL. If you don't login for more than a month, your point total is erased.
Shady Behavior. The Project Rewards program is designed to be a fun! Participate in the actual spirit of the program and you won't have any trouble. If we detect shady, manipulative tactics, we'll ban your account.
How to Get Started Earning
You can get started by registering for an account. In fact, we'll give you 10pp just to get started! Remember when registering that your username cannot be changed after you sign up. You will have the ability to change the name displayed when you comment, but you're stuck with the username you originally pick.

The Not-So-Fine Print
Everything on our site is subject to our Terms and Conditions. We operate this program with integrity; however, for legal purposes, it's worth noting a few things here:
This program is operated at our discretion and can be discontinued at any time.
Project Points (pps) have no cash value.
Project Points can be added or subtracted to users at our discretion.
At any time, before or after winning an auction, we can choose not to honor the results of an auction for any reason.
The programs rules can change at any time, without notice.
Any attempts to manipulate the program will result in a banned account. Remember, we have to ship the goods ourselves for these auctions, so we will be interacting with you personally upon a win.
What would you like to get for FREE? We love suggestions and will do what we can to put things you love in the Rewards Center, so just let us know!