My bathroom remodel is still on-going but I'm very pleased with the results thus far. Each week I'm able to cross one or two things of the to-do list and this past week I got the toilet squared away.
You may remember that I was planning on reinstalling the old toilet to save money. It turns out that toilet wasn't in good enough shape to keep. My plumber was out to re-route the shower controls and took a look. He told me I was better off installing a new one, so I did.
At this point, I've replaced or reinstalled every toilet in my house (for a grand total of three). They all shared one thing in common- a broken toilet flange. I'm beginning to think it's a fairly common problem to discover. Fortunately, repairing a slightly damaged toilet flange is not too difficult.
What is a Toilet Flange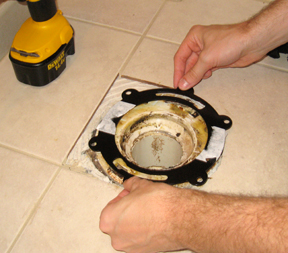 You may hear people toss out the word flange and wonder what it means. There are several definitions including a "projecting rim for fastening". When people talk about toilet flanges, they are referring to the flat collar that mounts a toilet to the floor and connects the toilet drain to a drain pipe.
Over time, flanges can crack or small pieces may break-off. This is especially common around the bolts that anchor the toilet in place.
How to Install Flange Repair Kits
Fortunately for DIYers, toilet flange repair parts are easy to find and relatively inexpensive but they can't repair all types of damage.
Appropriate Use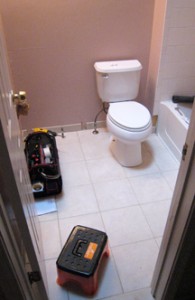 Flange repair's are an effective means to fix the outer rim of a broken flange- small cracks, broken pieces around the bolt housing, things of that nature. They are not useful for repairing cracks within the flange or replacing major pieces.
Required Materials
The repair flange, sometimes called a water closet repair flange, is available as a full circle or semi-circle.
Galvanized screws won't rust- always important around water. I purchased 1 ½" wood screws. Make sure the screw-head is wide enough.
Silicone sealant is useful to create a watertight seal.
Installation
Apply silicone to the underside of the repair flange. Place it over the existing flange and align the bolt holes (as best you can). Screw the repair flange in place. Take care to anchor it evenly. Add another bead of silicone to the inside edge of the repair flange. Allow enough time for the silicone to dry before installing the toilet.
What do you think? Ever install a repair flange?