My vacuum cleaner broke a little while ago. And the evidence was beginning to show. It's not like our house had slipped into the hazmat category, but it was time to fix the vacuum or replace it. FYI, I have a Hoover Savvy Vacuum (model number U8174900).
Required Materials
For this project, you'll need a screw driver, and new belt. Amazon sells the Hoover Savvy Belt for $5.89. I recommend changing the HEPA Filter too. Amazon also sells the HEPA filter for $12.99. This is a great deal as these filters usually run about $30.
How to Replacing a Hoover Vacuum Timing Belt

There's only a short list of vacuum problems I am capable of fixing. Fortunately, replacing the timing belt is one of them. This seems like it would be included in the manual, especially because they recommend replacing the belt every 3 – 6 months, but it isn't. Take care when removing screws. My vacuum is plastic and a few screw housings have broken over time.
Step 1: Several screws secure the agitator brush in place. Remove these screws and the bottom plate. These are marked in the picture with red circles.
Step 2: The agitator brush will slide out. Observe how the brush was housed. Normally the timing belt helps keep it in
place. Locate the broken timing belt and remove that too.
Step 3: Next, we need to remove the cover on the opposite side (that goes over the height adjustment knob). There are 5 screws to remove. Hoover placed 4 screws on the underside (marked in blue) and the last screw underneath the red Hoover emblem on the top side.
Step 4: Feed the new timing belt through the gap and around the cog that drives the agitator brush (highlighted in blue).
Step 5: Put the agitator brush through the remaining loop. Make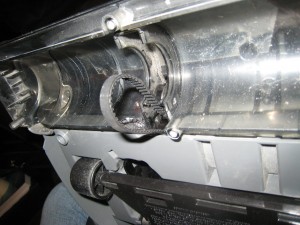 sure the belt sits on the grooves/teeth in the brush, and push the brush back into place. Put all screws back into their original position.
New HEPA Filter
We've had our vacuum over two years and haven't replaced the HEPA filter yet. I thought it was probably overdue. All I had to do was remove the waste canister and pull out the filter. The plastic top and bottom snap off. Easy as pie.
___
What do you think? Ever needed to work on a vacuum?