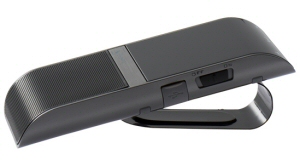 Every now and then we take a detour from our usual home improvement programming to tell you about a product or service that either really impressed us, or was so horrible we want to save you the trouble of experiencing it firsthand. We're happy to tell you that the subject of this review—the BlueAnt S4 Bluetooth Speakerphone—falls in the former category.
Late last Spring, Maryland joined a growing number of states in passing a law that requires drivers to use hands-free devices when talking on the phone. Since my job requires me to drive up to 3 hours a day, I usually make the most of that time by conducting as many business meetings on the road as I can. Up until now, that's been with an iPhone and no hands-free device.
I commute in a 2003 Toyota Corolla, a model and year that is lacking some of the nicer modern amenities. It has no fancy navigation system, no in dash DVD player, and as you might expect, no integrated Bluetooth speakerphone. I'm always envious of colleagues whose cars come standard with these features, especially the integrated speakerphone. But, I'm not willing to spend the money on an expensive new car just to get integrated hands-free cell phone use.
So I went in search of middle class alternatives at the local AT&T wireless store. I ran into one very enthusiastic and helpful salesman (a rare find at any retail outlet) who pointed me in the direction of the BlueAnt S4 BlueTooth Speakerphone (official site). Even though the BlueAnt was priced at the high end of wireless speakerphones ($100 at the AT&T store), the salesman assured me that the sound quality, battery life, and usability are worth the extra $50 over the next-best device they offered. He actually uses one himself, and fetched it from his car to demonstrate it (great salesmanship, AT&T).
So I shelled out $100 for the BlueAnt and immediately put it into service… and so far I'm impressed.  (*note that its actually available cheaper online – see the Where to Buy section below).
BlueAnt Bluetooth Speakerphone Review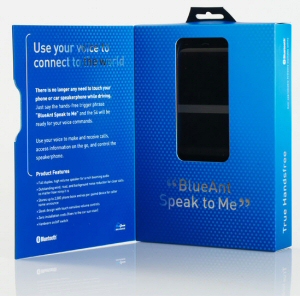 The Highs: Loud, clear sound quality; super simple setup; almost 100% voice-controlled; announces caller's names on inbound calls; long battery life; innovative magnetic visor mounting kit.
The Lows: It could offer even more iPhone/smart phone integration…but now I'm just being greedy.
The Verdict: A bolt-on Bluetooth solution that outperforms many integrated systems.
Setup & Initial Impressions: While the BlueAnt comes with a small startup instruction booklet, it's hardly necessary. I took the device out of the box and turned it on (nice plus: the battery is charged before the device ships). BlueAnt's deep male voice greeted me immediately with instructions for pairing the device with my phone. Within 30 seconds, the devices had gotten to know one another and BlueAnt had downloaded my contact list into the speakerphone so it can announce the names of incoming callers.
Next, the male voice started telling me how to interact with BlueAnt, which really boils down to just one important voice command that gets everything started. You say, "BlueAnt, Speak to Me" and as long as BlueAnt is turned on, it will respond with "Say a Command." It's a little eerie when you consider that the device is actually listening to you all the time, just waiting to hear those four little words… but I've already gotten used to it. If you don't remember all the commands available, you can ask BlueAnt, "What can I say?" and it will read a list of about a dozen different things you can ask, like "Am I connected?" "Check battery" and "Phone commands."
The novelty didn't wear off quickly–I found myself talking to BlueAnt all the way home from the store, checking and rechecking the battery life and changing the LED indicator status (another one of the dozen commands). Of particular usefulness is the "Phone Commands" command, which instructs BlueAnt to activate the on-board voice recognition software on the paired phone. On the iPhone 3GS and later, the built-in voice command system allows you to place calls by number or name, navigate the phone's iPod MP3 system, and a few other perks. I hardly make use of the voice feature when I'm physically holding the phone, but with BlueAnt connected it's become my preferred method of dialing. Like most Bluetooth devices, the BlueAnt's speaker takes over the phone's internal speaker for more than just phone calls, which means it can be used as an external speaker for the phone's MP3 player, turn-by-turn directions, etc.
Existing phone calls will migrate to the BlueAnt as soon as you turn it on, which is nice if you're returning to your car after a meeting and you're already on the phone. Pairing and call hand-off takes about 10 seconds from the point the phone is turned on. Phone calls will migrate back to the phone if BlueAnt is turned off (or runs out of batteries).
To announce incoming calls, BlueAnt says the name of the caller (if they are in your phone book) or the number dialing, and asks if you would like to "answer" the call or "ignore" it. It generally gets pronunciations correct, although like most phonetic-based approaches, it isn't perfect.
BlueAnt includes only 3 buttons for activities that you need to perform when voice activation isn't possible because the phone is on: Volume Up, Volume Down, and Hang-up. They work exactly like you'd expect.
Voice Recognition Quality: The BlueAnt recognizes its own command set about 90% of the time. It occasionally struggles when there's active background noise (for example, from a radio or back seat conversations), but is unaffected by road noise. When transferring voice commands through to the iPhone 3GS, I find the accuracy is closer to 75% and it is very dependent on whether there are two contacts in your phone with similar names… This is more a commentary on the phone than BlueAnt, though. The iPhone suffers from the same issue when operating on its own.
Speakerphone Quality: Notwithstanding its other fantastic features, BlueAnt's strongest suit is its speakerphone. It's loud enough that you won't want to operate it at full volume, and includes an excellent digital signal processing (DSP) engine that virtually eliminates echo and filters white noise. I've held numerous conversations at 65 MPH in my not-so-quiet Corolla and have had no complaints over understandability. There is no recognizable delay over the BlueTooth interface, which tells me it's probably <= about 2/10 of a second at most.
Battery Life: The BlueAnt is cordless and requires 4 hours to completely charge from the included USB-based car charger. A single charge gets you a claimed 20 hours of talk time or 700 hours of standby. I've never run the battery all the way out to test the claims. I will say that when I started searching for a speakerphone for the car, I wasn't anticipating purchasing a cordless version. After purchasing it, I can't imagine it any other way. The cordless feature allows you to clip the phone on your visor without any dangling cords to get in the way.
Mounting Kit: The mounting kit design is nothing more than a metal clip that slips over the edge of the visor and very strong earth magnets on the BlueAnt itself. Unless you run off the edge of the cliff, the BlueAnt isn't coming free from the clip unintentionally, but it is easy to pull off when you want to bring it out of the car. When I take the BlueAnt inside, my inclination has been just to magnet it to the fridge so I remember where I left it).
So Where's the Room for Improvement? While I love this device, I can see three areas for future improvement: (1) Even better voice recognition to get closer to 99.9% accuracy; (2) better iPhone integration, in the form of an App that enables more voice commands; and, (3) a way for the BlueAnt to detect when the car is turned off and stop trying to pair with the phone. For the latter, it's not so much of a problem if BlueAnt stays paired with the phone while you're in the house, so long as your phone allows you to dynamically switch between Bluetooth and the integrated mic and speaker. iPhone does this very effectively as do many Blackberries and Android devices. The alternative is to remember to turn off BlueAnt when you get out of the car.
Features Summary
Bluetooth speakerphone compatible with iPhone (3G, 3GS, 4), Android, Blackberry, and other Bluetooth-enabled devices.
Battery-powered with 4 hour recharges, 20 hour talk time, and 700 hour standby. Charges via included USB-style car charger.
Magnetically attaches to metal visor clips.
Near 100% voice control (exceptions are volume control and hang up functions).
Announces names of incoming callers.
Integrates with the voice command system built into the paired phone.
Serves as a speaker for other phone functions.
What's in the Box?
BlueAnt speakerphone with magnetic attachment design.
USB-style charging cable
Car charger (plugs into a lighter) with USB adapter
Two metal clips (large, small) for mounting on a visor
Instructions & some warranty and promotional materials
Price and Where to Buy
The best option for purchase is online at Amazon.com for $75 with free shipping and no sales tax in most areas. You can also find it at various retailers nationwide, including many cell phone stores, but you'll pay around $100.
We highly recommend this product.
(image credit: myblueant.com)